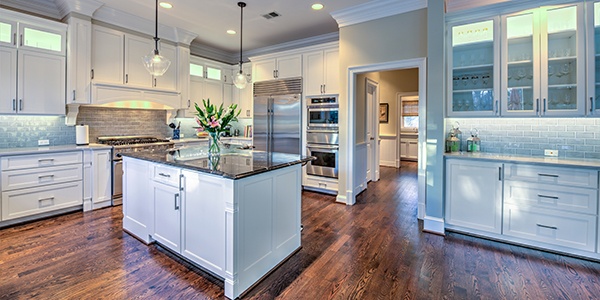 By: The MOSS Team
Moss Building & Design gives the best remodeling tips because that's what we do every day! Trust our experts when planning a successful home remodel.
Pick your appliances early. With so many appliances to choose from, you need to research and pick appliances early in the design and selection process. MOSS recommends purchasing appliances before ordering cabinets. Appliance models change, update, and discontinue on a constant cycle. Your dream appliance may go through dimensional changes and not fit into your dream cabinets.
Think about how the remodeled space will be used. Jodi Jameson of MOSS said, "I see this a lot in kitchen remodeling. Homeowners…end up duplicating their existing kitchen layout because it's what they're used to. They'll overlook the opportunity to change the layout to one that could be used better." When planning any remodel, carefully consider how your family functions every day. What's the most beneficial layout? Do you entertain guests often or have large family dinners? How much time do you spend in this room?
Consider what you already own. When designing a remodel, don't forget about what you already own. Make space for the old, too!
Discover what you do and don't like. MOSS' Project Designer tells their clients to consider what they do and don't like in their current space. "I tell them to make a list of those things," she said. "They don't forget anything when they meet with their designer. Your designer needs to know everything, so they can come up with a new design that you'll love."
Talk to other homeowners. Another great way to discover what you do and don't like is to ask other homeowners who recently remodeled. Talk about the process, from start to finish. Ask them what they would've done differently.
Understand the entire process. When a remodeling company quotes the timeline as 7 months, that doesn't mean the construction takes 7 months. It means that part of that time is design and selection, and the other part is construction and cleanup.
Find your design style. This is the most fun part of a home remodeling project! Browse through Pinterest and interior design magazines to choose your preferred home design style. Turn to Houzz for expert inspiration from architects and interior designers to solidify your idea of a dream addition. Remember that every design style is interpreted differently by those involved in your remodeling like interior designers and painters. Before you break ground, identify what problems you want to fix in your home, and then discuss solutions with your chosen remodeler.
Choose the right remodeling company. Chip and Joanna Gaines make do-it-yourself remodels look easy, but it's best to find an expert in your local area. First, determine your requirements. Narrow down your vision board according to your Houzz saves, Pinterest pins, and magazine cut-outs. Afterward, let the remodeler offer you solutions to get there. Second, ask the right questions about the remodeling company (permits, history in the business, licenses, proof of insurance), an outline and timeframe for your project, contract options, project plans, and more. Lastly, hire a legitimate company that cares. After seeing if their project portfolio looks similar to your dream addition, ask the right questions about the legitimacy of the company and project scope. If they answer everything to your liking, book them!
Understand that kitchen remodels require special post-construction care. While your entire new remodel should be taken good care of, MOSS suggests making your kitchen cabinets a priority. After the remodel, follow the cabinet care instructions for the longevity of the cabinet finishes. A slightly damp cloth should be used for day-to-day cleaning. The cabinets should be dried immediately with a dry soft cloth. Harsh cleaners like ammonia-based products, bleach, or abrasive materials, should never be used on cabinetry finishes.
Don't make it too visually busy. Find one focal point for your home remodel. Crazy tile, fancy floors, and busy cabinets are overpowering. It gives the eye too much to look at. Pick a focal point in your design and complement that area with what suits your design style.
You can also reach us at 703.961.7707 or Hello@mossbuildinganddesign.com for more home remodeling advice.[/vc_column_text][/vc_column][/vc_row]