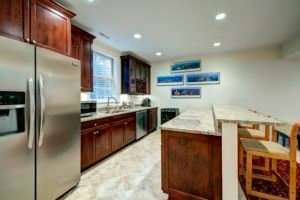 By: Zaiba Hasan (ZHasan@MossBuildingandDesign.com)
When renovating our home last year, we decided to update our basement kitchenette. With four young kids plus frequent out of town visitors, we have a myriad of people coming in and out of our home at all times. Containing the mess that is the basement allows ME to keep my sanity. Given that this was a "bonus" kitchen of sorts, coming up with the appropriate design to fit our family needs was indeed a fun challenge. Here are a few things to think about when creating an amazing bar area for your basement:
Design Theme
For me, coming up with the theme is the best part of any kind of renovation. With this type of remodel you can really let your imagination guide the choices you make. Whether you decide to go with a sports bar theme or downtown chic, a wet bar can really be the focal point of your basement.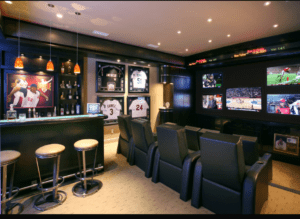 Choosing Appliances
Deciding how you will use your wet bar will determine what appliances will go into your space. Planning on keeping it simple? A beautiful sink and a mini-fridge is probably all you'll need to make it fully functional as a wet bar. We use our basement kitchen as a secondary entertainment space. We opted for a regular sized fridge and a dishwasher to make it more useful for our family.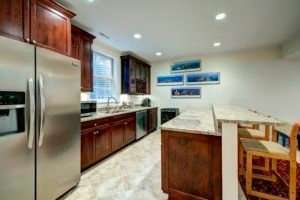 What kind of flooring will be best? The flooring in your basement is extremely important in adding character, dimension, and warmth to what otherwise can be a "cold" space. The flooring in your wet bar area is no exception to that but should also be durable. These days, in addition to all the logical choices, there are some fun basement tiles that are specially made to with stand any potential water damage. (You never can be too careful in protecting your basement floors from water damage.)
Will there be a television or home entertainment? If you are my hubby you are already thinking of how to add another television set to the basement (that's his angle for any home project). Figuring out the BEST placement of a home entertainment section will be determined by how your family will use the space. If you DO decide to go the home entertainment route, you may need to add some additional cable outlets or electricity to the area to accommodate this.
What color choices will you make? Generally, the rule of thumb is that the colors in the basement should be light and bright. This is probably because of the absence of natural light! However, nowadays many people are exploring the use of bold/darker colors to really create mood and ambiance!
Best Remodeler in Northern Virginia
Did you know that not only was Moss Home Services just voted The Best Handyman 2017 by the readers of Arlington Magazine, but Moss Building and Design is also the reigning Best Remodeler?! Thank you so much for your support throughout the years, and we look forward to being your one stop shop for all your home improvement needs. If you have any general questions, call MOSS at 703.961.7707 or email Sales@MossBuildingandDesign.com.
Until Next Time,
Z