When you're about to have a baby, so many things are going through your mind. Your worries likely include how the new child is going to fit into your family and literally into your home. Remodeling or redecorating a new room for your baby-to-be is usually at the top of your baby preparation list. Moss Building and Design has all the remodeling tips you need to get started on this fun nursery project!
Put Painting at the Top of Your List
Decorating with new paint colors is the quickest and easiest way to update your room. Most parents pick serene, light palette colors like baby blue, light pink, yellow, or green for the walls, while light gray is also a very popular, modern choice. Painting should be done early in your process as you'll want the room to be properly ventilated before baby's arrival. Wall decals are also a great way to add personal touches to the room without having to get out the hammer and nails.
Create a Sitting Area in your New Nursery
One thing you're going to be doing lot of in the nursery is sitting and rocking. Create a relaxed corner with a comfortable chair, side table near a power outlet for plugging in phone chargers, and floating shelves to store books or other knick-knacks. Add a plush rug for a cozy feel and keep must-have items, like burp-cloths, diapers, and blankets stored nearby in baskets or bins.
If you're remodeling, consider an upgrade in overhead lighting. Directional ceiling lights will point brightness exactly where you need it, while dimmable switches allow you to choose the lighting level you need whether you're up all day or all night.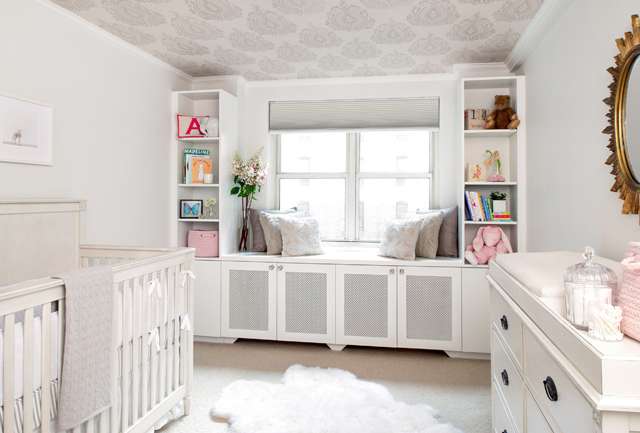 Nursery Built-Ins are Safe Alternatives to Furniture
Nearly all furniture will need to eventually be anchored to the walls in your child's room. As your baby becomes mobile, you want to avoid any toppling situation related to pulling or climbing on the furniture. Remodeling your room to include built-ins is a great way to permanently enhance the look of your room and completely remove that toppling risk. You should also consider renovating a closet for more organized storage solutions. A built-in bench seat would be a wonderful addition to your nursery sitting area as well as a perfect place for storing things, like extra diapers, out of sight. It will continue to be appealing for your older child or teenager's reading, relaxing, and storage needs.
Built-in shelving and cabinetry is another necessity. You'll undoubtedly receive a lot of baby gifts, stuffed toys, and books. Keep your favorite items out on display and store the rest. Design the shelving in the room with a mix of lower-to-the-ground shelves for your small child to have easy access to board books and higher shelves for more fragile items. Adding labeled storage bins to the shelves for easy organizing will keep things neat from the start.
Northern Virginia's Best Remodeling Company
If designing a nursery or child's room is on your horizon, contact Moss Building and Design to help. Our designers will work with you to create visualizations of your room before remodeling begins and our team of project managers will work to keep the remodel the least disruptive as possible. The team has long-established processes in place to keep you and your family safe and works to accommodate your needs if you already have small children or pets in the home. Contact us today!
Get a jump start on your remodel by signing up for Moss' Design Days of Summer. Receive a FREE in-home Project Development Consultation and a design session with one of our expert Designers in our Design Center.