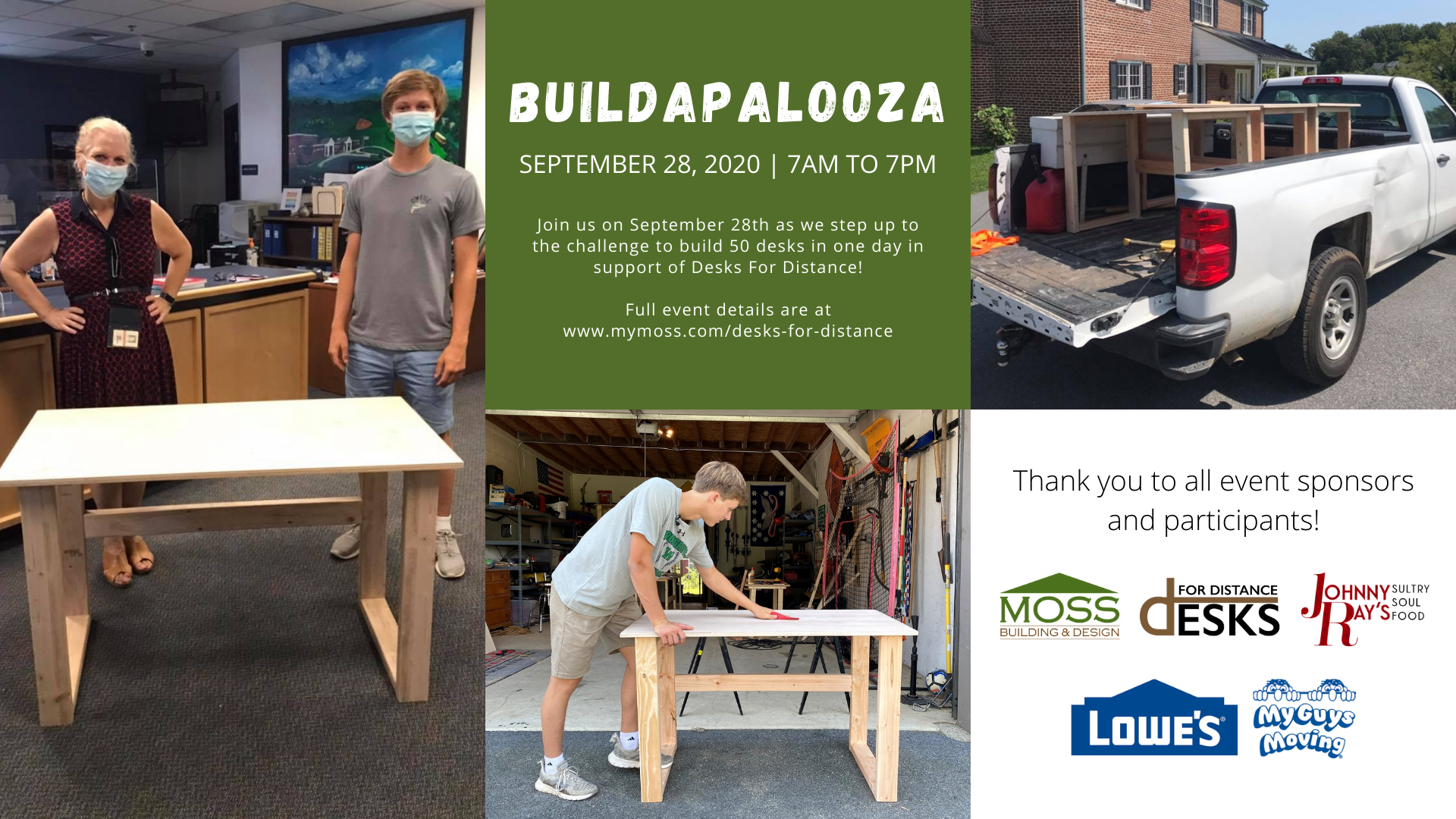 CONTACT INFORMATION
MOSS Building & Design
Mara Bauserman, VP Marketing
304.279.3951
Mbauserman@mossbuildinganddesign.com
RELEASE DATE September 15, 2020
CHANTILLY, VA – MOSS Building & Design, Northern Virginia's premier residential remodeling company, will play host to a day-long "BuildAPalooza" event on September 28, 2020, providing warehouse space, labor, volunteers, and materials to help build 50 (fifty) desks for area distance learners in need in partnership with local non-profit Desks For Distance.
Desks For Distance, the brainchild of Woodgrove High School junior Colby Samide, began in late August 2020 as a way for the founder to perform a community service, having heard about the shortage of desks for students across the area, while also using his woodworking skills. From the organization's Facebook page, there was an immediate and positive response from the local community, which prompted MOSS Building & Design to reach out to Samide to offer assistance and help fulfill the many requests he had received for desks.
"I'm incredibly thankful for MOSS Building & Design's help in pulling together so many resources and local organizations for "BuildAPalooza" on the 28th," said Samide. "I never imagined that this idea could get so big, but I'm so grateful for all the volunteers and donations to help so many local students in need."
"BuildAPalooza" will feature not only the entire MOSS Building & Design staff on hand, but also members of the community who are interested in helping, including area Scout troops, volunteers, parents, and others. In addition, Lowe's Home Improvement has partnered with MOSS Building & Design to provide an expert team of volunteers to assist in the assembly of the desks as well as supply all materials for "BuildAPalooza", a generous donation of over $3,000.00. The event will take place in the MOSS Building & Design warehouse, located at the company's headquarters in Chantilly, Virginia, and space will be allotted for storage of the desks until they are picked up or delivered by My Guys Moving and Storage, which is helping as the "desk transportation" sponsor. In addition, Johnny Ray's Sultry Soul Food will sponsor breakfast and lunch for the day for all volunteers.
"MOSS Building & Design has been highly involved in community partnerships and organizations for years, as giving back to the local community has been a cornerstone of our principles since the company's founding," said Paul DesRoches, MOSS Building & Design CEO. "When we learned about Desks For Distance and Colby's incredible work, we knew that we could offer our building expertise and area contacts to help this young man fulfill his mission and vision."
To qualify to receive a desk, Northern Virginia families must apply via Desks For Distance here and/or work through their school's parent liaison. MOSS Building & Design will provide two onsite days where desks can by picked up by pre-approved parents or any Desks For Distance volunteer who is available for a student home delivery.
Volunteers must sign up for a specific shift in advance, as outlined here, with numbers of volunteers spaced out throughout the day in consideration of social distancing guidelines. In addition, all volunteers must complete a health and safety questionnaire the day of the event as well as other waivers and releases. PPE and all required safety gear will be provided to all volunteers by MOSS Building & Design.
Media and press are invited to attend "BuildAPalooza" to conduct in-person interviews with Samide and MOSS Building & Design executives on the day of the event. Please contact Mara Bauserman, MOSS Building & Design VP Marketing, for further information.
MOSS Building & Design is an award-winning residential remodeling company located in Chantilly, Virginia. As a trusted home improvement company in Northern Virginia, MOSS Building & Design focuses on providing customer service that is unparalleled by any other contractors in the area. Through trust, transparency and character, MOSS Building & Design builds lifelong relationships with their customers.
Since 2001, MOSS Building & Design has established a reputation for excellence in remodeling additions, kitchens, bathrooms, basements and home services throughout Northern Virginia. Their customers see them as a trusted partner, and MOSS Building & Design is very proud that over 85% of their customers consider themselves 'customers for life.' MOSS Building & Design has won consumer awards from Angie's List for six consecutive years and also has an A+ rating from the Better Business Bureau as well as many industry building and design awards.