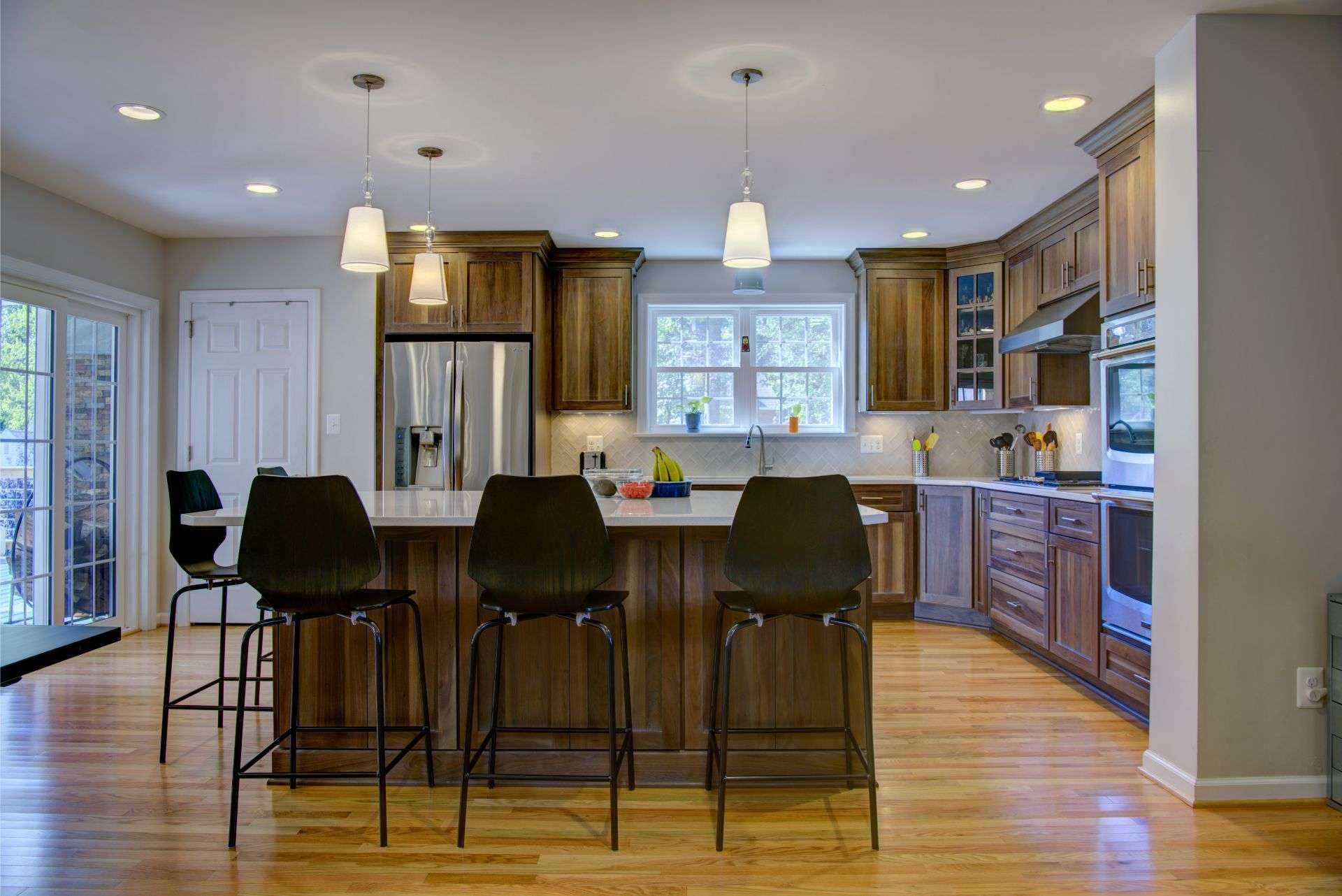 The kitchen is where we naturally congregate during parties – it just seems to happen! With everything at hand on kitchen countertops, in the fridge, or on the stove, everyone is just drawn to be together where all the action takes place. So why not remodel your kitchen with entertaining in mind? Consider choosing a beautiful kitchen island as the icing on the cake to an entertainer's kitchen: it provides a central spot that is not only the perfect spot for coming together, but also a functional space for cooking, storage, and catching up with friends and family. At Moss Building & Design, we love when our customers incorporate kitchen islands into their kitchen remodel design, and especially when those islands are the perfect fit for entertainers! Here are some of our favorite beautiful kitchen islands:
Massive Kitchen Island in Oak Hill, Virginia
We love a good party, and these Oak Hill homeowners clearly do too. When they remodeled their home, they deliberately chose to create an open concept kitchen and family room area on their main level with the idea that it would provide plenty of space for guests to be together without feeling crowded. Installing this beautiful kitchen island to be the kitchen's focal point was deliberate. It's spacious enough to lay out a full buffet but also perfect for a casual, last minute get together with friends. It has seating, storage, and a sink, perfect for prep of meals or drinks.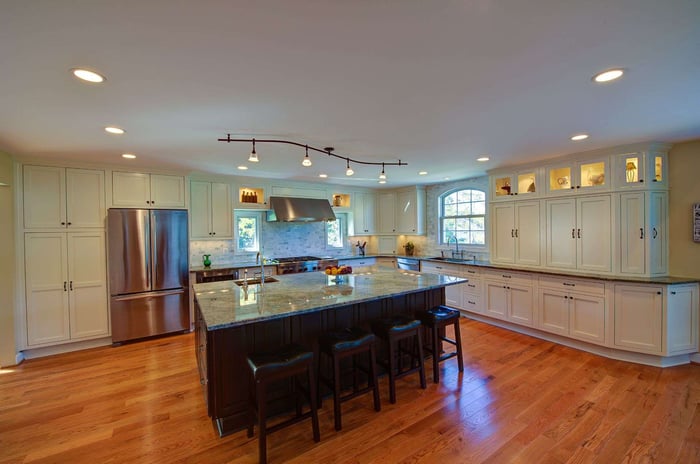 Stunning Double Kitchen Islands in Fairfax Station, Virginia
No, you're not seeing double! These Fairfax Station homeowners wanted to have a grand space for entertaining, and that included the installation of two kitchen islands. Both have ample storage and seating options, while one also includes a pet watering station for the family's dogs. The effect of having two islands is gorgeous – we can only imagine the set up as this family entertains!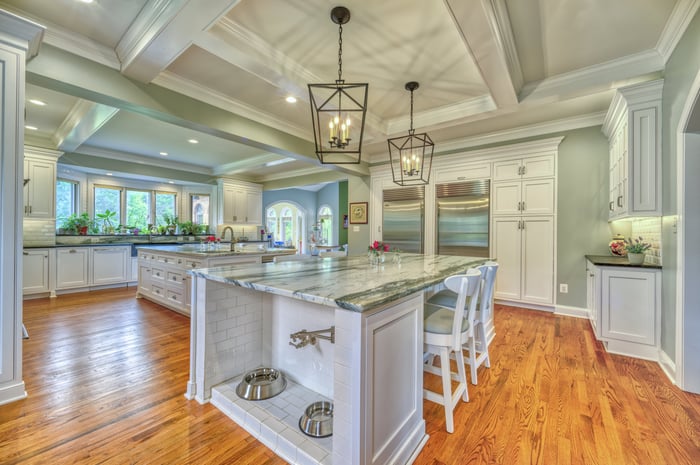 Central Kitchen Island in Arlington, Virginia
This Arlington home remodel included a kitchen bump out – the homeowners purposefully chose to have a large, central kitchen island to serve as a gathering place for their family and friends. It houses storage, seating, a wine fridge, and a microwave drawer, so it essentially has everything you need for entertaining. It is big enough to host game night or to set out a taco bar!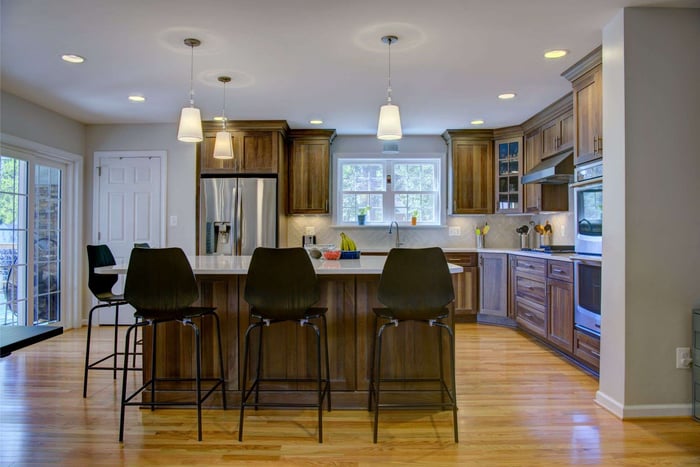 Unique Kitchen Island in Reston, Virginia
This beautiful and unique kitchen island in Reston was designed by one of our Moss Building & Design experts, who created the diagonal "X" lines to bring a whimsical look and feel to the kitchen island. The kitchen island itself has plenty of seating for the family but is also perfect for entertaining, as it connects the dining room to the family room, and is placed centrally near the cookstove.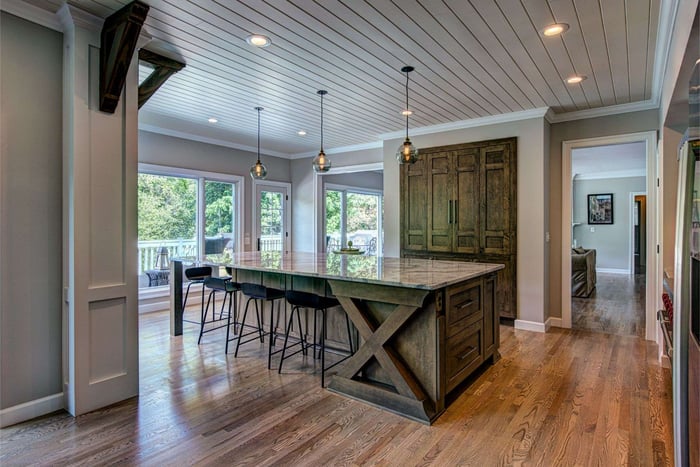 Gorgeous Double Kitchen Islands in Centreville, Virginia
There's no shortage of space in this Centreville kitchen remodel and our homeowners took full advantage of that fact to put in not one, but two, gorgeous kitchen islands. The islands utilize the space at hand perfectly, providing plenty of counter space for entertaining purposes, but also plenty of seating options at both islands. The curved portion of one kitchen island lends itself to maximizing the space and allows for plenty of room for people to move around and through the kitchen.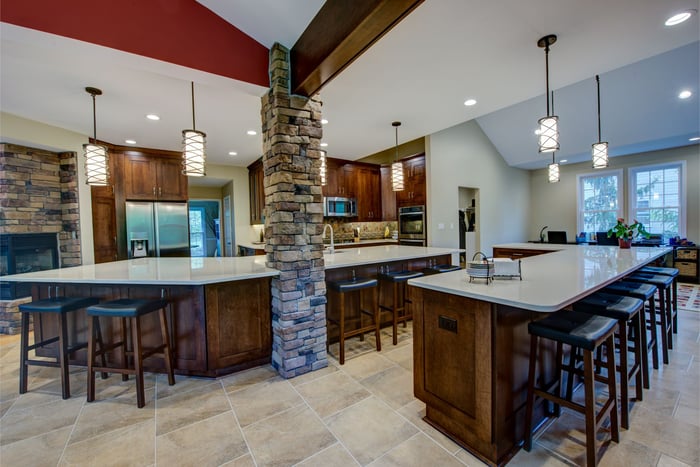 So have you considered a kitchen remodel (with a kitchen island) this year? If so, and you need some inspiration, these remodels are certainly among the most beautiful in our portfolio, especially for homeowners who love to entertain. Contact us at Hello@MossBuildingAndDesign.com or call us at 703.961.7707 to learn more about our kitchen remodels.