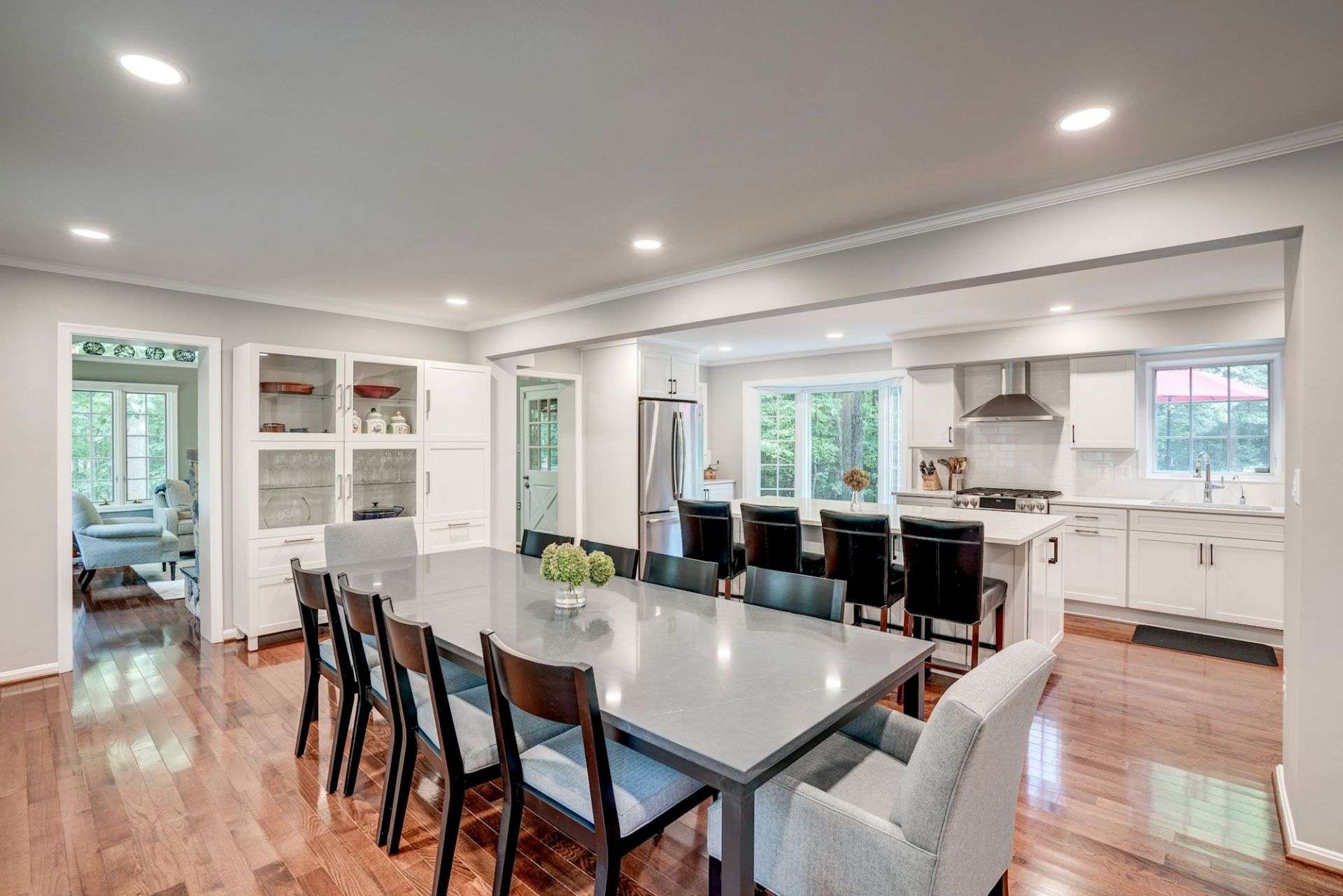 Kitchen design and remodeling trends come and go: some remain popular for many years while others fizzle out quickly. No matter if the trend is short or long term, Moss Building & Design experts strive to remain at the forefront of the best and most current kitchen design trends. Learn more about what our designers are seeing for 2020 and beyond:
White Kitchen Cabinetry
All-white kitchen cabinetry is timeless and can make your space look brighter, cleaner, and larger. If you are keen on a more formal look in the kitchen, consider dark or gold-toned finishes and handles, formal lighting fixtures, and traditional cabinet doors and drawers. Dark floors are becoming a popular trend again and can make white cabinetry or lighter walls stand out in a striking contrast.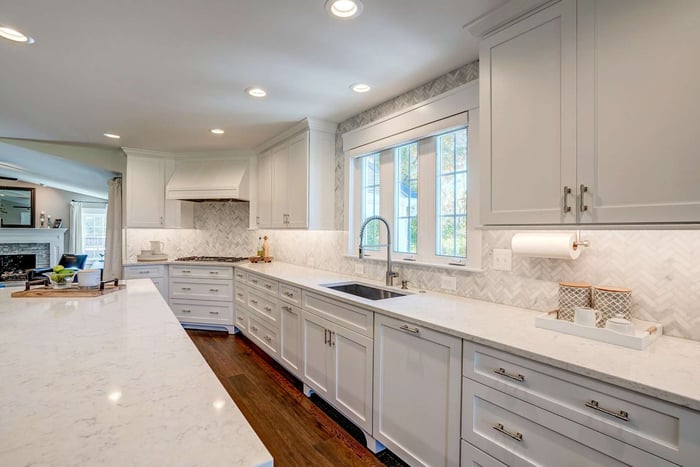 In this Northern Virginia kitchen, a moveable island on smooth caster-wheels features a thick, gorgeous butcher block top, complementing rich, dark, wide-plank hardwood floors and a lush wood top on the bay-window seat (featuring hidden storage). The colored base of the island was custom ordered to complement a similar shade on the walls, creating a warm and inviting place to work and play.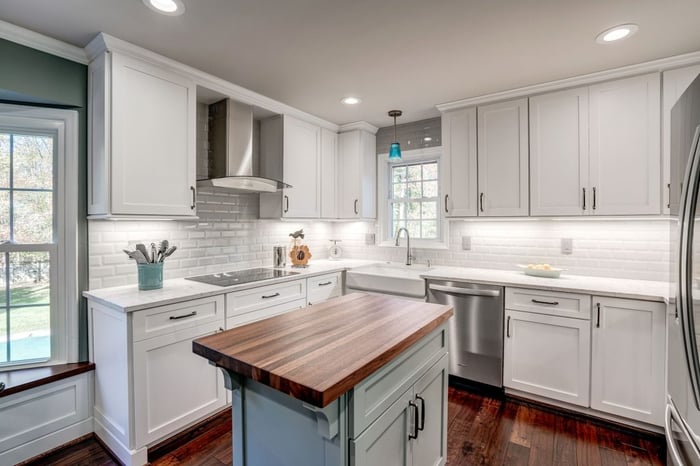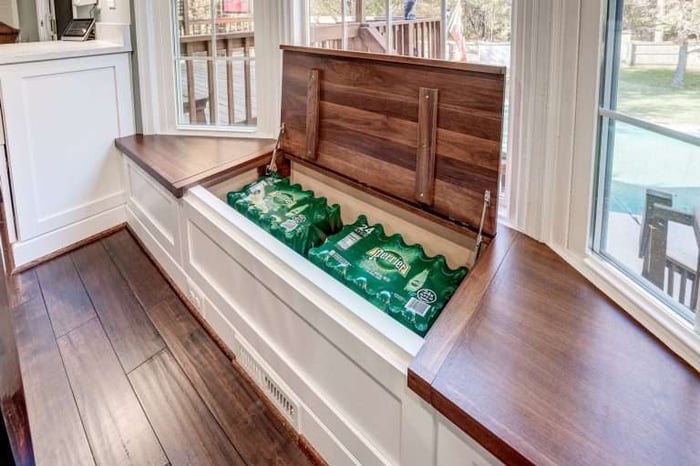 Add a Pop of Color to Your Kitchen Remodel
With white and neutral tones dominating kitchen design, a current trend is to add a pop of color in the island cabinetry, throughout the backsplash, in textured window dressings, on seating coverings, or inside glass-front cabinets.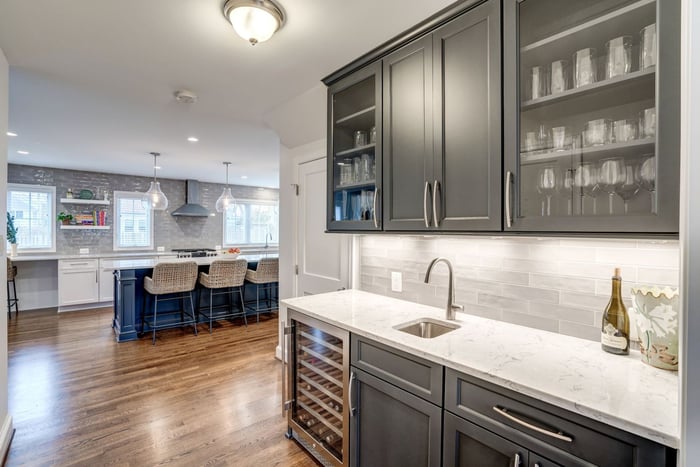 Sherwin Williams announced 45 trend colors for its 2020 Color Forecast intended to lessen "the noise that seems to constantly surround us all while providing joy and serenity" and focus to the mind, body, and spirit. To find a color perfect for your personality, log onto www.sherwin-williams.com/homeowners/color/find-and-explore-colors/paint-colors-by-collection/color-forecast/2020/.
Open Dining Room Adjacent to the Kitchen
In 2020, kitchen design will continue to include the conversion of unused rooms, like a formal dining room, to open up space for more practical use. However, a current trend is for homeowners to retain a large dining table to accommodate their growing families, returning children from college, multigenerational living, and holiday celebrations. More and more, Moss Building & Design is working with homeowners to transform their enclosed dining area by taking down the wall separating it from the kitchen, and, thus, incorporating it into the entire layout of the kitchen during their kitchen remodel.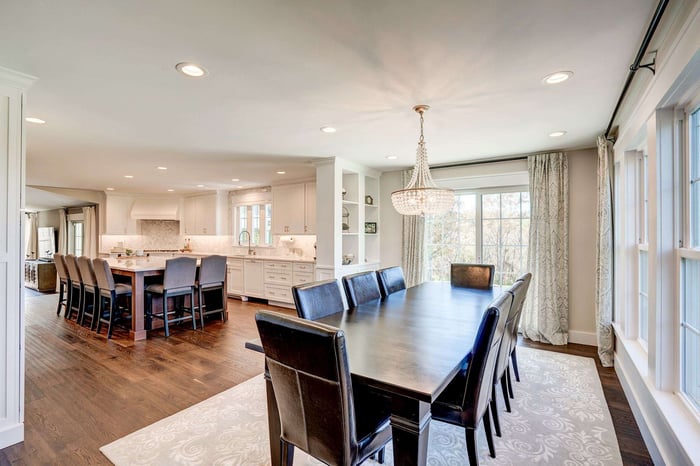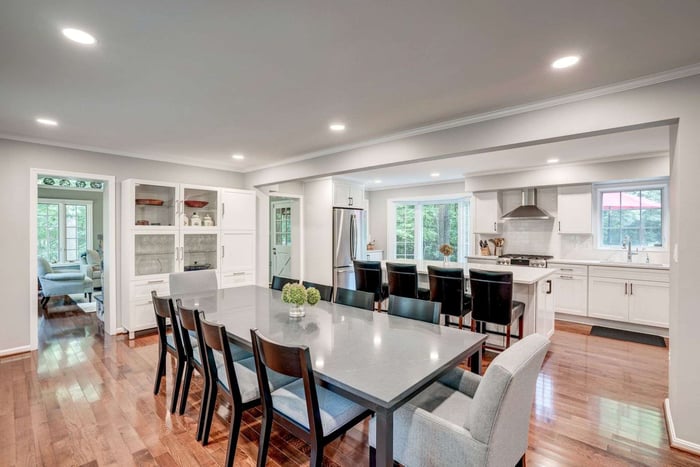 Additionally, long-extended kitchen island bars allow for plenty of seating, creating a less formal dining space with more accessibility (and easier conversation over meal prep!).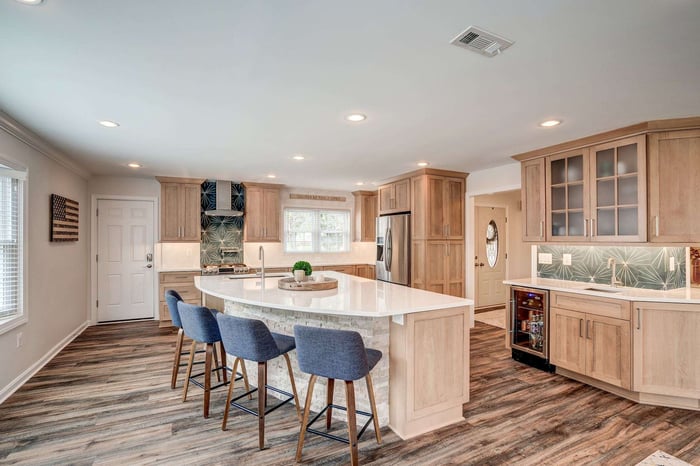 Revamped Mudrooms Created Next to Kitchen
On the other side of the kitchen, the trend is moving towards converting an original laundry room into a multi-purpose mudroom. Often times, the mudroom provides direct access to the car where groceries are unloaded and where children drop all their sports equipment and book bags. Stopping the mess immediately after opening the door and stepping into the house gives parents a fighting chance to keep the kitchen a clutter-free zone.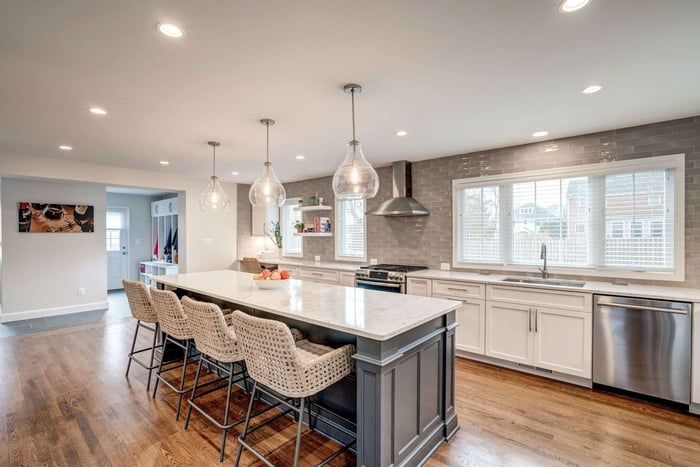 Concealed or Decorative Range Hoods
Although many homeowners still prefer the convenience of a microwave and vent above their gas or electric range, a hot kitchen design trend for 2020 is to incorporate the hood as a decorative statement piece or to hide it within cabinetry for a more streamlined look.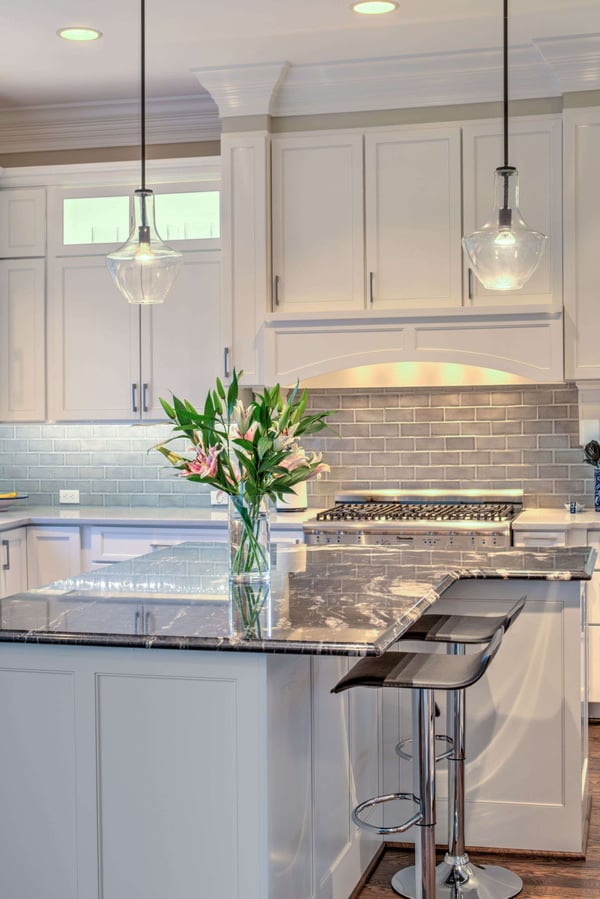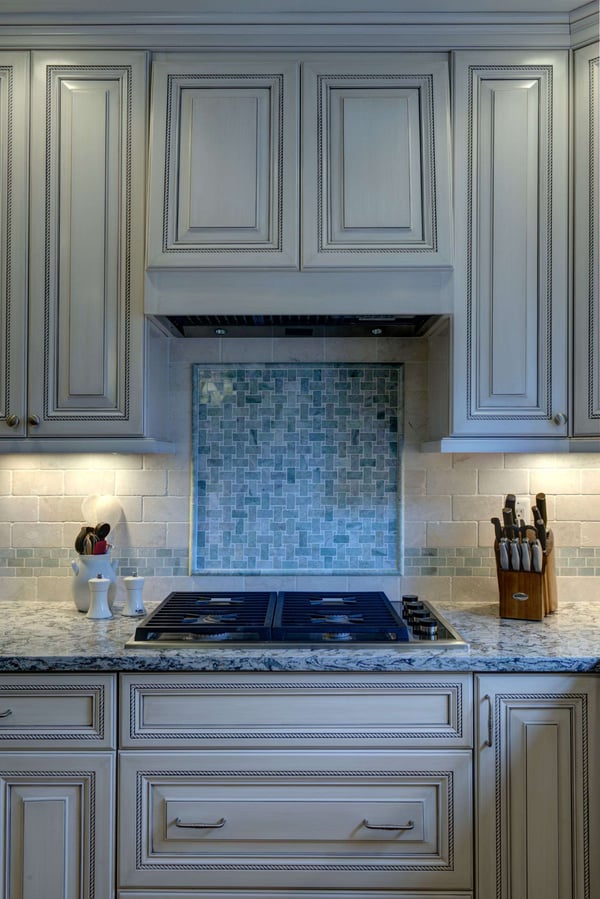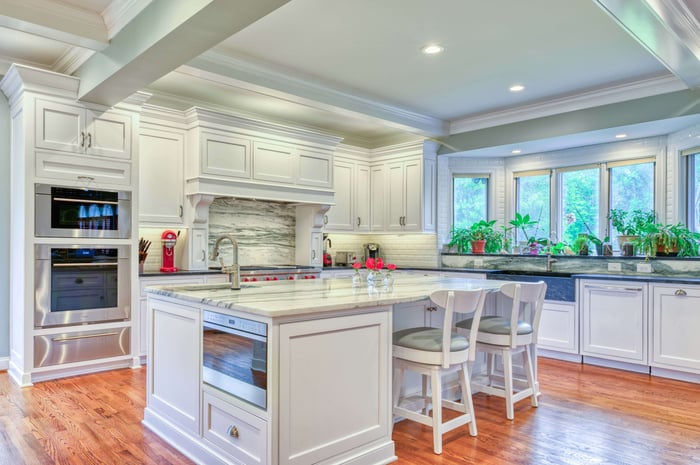 Farm Fresh, Rustic Farmhouse
American design has embraced farmhouse design and all its eclectic and nostalgic features, which ensures it will remain a much-sought after style into the next decade. Define your space with exposed wooden beams – whether natural or stained; darker wood base or island cabinets, natural stone or tile backsplash, open grainy wood shelving to display an heirloom coffee grinder, egg crate, sterling tea pot, or antique collectibles, or a farm-style kitchen sink. Not everything must be farm style, but it should flow in a cohesive approach, so consider a few wooden furniture pieces that match the color of your ceiling beams or wood island.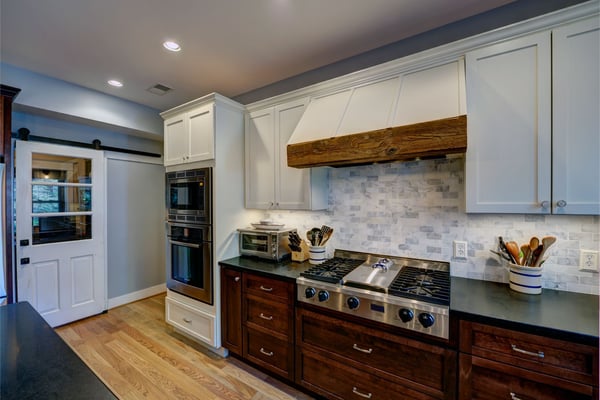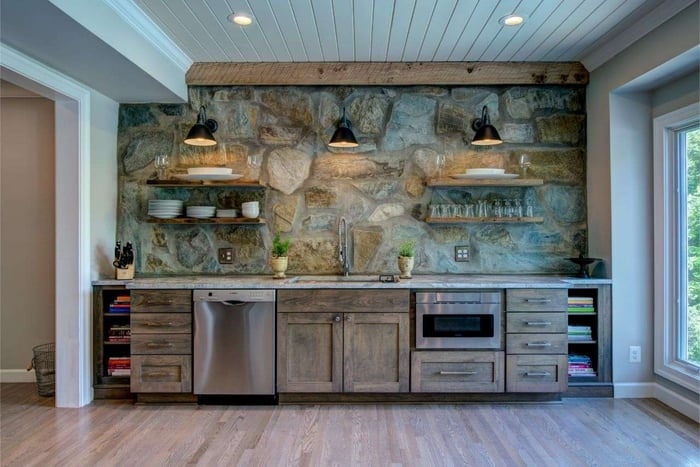 Mix & Match Metals
Gone are the days where everything in a room needs to match. Thankfully, 2020 kitchen trends have given way to colorful cabinets with gold handles and elegant light pendants showcasing black metal with glass shades.
In this Northern Virginia kitchen, three gold chandeliers adorn the long island, stainless steel faucet and cabinet handles complement the gas range, and wood bar stools with white fabric and brass tacks contrast with the white cabinetry decorated with blue-and-white treasures.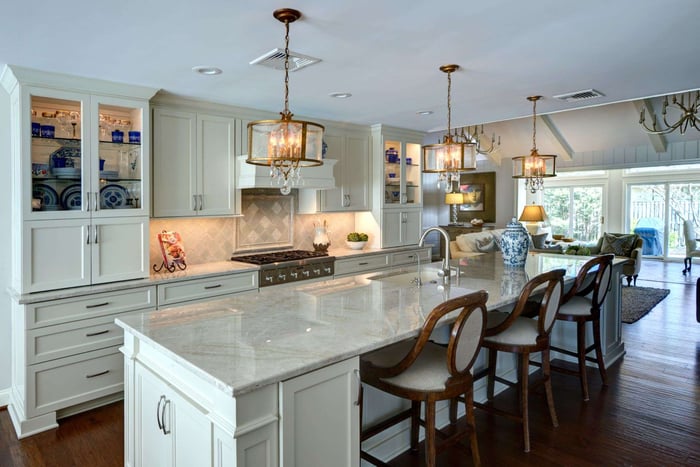 Double Ovens & Built-in Microwave Cabinets
There are so many more options to house microwaves now than when they were originally introduced as a countertop feature (taking up valuable prep-workspace). Microwaves can be placed in pull out drawers, set inside built-in microwave-specific base cabinets, or included in a double-oven wall-unit with options for a conventional oven, convection oven, warming drawer, or microwave.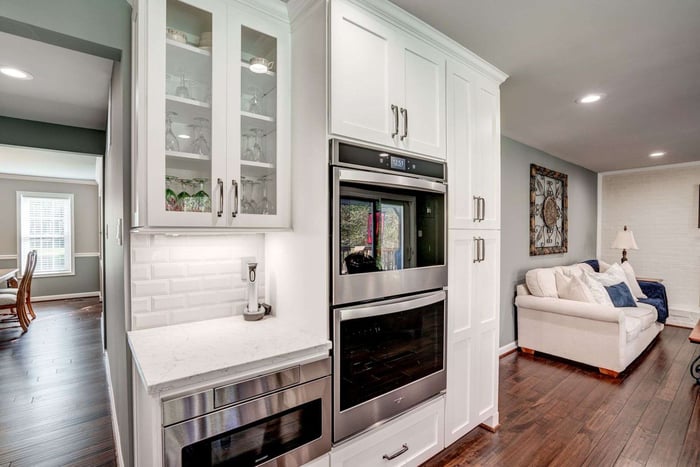 Recessed, Flush-Mounted Pantries
Almost every home has hidden space that can be transformed to accommodate additional features in a remodel. In 2020, kitchen designers will seek out nooks to recess pantries and large appliances in a flush-mount to drywall so that sightlines are clean and the footprint provides as much space to move around in as possible.
In this Northern Virginia home, space under the stairs was re-purposed to create a niche the perfect depth to house a Sub-Zero refrigerator, full-size freezer, and recessed cabinets. A crown plate and crown molding were mounted directly onto the drywall, as opposed to the face of the cabinet, and returned at the corners and end-runs slightly to create the same molding profile throughout the kitchen.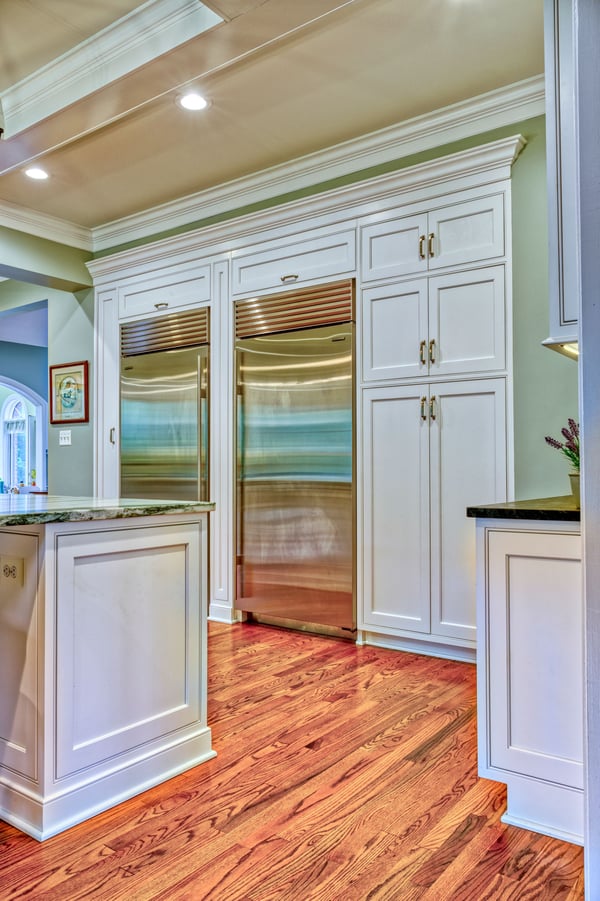 21st Century Butler Pantries
A popular kitchen design trend in 2020 is a separate butler's pantry, with a mini-fridge to house beverages and chilled wine, a stylish countertop to offer appetizers or desserts, and cabinetry for glasses and stemware. Butler's pantries, once hidden in the back and used to store polished silver, china, and larger serving dishes, are now out in the open, inviting guests to make themselves right at home with a cocktail or nibble. They can be as elaborate or as quaint as your entertaining style, but all will showcase a special design feature.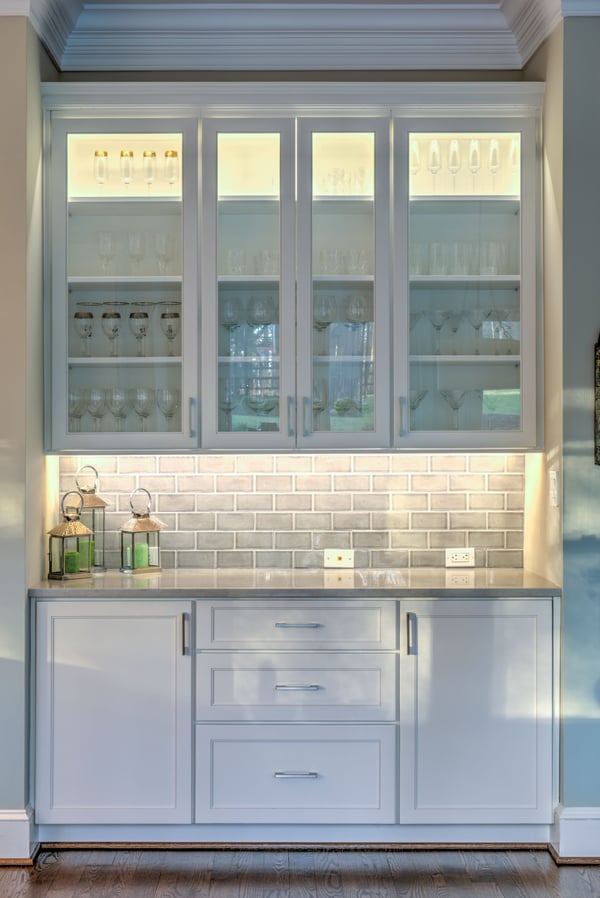 In this Northern Virginia kitchen, board-and-batten is weaved throughout the home along the walls. The backsplash to the butler pantry or bar area also mirrors the design to create flow throughout the open space.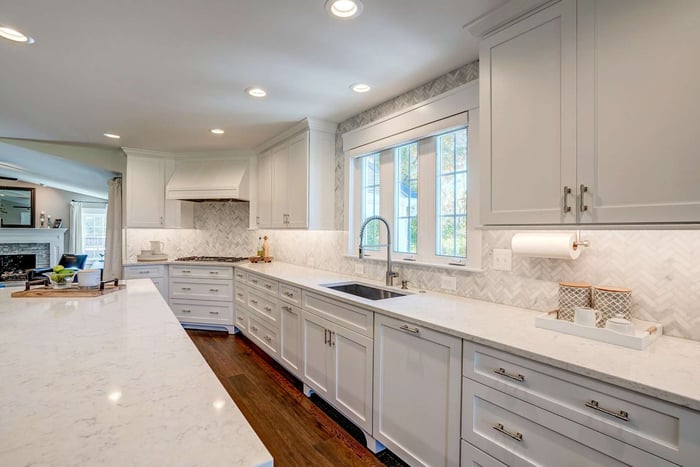 Geometric Kitchen Tile
Homeowners and designers are having more fun with creative, geometric tile. In 2020, it will be a growing design feature in bathroom inserts: covering bathroom and mudroom floors and installed as backsplashes. In this Northern Virginia kitchen remodel, a fanciful, vibrant backsplash is installed above the range as well as along a support wall to create flow throughout the expanded kitchen.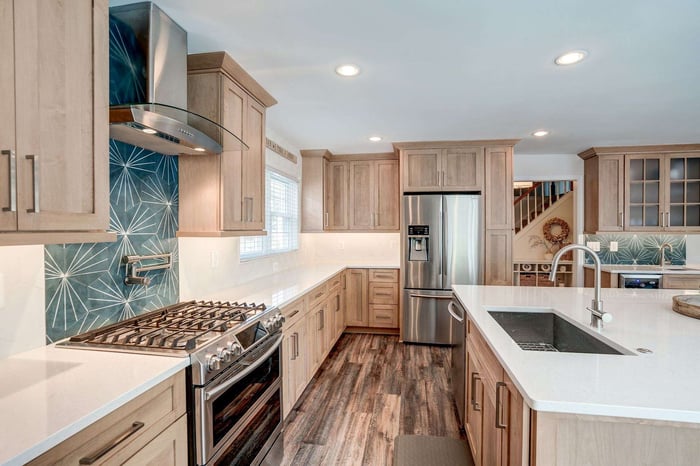 Stowed-Away Technology
Organization and functionality dominate kitchen, bath, and closet systems throughout home remodels, and storing technology and cords in particular is no different. According to Mobile World Live, it is estimated the number of devices per person will hit 4.3 by 2020. So, it is no surprise that a fast-growing kitchen design trend for 2020 is designated kitchen cabinet or drawers designed specifically to house and charge personal devices.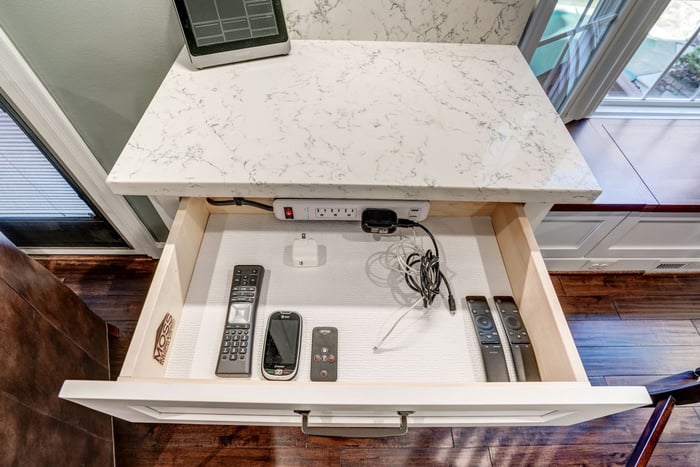 In this Northern Virginia kitchen remodel, these convenient, flush mounted, pop-up electrical outlets are hidden under and on the countertop.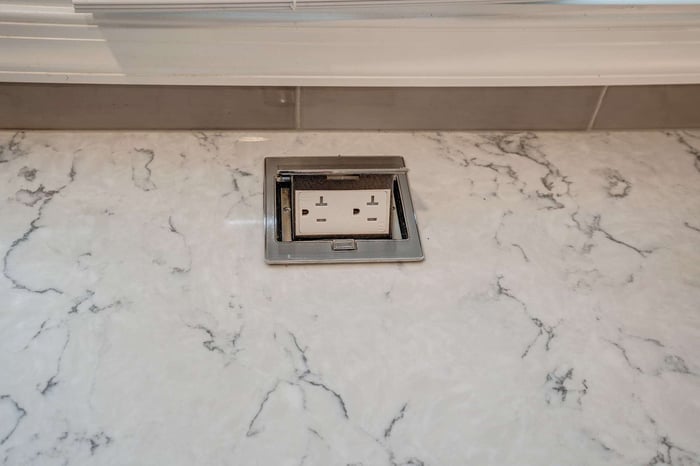 Are you interested in learning about future kitchen design trends? Keep an eye out for photos of painted ceilings, wallpaper, and more options in graphic design tile. Ready to begin your own kitchen remodel? Contact us today at Hello@MossBuildingAndDesign.com or call us at 703.961.7707 to schedule a free in-home estimate.