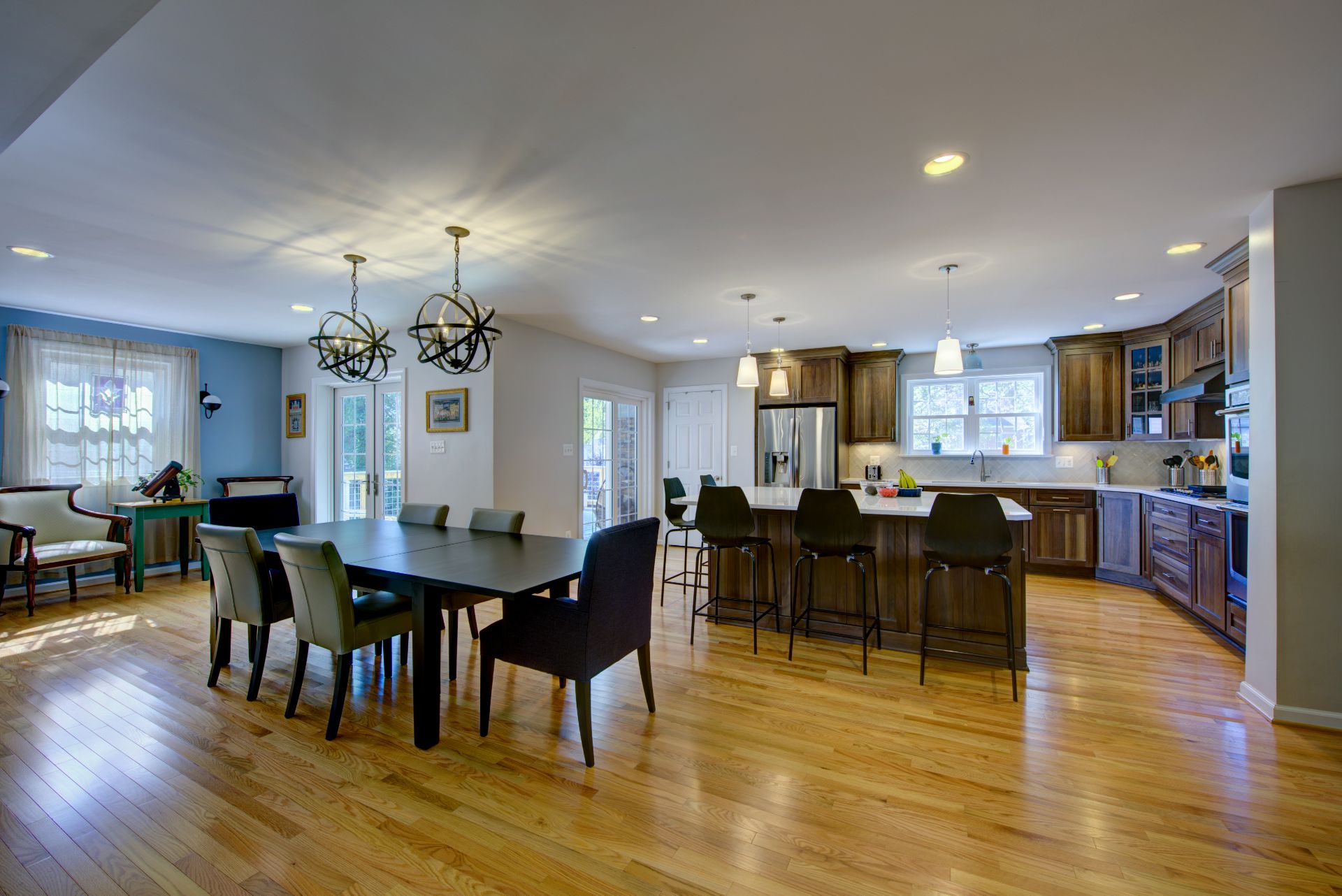 So you've made the decision to remodel your home with the addition of a kitchen bump out – congratulations! And, you've already decided to employ a design build company to manage your remodel. Hiring a design build company gives you the comfort of knowing you will be working with a "one stop shop", where all the professionals you need for your remodel are under the same roof.
Moss Building & Design has been the premier design build company in Northern Virginia for over 18 years, and has the portfolio and thousands of satisfied customers to back this claim up. From our vast experience in the industry, we know the high standards that we uphold for ourselves as a design build company, and we've put together these five things to consider when you begin the process of hiring a design build company for your kitchen bump out remodel:
Details & Process: Will the design build company detail the kitchen bump out remodel process step by step in the initial contract?
When gathering multiple quotes from design build companies, it's often impossible to truly compare them to one another, as a standard for contracting quotes doesn't exist. It's more important to understand how a potential design build company handles accuracy of the project scope upfront as well as contract deviations throughout your kitchen bump out remodel.
At MOSS, we provide all of our customers with a fixed-cost, flexible contract that's based on your individual project. And, we spend a lot of time upfront to provide you with an accurate scope and cost which dramatically reduces home improvement budget "cost creep". We highly recommend that you ensure that all areas of the project are outlined in the estimate, so you don't get hit with hidden costs that might pop up after you are already under contract.

In-House Work: Will the design build company keep all the work under one roof?
You should feel comfortable knowing that everyone on the design build company's staff that is tasked to manage your specific kitchen bump out remodel are knowledgeable about your remodel from top to bottom, start to finish. MOSS is a true design build company – all of the individuals that are on your kitchen bump out remodel, from the sales consultant, to the designer, to the project manager, are all together in our offices and communicate regularly not only with you but with each other.
At MOSS, we encourage open lines of communication with our customers. We adhere to strict internal standards when it comes to hiring anyone who works for us, as well as how we select and manage the individuals coming to your home to perform the work. For example, every worker in your home that's hired by Moss Building & Design is background-checked and has a MOSS photo ID. You should always feel reassured that any design build company cares about your comfort level as much as you do!

Schedule & Budget:
Will the design build company keep to the agreed schedule and to the proposed budget?
Asking the right questions of your design build company up front can save you a lot of heartache down the road. We recommend the following initial questions to get a feeling of what is entailed in a design build company's management of your kitchen bump out remodel schedule and its budget:
Can you give me a rough breakdown or timeline of how my project will progress?
How will I keep track of everything I need to do? How can I remember the selections I've made?
When do I need to pay for my remodeling project?
Who do I call if there's a question or problem with my project?
Are there going to be times when essential areas of my home will be out of commission? How long can I expect that to be?
Do I have to get involved with permits and inspections?
Will your company take care of the trash and debris disposal?
How long does a typical remodeling project of this scale take?
Homeowners should be concerned with what the project schedule looks like, who's taking care of permits and inspections, and who is the main point of contact.
MOSS provides all of this to our customers via our site, safety, and communication plans, accessible 24/7, along with your project schedule and any other project-related items, using Moss Online, our proprietary project management tool. Because each home is different and every homeowner has individual needs and expectations, we ensure transparency and flexibility with the project schedule, communication, and more. Our team of project managers, designers, and carpenters takes you through every step of the remodeling process from ideation to completion.
What happens if your project goes over budget? MOSS has a very low 'surprise rate' due to our due diligence prior to starting construction on your home. If we do encounter something outside of the original plan, your project manager will discuss this with you in detail. An email summary and your personalized communication plan outlines how we will communicate back and forth with you throughout the duration of your remodel.
Experience: What is the design build company's experience with kitchen bump outs? Do they have references you can call?
If you have trouble visualizing how your kitchen bump out remodel might look, check an online or in-person project portfolio. See if past remodels include a project similar to what you're asking for. This makes it easier for the remodeler to understand your design vision, and you're ensured that they have done it before. One of MOSS's specialities is kitchen remodels and has been so since our company's establishment in 2001.
Many homeowners have a fear of smarmy contractors and sneaky contracts, so it's critical to find a remodeling company with a good reputation. Look for positive reviews on consumer websites like Angie's List, social media, a Better Business Bureau accreditation, industry news updates, relevant blogs, and newsletters on their website.
At MOSS, we are proud of our 98% customer satisfaction rating and will always provide references for potential customers who request them.

Safety & Insurance: Is the design build company licensed and insured?
Undertaking a kitchen bump out remodel is a big step for anyone and requires individuals being in your home for potentially long stretches of time. It's crucial that you ask these questions of the design build companies that you are interviewing:
Does your business carry a current Class 'A' Contractor's License? When does it expire?
How long has your company been in business?
Is your business currently licensed in my county?
Does your business carry liability insurance and workman's compensation? If so, can you provide proof?
Does your company have a full-time customer service representative?
Are you a member of the National Association of the Remodeling Industry?
At Moss Building & Design, all of our team members in the field are background checked, photo identifiable, and badged before they step foot on a project. Our sales consultants and designers aren't commissioned and have the ultimate flexibility to craft a solution for you without inherent conflict. And, of course, MOSS can answer "yes" to all of the above questions.
Ready to Begin Your Kitchen Bump Out Remodel?
Hiring a design build company for your kitchen bump out remodel is a smart decision – but choosing the best contractor for your home shouldn't be taken lightly. Consider these five things before making your final decision, and please, contact MOSS, Northern Virginia's premier design build company, at Hello@MossBuildingAndDesign.com or at 703.961.7707, for a free estimate.