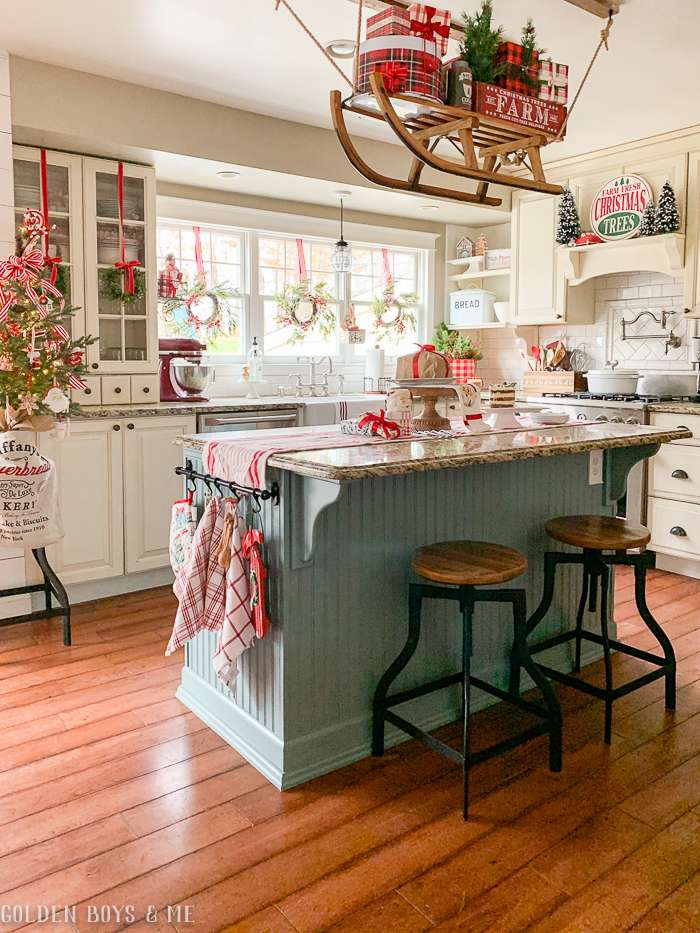 Quite possibly, you've been decorating your kitchen for the holidays in the same way for years – using a combination of hand me down items, pieces you've picked up here or there, or during a post-holiday clearance shopping trip. Well, maybe it's time to up the ante – especially if you've gone through a recent home remodel, which transformed your kitchen from just okay to high end stunning! If so, check out these decorating style options we've come up with to really bring the wow factor into your high end kitchen and make it the entertaining hot spot of the season!
Traditional Kitchen Decor for the Holidays
If you love the old time, classic holiday songs and prefer a vintage color palette, then perhaps a traditional decor is perfect for your high end kitchen. Red and green with touches of gold help showcase your preference to old-fashioned and traditional decor. Big bows, lots of holly, and sweet nods to the past (like strung popcorn!) can be the way to go if you love the traditional look.
Rustic Kitchen Decor for the Holidays
When we think of rustic, we think the outdoors – why not bring part of the season inside with your high end kitchen holiday decor? Picture lots of green, brown, icicles, and snow – beautiful, natural wreaths, red-checked flannel, animal decor like horses and other odes to the outdoors. Rustic kitchen decor makes one feel cozy, as if they want to sit at your table with you and share a cup of hot cocoa.
Modern Kitchen Decor for the Holidays
When you think of modern design, you generally conjure up images of clean lines, monochromatic colors, and minimal flair. In fact, modern holiday decor can have all these qualities and also feel festive. In a high end kitchen, the holiday decor will be monochromatic in texture and color — but here and there is a splash of color to draw the eye and make a statement. This could be a gorgeous holly wreath or these adorable red ornamental balls here and there.
Minimalist Kitchen Decor for the Holidays
Minimalism is a wonderful way to embrace the holidays but without the cluttered look and feel that comes from putting out too many pieces of decor. A minimalist high end kitchen might showcase just a few items that are of high personal value to the homeowner, and keep everything to a specific theme or color (all silver pieces, for example). Doing a minimalist holiday makes for an easy, post-holiday clean up, which is also a draw!
Fun & Unique Kitchen Decor for the Holidays
If you don't fit into any of the categories above…that's okay! There's no need to pigeonhole yourself – if you like bright pink trees with silver tinsel, you should go for it. The holidays are about celebrating! We love the unique decor pictured here!
However you choose to decorate your high end kitchen for the holidays, rest assured it will be beautiful and a reflection of your personal design style and taste. Bringing friends and family together over the holidays is the end goal, and we're positive that your kitchen decor will be well received and result in a fun, festive, and lovely gathering.
Interested in updating your kitchen for next year's holiday season? Contact us at Hello@MossBuildingAndDesign.com or call us at 703.961.7707 to start the conversation!