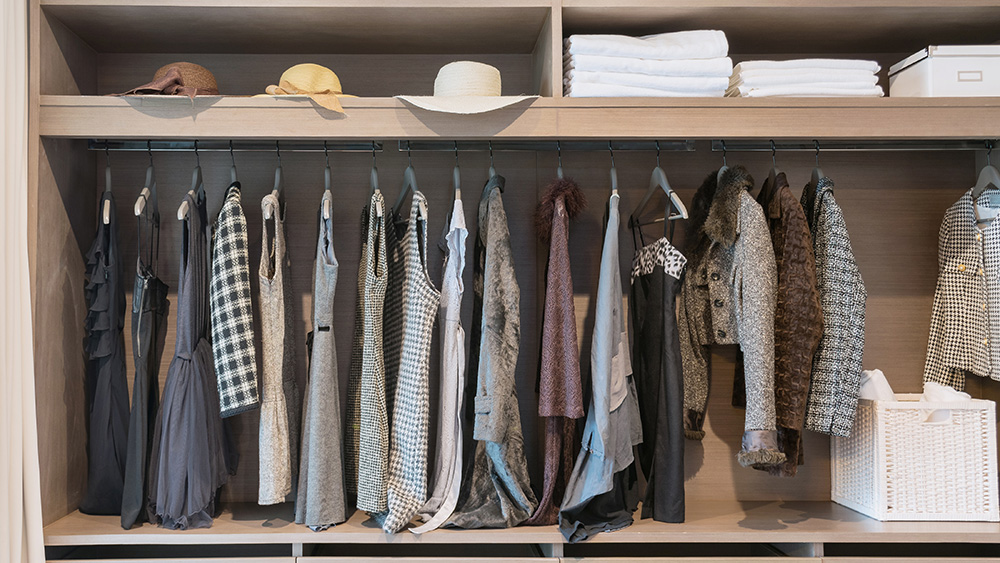 By: The MOSS Team
Nobody likes clutter in their home! It darkens the space, makes cleaning difficult, and leads to disorganization. Make 2019 the year to remove clutter and to live a simpler, happier lifestyle. These decluttering tips from MOSS make it easy to get organized.
Organize Closets
The first place to look for clutter is the closet. Start your decluttering project by tracking which clothes, shoes, and accessories you actually use. Place sentimental items, like family jewelry or a box of old cards, in a bin to be saved. Once you're done, get rid of everything that you no longer need or wear. Donate it or sell it.
When you narrow down what to keep and what to throw away, install organizational systems in your closet. Think about custom shelving, bins, or drawers to organize what's left. Install a shoe rack or a hanging shoe organizer over the closet door.
Make a rule: Nothing sits on the floor of your closet anymore. Everything must have a place.
Recycle And Upcycle
Don't throw away your old furniture. Upcycle it! Turn your child's crib into a toddler bed, transform an old set of bookshelves into a bench, or turn your old console television into a beautiful fish tank. These great upcycle projects keep waste out of landfills and test your DIY skills.
If you're not big on upcycling your old furniture, offer it to anyone who will come collect it. You give someone else a gift, and your home will look so much more organized and spacious when the old furniture is gone.
Remove Duplicates
Sort through collections of books, utensils, picture frames, vases, and everything else that you may have multiple of. Give away duplicates to charities and consignment shops or to a young family member or friend who's moving into their first apartment.
If the collection of free items is large enough, list them in an online classified ad with that old furniture.
Reduce Kitchen Clutter
Most people have more pots and pans, plates, silverware, tea towels, and baking sheets than they actually use. Keeping in tune with donating duplicates, give away any usable kitchen clutter you haven't used in the last two years. Also, throw away anything that's no longer functional.
Make An Inventory
Make an inventory of any large collections, like books, movies, and vintage records, that you own. These are hard to keep organized as you collect, but an inventory helps you to get organized. By going through your collection, you can donate or sell any extras, throw away any duds, and decide what you want to keep.
Once the inventory is made, organize the remainder of the collection alphabetically or by purchase date, or color code it.
Install Custom Storage
Evaluate your current storage space. Do you have enough kitchen cabinets? Are your bookshelves big enough? What doesn't fit inside the garage? Could you make better use of the storage you have, or would you be better off with new storage?
Custom built-in storage improves your home's property value and simplifies the organization process. Talk to a remodeling contractor, like MOSS, about installing custom storage in your home. A good remodeler assesses what you have, discusses what could be improved, and draws up solutions for new storage space.
Organize Your Kid's Bedroom
It sounds painful, but the process of sorting and organizing toys is rewarding. Make it a parent-child playdate and determine what your kid wants to keep, what's broken, and what can be donated to nurseries or children's hospitals.
After sorting, install low shelves or bins that your child can reach. Sort toys into bins or boxes by category. Board games, arts and crafts supplies, play costumes, and educational toys should all have their own place.
Keep your child involved in this decluttering process to teach your child about the organizational system when it's finished. This makes it easier for your child to pick up and put away toys when they're finished playing.
Contact Us To Get Started
Home improvements, like installing built-in storage, require help from a qualified remodeler. If you're planning to organize your home this year, contact Moss Building & Design at 703-961-7707 or email us at Hello@MossBuildingandDesign.com.
You can also download our new Home Organization Checklist by clicking on the button below: