New Year, new home ideas for your renovation projects. We rounded up interior design trends you'll see in home remodeling and design projects in 2019. If you need fresh design inspiration for the New Year, read on. We'll have you wanting to tackle your remodeling resolutions in no time.
Modular, sectional furnishings, like the LoveSac brand, are a big hit among young families. Both practical in design and style, multifunctional furniture grows with you and changes as your living situation and needs dictate.
We're also seeing multifunctional spaces in remodeled homes. Mudrooms that double as laundry rooms keep your dirtiest items out of sight, for example. Office nooks in kitchens or living rooms are also popular when you have to make the most out of limited real estate.
Statement Ceilings
Everything from accent walls to chairs have been popular over the years. Now, look out for statement ceilings in 2019. This is a very unique way for you to add a "wow" factor to any room, but we recommend sticking with a small space for this bold design choice. A powder room or small bathroom really comes to life by adding a bright paint color, three-dimensional material, geometric beams, or a unique lighting choice. Just make sure it fits with your design aesthetic.
This bedroom remodel in Vienna, Virginia, has an eye-catching ceiling. The fan is framed by the recessed ceiling, adding depth and character to the room. You can easily picture this in a living room as well.

Dark Colors
Deep, dark colors (paired with bright accents like Pantone's 2019 Color of the Year, Living Coral) are making an interior design comeback in 2019. Dark floors and accent walls give a deep warmth to the room.
These two bathrooms offer design inspiration for unique spaces. They use dark colors without being too overwhelming. One way to add dark richness to a bathroom remodel without overcommitting to the color choice is through accent tiles in your shower.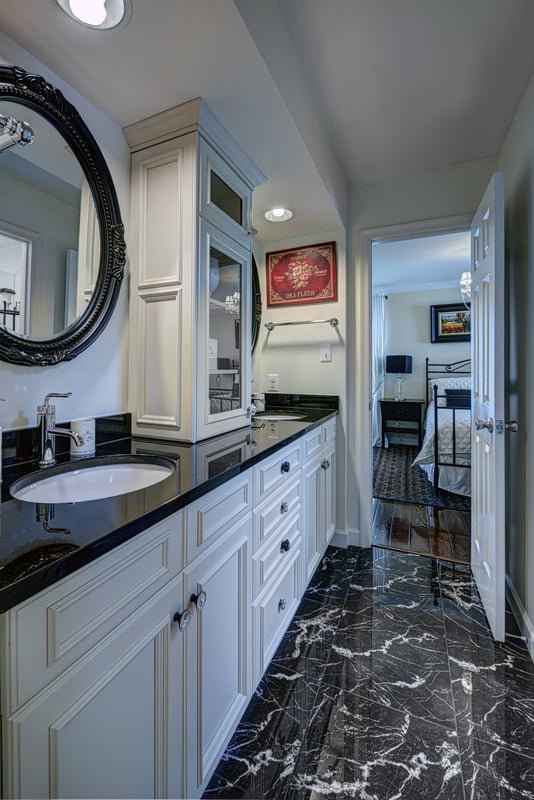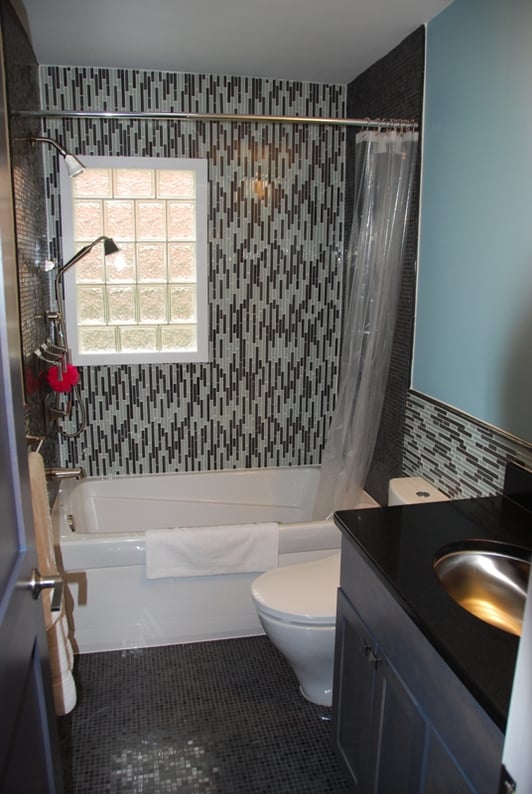 Retro & Bold Patterns
Everything vintage is making a comeback these days. That holds true for the home design and remodeling market as well. Look for retro furnishings and bold patterns in 2019 carried throughout the home, from living rooms to kitchens to bathrooms. Mid-Century modern design choices, like terrazzo floors and tiles and art deco, are also exploding on the scene.
Choose a smaller area, like a powder room or mudroom, to experiment with bold patterns, materials, and color choices. This transitional mudroom designed in Fairfax, Virginia, makes a fun statement with its green patterned walls.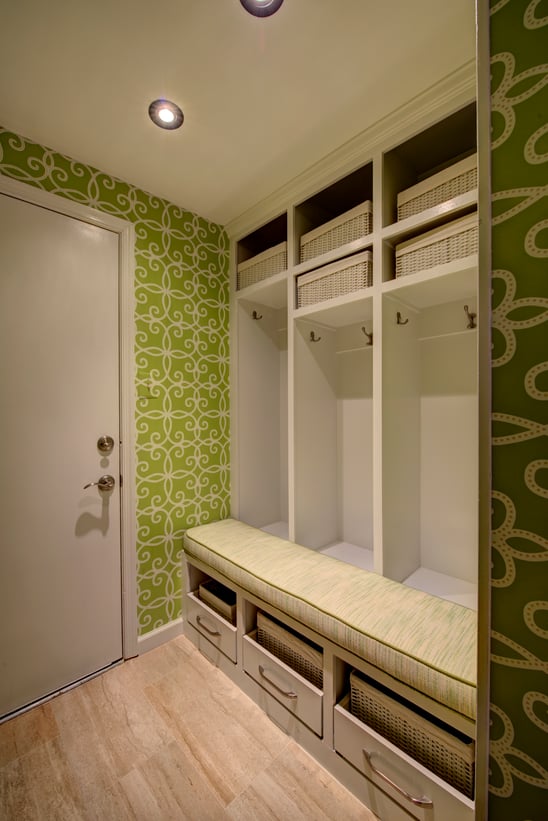 Let Moss Building & Design complete all your home remodeling New Year's resolutions this year. Our interior designers have fresh ideas to create the beautiful home design you've been dreaming of. Contact us at 703.961.7707 or email us at Hello@mossbuildinganddesign.com.