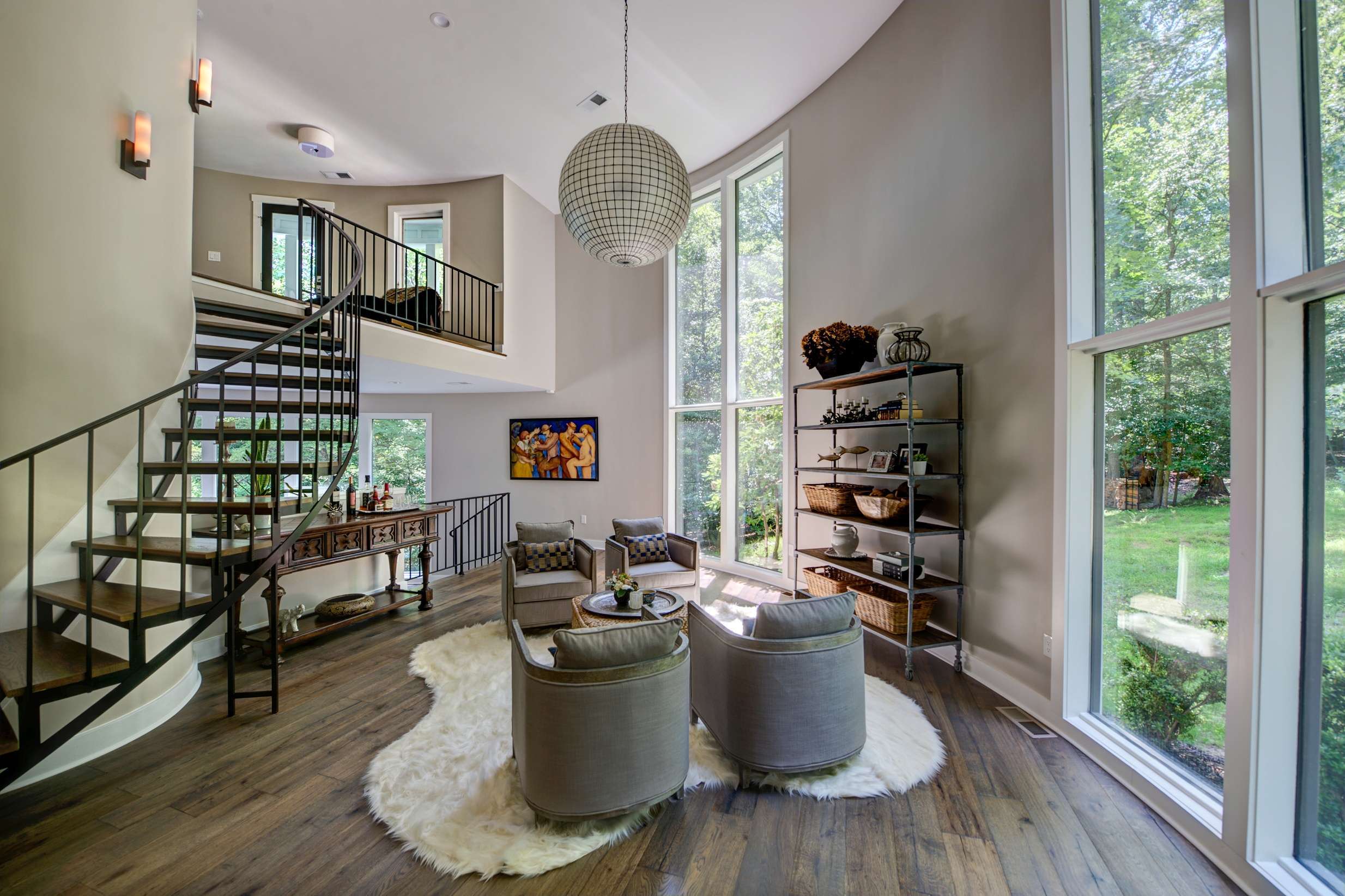 By: Julia Kilberg
As fall and winter usher in the hosting season, we have tips to help you create the optimal living room design. Turn a crowded space into an exceptional holiday hosting space with these clever design solutions.
Make Structural Changes
One of the first questions a remodeler should ask is how you envision the updated living room to fit into your lifestyle. Often, living rooms carry the burdens of dated architectural decisions that make the spaces more cramped. If you have floor-to-ceiling columns blocking the flow, a new load-bearing beam can be replaced in the ceiling for an open-concept look.
The same goes for old HVAC duct systems that are bumped out from the ceilings and walls. Look for ways to restructure the room or move things, like fireplaces or built-ins, to better match the gathering space and how you'd like to use it moving forward.
Install Built-Ins
If the living room layout is too crowded by furniture, consider installing built-in bookshelves or a bench. This maximizes wall space and reduces the amount of clutter in the room.
In this Arlington, Virginia, home, built-in cabinetry under the living room windows looks fresh and new. This custom storage optimizes a space that might otherwise be unused.

Floor-To-Ceiling Windows
A room designed with floor-to-ceiling windows automatically feels bigger and brighter. This Oakton, Virginia, home has beautiful, 17-by-5-foot pieces of glass in its circular living room to open up the space. New windows make a great investment, particularly if you have a gorgeous view.

Use Light Colors
A quick, easy way to update a living room design is by changing the color. Whites, neutral beiges, and grays are popular choices. Use light neutrals on the walls to brighten up small gathering spaces, and employ pops of color with furniture or accent pillows. Check out Benjamin Moore's inspiration guide for tips on living room colors.
To complement light paint, install updated recessed lighting to further brighten a living room. Updated lighting ensures that the gathering space feels less drab. Dimmable soft-white bulbs are optimal for living rooms, so choose the brightness you need depending on the occasion. Recessed or hanging light fixtures also enable you to donate any floor or table lamps that clutter the gathering space.
Maximize "Dead" Space
If you have a small living room, maximize "dead" or unused spaces. The area beneath the stairs is often overlooked but, with a thoughtful design idea, could be turned into something functional, like a built-in shelf or desk nook.
Think Minimalist
Don't overburden the gathering space with large, clunky furniture. Think about how you use the space and get rid of any unnecessary furniture. Is the living room mostly used for sitting and chatting with guests? Move the TV elsewhere, and ditch the oversized entertainment console.
Do you prefer a comfy, cozy sitting area? Pair one or two small couches or chairs with a side table in the center of the room for reading and sipping tea.
Add Character
Add design flair to a living room and create a "wow" factor in even the smallest spaces. Think about whether you'd like a farmhouse chic or modern look. Check out our blog posts on those design ideas to see how your design style might fit in.
Pull Furniture Away From Walls
Particularly in long living rooms, think about arranging the furniture in the center of the room instead of along the walls. The living room layout impacts how crowded the space feels. According to The Spruce, creating pathways for walking and conversing creates a cozier space. They also suggest using circular or oval furniture to create a long living room that's not overwhelmed with rectangular shapes.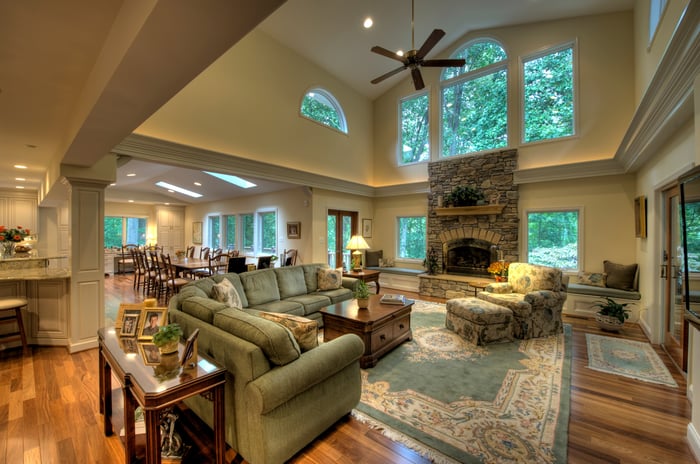 This McLean, Virginia, home has a gorgeous living room layout with vaulted ceilings and an eye-catching stone fireplace. The lack of wall real estate for furniture doesn't mean a great gathering space can't be created. This room's L-shaped couch-and-chair combo creates a cozy seating area even in the large space.
Have a small living room that needs built-ins? Looking to remodel or bump out your home living room design? View our portfolio, and don't hesitate to contact us at 703.961.7707 or email us at Hello@mossbuildinganddesign.com to learn more about our latest specials.