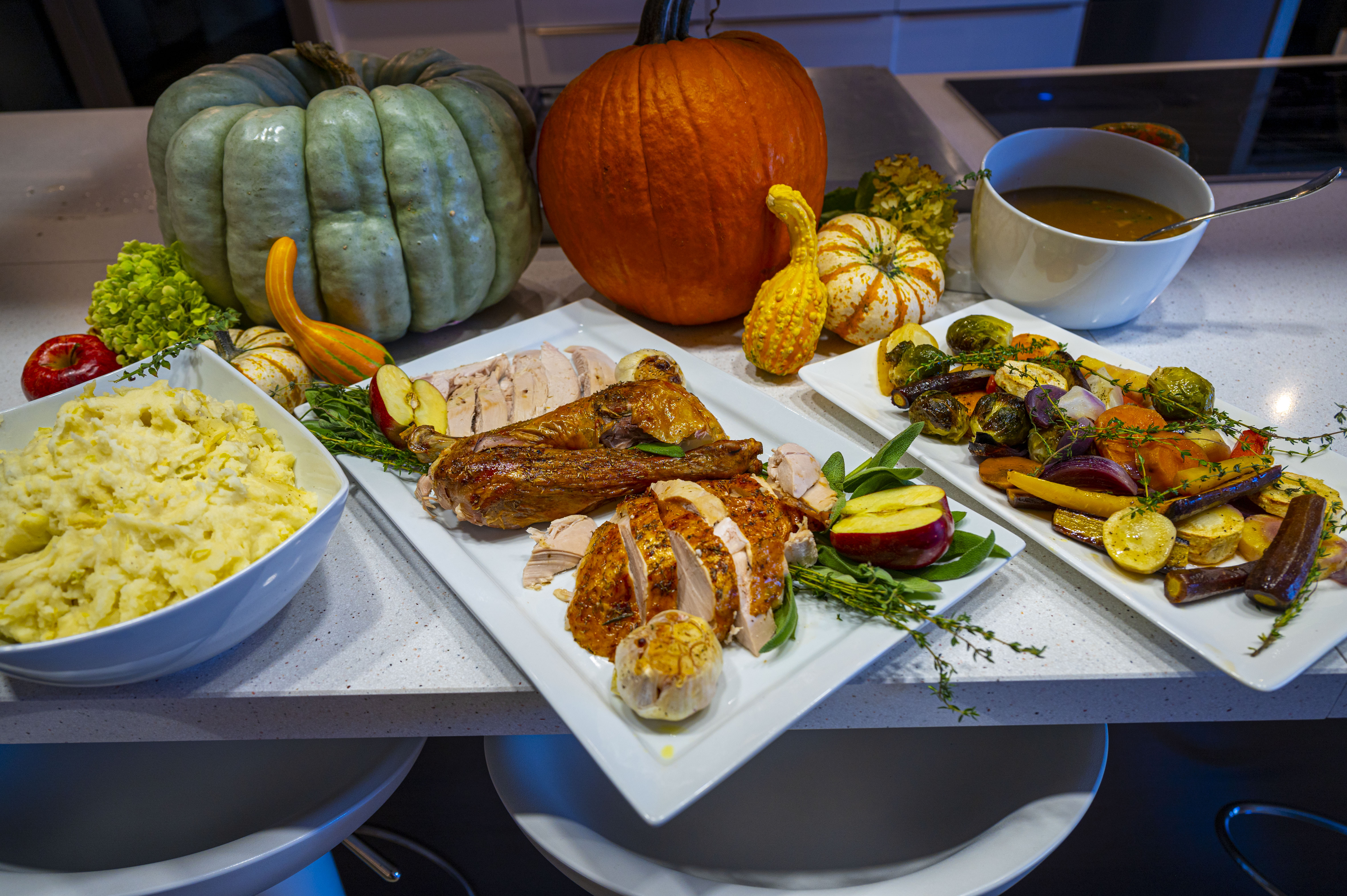 As Chef Christal Karnaze puts it, if all else fails, have the pizza delivery on speed dial and some good wine available. But, if you follow her amazing step by step instructions for timing of cooking a fuss-free yet incredibly satisfying and delicious Thanksgiving meal, those backups won't be necessary. Below, courtesy of Chef Christal and Miele, are recipes for Thanksgiving turkey and gravy, as featured in our MOSS video and witnessed first-hand by our very own Jeannine and Jenn:
Herbed Holiday Turkey
Ingredients
1twenty-pound turkey, giblets removed and rinsed
3 tablespoons freshly ground black pepper
3 tablespoons salt
5 tablespoons butter, melted
1 onion, quartered
1 lemon, quartered
1 bunch fresh thyme
8 sprigs rosemary
2 sprigs of fresh sage
Directions:
In a small bowl, combine the melted butter, salt, white and black pepper. Rub the inside and outside of the turkey with the salt-and-pepper mixture. Fill the cavity with diced onion, lemon, and herbs.
Tie the legs together loosely with kitchen twine. Fold the neck flap under, and secure with toothpicks. Place the turkey, breast side up in the Miele HUB 5000-XL Gourmet Casserole Dish or your own roasting pan with V insert.
Using the oven roast probe, insert the probe diagonally in the breast of the turkey along the bone. If you hit bone, gently pull back.
Place the turkey in the oven on shelf level
Program the oven. Operating Mode / Auto Roast / 350-375°F / Core Temperature 165°F / OK.
When fully cooked, remove the turkey from the oven, and let it rest, covered, for at least 20 minutes. Transfer to a carving board.
Best Gravy Recipe
Serves 12 (4 cups total)
This simple, yet flavorful recipe can be prepared two days ahead and finished Thanksgiving Day with drippings from your turkey.
Ingredients
1 tablespoon olive oil
1 bag of giblets reserved from inside turkey cavity (if using breast only you may substitute turkey wings or drumsticks as a giblet bag will not be offered)
1 onion, peeled and chopped fine
1 carrot, trimmed, peeled and chopped fine
1 celery stalk, trimmed and chopped fine
1 clove garlic, peeled and chopped
1 quart turkey broth/stock (plus pan drippings from turkey)
¼ cup white wine
¼ cup corn starch
1 small bunch Italian parsley, chopped
Kosher salt and black pepper, to taste
Directions
Prepare the base - Heat oil in a heavy medium size saucepan over medium heat. Add neck and heart and other giblets (or wings/drumsticks if using), and brown on all sides, turning as necessary.
Add remaining ingredients - Add vegetables and cook until they are slightly browned, stirring frequently. Stir in garlic and sauté briefly before adding stock.
Add turkey stock - Scrape up browned bits on the bottom of the pan with a wooden spoon or spatula. Bring to a boil and immediately reduce heat to a slow simmer over low heat. Cover partially and cook 1 ½ hours.
Strain and cool - Pour gravy through a fine mesh strainer, pressing down on the solids to extract as much liquid as possible. Remove meat and use in the gravy if desired (chop the giblets and strip the meat off of the neck). Transfer to a container and allow to cool before storing in the refrigerator until roast turkey is done.
Complete the gravy - Once turkey is fully cooked and resting, skim off and discard solidified fat from cooled gravy. Pour into a medium size saucepan and add accumulated, skimmed juices from the roasted turkey. In a small bowl, mix cornstarch and wine until it is the smooth consistency of heavy cream. Over medium heat, heat gravy/pan juice mixture and then slowly whisk in cornstarch mixture. Continue whisking while the liquid reaches a boil. Add chopped parsley. Simmer while whisking until thick, season with salt and pepper to taste.