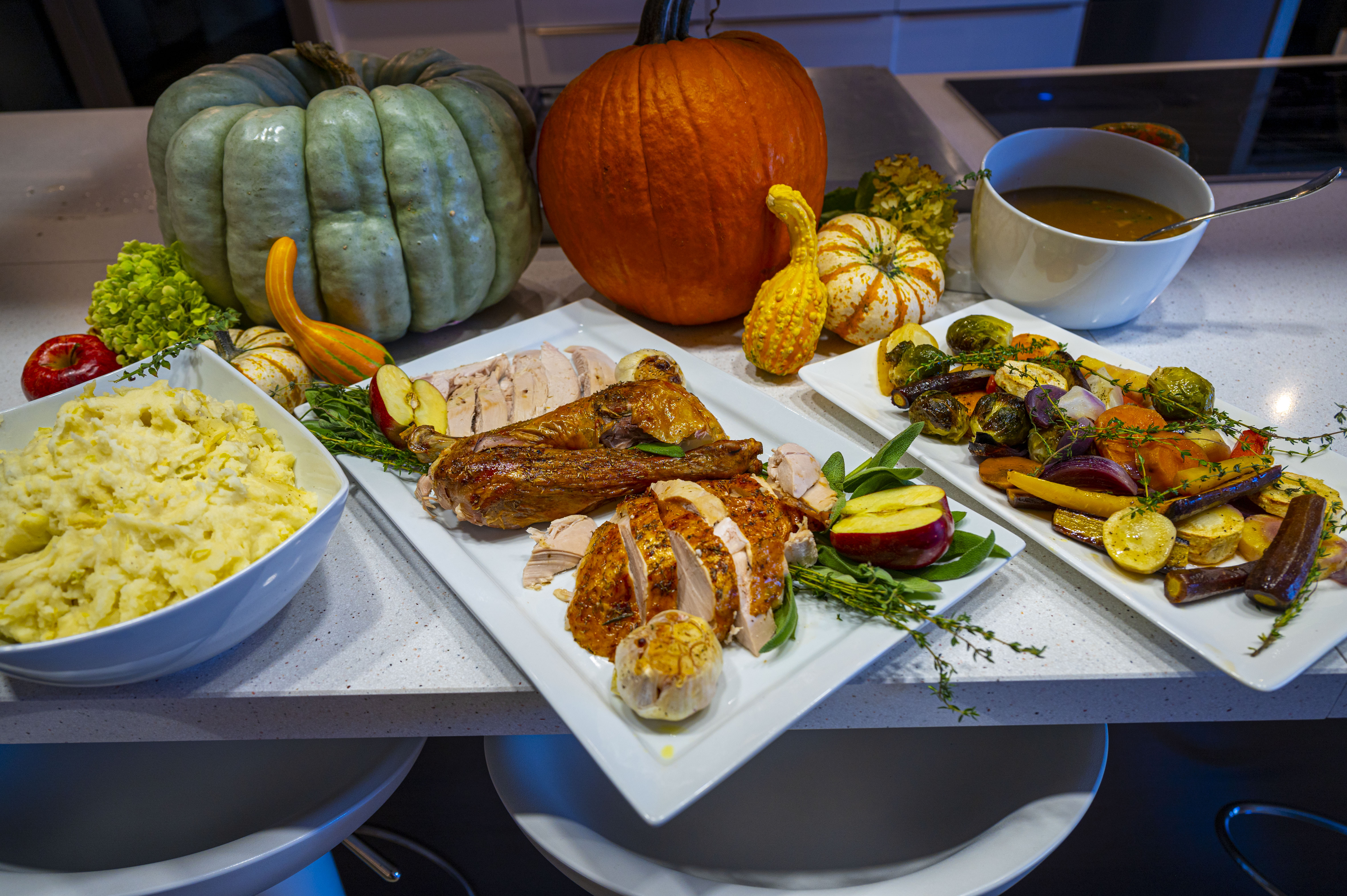 Do you love Thanksgiving side dishes as much as or more than the main dish? You're not alone! The sides are a special part of any Thanksgiving meal, appealing to our taste buds for their deliciousness as well as to our memories for their sentimentality. During their recent visit to the Miele Showroom in Tysons Corner, Jenn and Jeannine enjoyed learning about (and tasting!) a few Thanksgiving side dishes that are delightful complements to the classic turkey centerpiece. Plus: a recipe for pumpkin bread pudding with caramel sauce that is a twist on the traditional dessert. Thank you to Chef Christal and Miele for sharing these recipes in the beautiful Miele kitchen!
Roasted Root Vegetables
Serves 6 to 8
Total Cooking Time: Approximately 50 minutes
Ingredients
3 pounds root vegetables, such as carrots, parsnips, sweet potatoes, butternut squash
3 heads of garlic
1 small red onion
1/4 cup olive oil
1 1/2 teaspoons kosher salt
1/4 teaspoon freshly ground black pepper
6 tablespoons coarsely chopped fresh rosemary leaves
6 sprigs of fresh thyme
Directions:
Preheat oven to 425°F and put a rack in the middle of the oven.
Peel 3 pounds root vegetables, if desired, then cut them into rough 1-inch chunks. Cut 1 small red onion into 1-inch chunks. Place the root vegetables and red onion on a rimmed baking sheet. Drizzle with 1/4 cup olive oil, sprinkle with 1 1/2 teaspoons kosher salt and 1/4 teaspoon ground black pepper, and toss to evenly coat. Spread out in an even layer.
Roast for 30 minutes. Meanwhile, chop until you have 2 tablespoons coarsely chopped rosemary leaves.
Remove the baking sheet from the oven, sprinkle the vegetables with the rosemary, and toss to combine. Spread back out in an even layer. Continue to roast until the vegetables are tender and caramelized, 10 to 15 minutes more.
Garlic Leek and Mashed Potatoes
Serves 6-8
Total Cooking Time: Approximately 1 hour
Ingredients
4pounds russet potatoes
Kosher salt
2 leeks, white parts only
6 tablespoons butter
Freshly ground black pepper
1 cup milk
2 tablespoon chopped garlic
2 sprigs fresh thyme
Directions
Peel the potatoes and cut them into 1-inch pieces. Put them into a large pot of cold water. Add a big pinch of salt and put the pot over high heat. When it comes to a boil, cook until the potatoes are just cooked through, about 20 minutes.
While the potatoes are cooking, slice the leeks into small pieces and make sure they are thoroughly washed. Put a medium skillet over medium-low heat and add 2 tablespoons butter. When the butter is melted, add the leeks and season with salt and pepper. Cook the leeks until they are very soft, being careful not to let them color or burn, about 20 minutes.
Drain the potatoes in a colander. Then put the potatoes back into the pot and let the potatoes dry out a bit while you finish the leeks.
In a small pot over low heat, add the milk, the remaining 4 tablespoons butter, garlic and thyme and warm it up. Strain the garlic and thyme from the warm milk and stir the milk into the potatoes using a spoon. Mash with a potato masher, breaking up the big pieces. Stir in the melted leeks, taste and season with salt and pepper. Cover the rest and keep warm until ready to serve.
The Best Pumpkin Bread Pudding
Ingredients
I 1/2 cup (110g) packed light brown sugar
1/2 cup (105g) granulated sugar
2 tsp ground cinnamon
3/4 tsp ground nutmeg
3/4 tsp ground ginger
1/8 tsp ground cloves
1/4 tsp salt
4 large eggs
2 large egg yolks
1 1/2 cups half and half
1 cup whole milk
1 (15 oz) can pumpkin
1 tsp vanilla extract
1 (16 oz) loaf hearty crusty French bread, such as cut into 1-inch cubes
Salted caramel sauce, for serving
1/2 cup toasted pecans, chopped, for serving
Sweetened whipped cream, for serving
Directions
Preheat oven to 350 degrees. In a mixing bowl whisk together brown sugar, granulated sugar, cinnamon, nutmeg, ginger, cloves and salt.
Whisk in eggs and egg yolks. Stir in half and half, milk, pumpkin and vanilla.
Place bread cubes in an extra large mixing bowl. Pour half and half mixture evenly over bread cubes then gently toss to coat. Let rest 10 minutes.
Spoon mixture into a buttered 13 x 9 inch baking dish. Bake in preheated oven until set, about 45 – 50 minutes.
Let cool for a few minutes then cut and serve with salt caramel sauce, pecans and sweetened whipped cream.
Tasty Salted Carmel Sauce
(For Pumpkin Bread Budding)
Ingredients
1 cup dark brown sugar
1/2 cup heavy whipping cream
4 tablespoons or 1/2 stick of butter
½ teaspoon salt
1 teaspoon vanilla extract
Instructions
In a medium saucepan, mix together the sugar, heavy whipping cream, butter and salt and bring to a boil. Reduce the heat to medium-low and let the mixture simmer for about 2 minutes, whisking occasionally.
Remove the saucepan from the heat, add the vanilla extract (be careful, the mixture is hot) and stir. Let mixture cool in the pan for 2 minutes, then pour into a jar. Let cool to room temperature and refrigerate until ready to use (up to 5 days). Warm it up in the microwave before using.