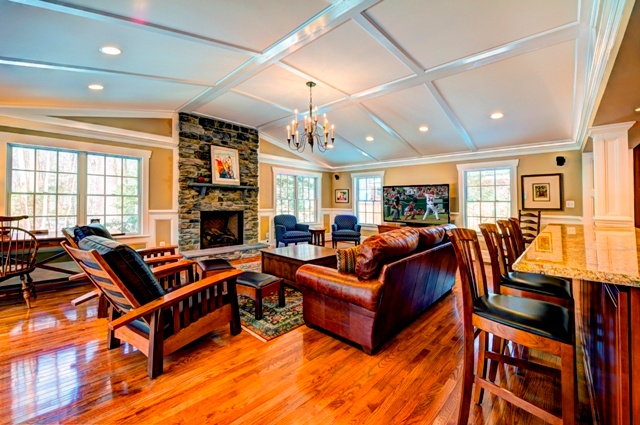 A home addition is a big investment, but it's worth it. Here's how you can use a new home addition with the help of Moss Building & Design in Northern Virginia:

As a special space.
The best part about a custom home addition is that it can be used for whatever you want. If you're more practical, think about bumping out your kitchen, adding a yoga sanctuary or mudroom. Add a screened-in porch or a sunroom for a better outdoor view when sipping steaming coffee on a Sunday.
If you enjoy a life of luxury, consider a wine cellar, trophy room, walk-out bar, or in-home movie theater in your basement. These additions make life a little better — and definitely more luxurious.
No matter what you're looking for and investing in, home additions (especially an all-season addition) offer an aesthetically functional space for you to decorate, design, and live the way you've always wanted to.
As an extra source of income.
You're remodeling your home to meet your families specific needs. Eventually those needs may change as the kids get older, and family dynamics change. You may find yourself with some extra space in your home that you can use to put a little money in your pocket, consider investing in a custom addition. It'll cost a bit to put it together, but you can use this room as a rentable space on travel websites like Airbnb and HomeAway. People around the world are looking to save money when taking a vacation. That means travelers are ditching hotels for hostels and rentable homes.

Get in on the travel trend by listing your new space as a rentable property. It becomes an extra source of income for your family, so you can take a vacation next time!
As a home resale value increaser.
Your home is a financial asset that typically appreciates over time, especially if you put in the TLC to keep it updated. But, did you know that custom home additions add value to your long-term homey investment?
Some future homebuyers want more bedrooms and bathrooms, a larger kitchen, and/or an additional sun or mudroom — anything that qualifies as usable space. This can drive up the resale value of your home (if you use a reputable contractor and do the project right) when you're ready to move to another home.
As an alternative to moving.
Moving into a new home is a hassle and takes the greater part of a year to complete, from financing to home tours to closing dates. A custom addition is a great alternative to moving. Here's why:
Custom home additions

are less expensive than new construction homes, especially if you're in a fixer upper that's below potential market value. An addition provides the coziness and comfortability of your own home while still having a feeling of newness.

An addition gives you the freedom to design it how you've always envisioned and creates more square footage, whether you go up or out, to tailor this new space to your liking.

If you love your neighborhood, schools and general area, an addition is a great choice for you. If you are tight on yard space consider building up instead of out. You will still get all the space you need without sacrificing any of your yard.
Whichever reason convinces you to get a home addition, Moss Building & Design can help make your dream a reality.
If you're ready to commit to this type of home renovation project, call Moss Building & Design in Northern Virginia at 703.961.7707 or email us at Hello@mossbuildinganddesign.com.