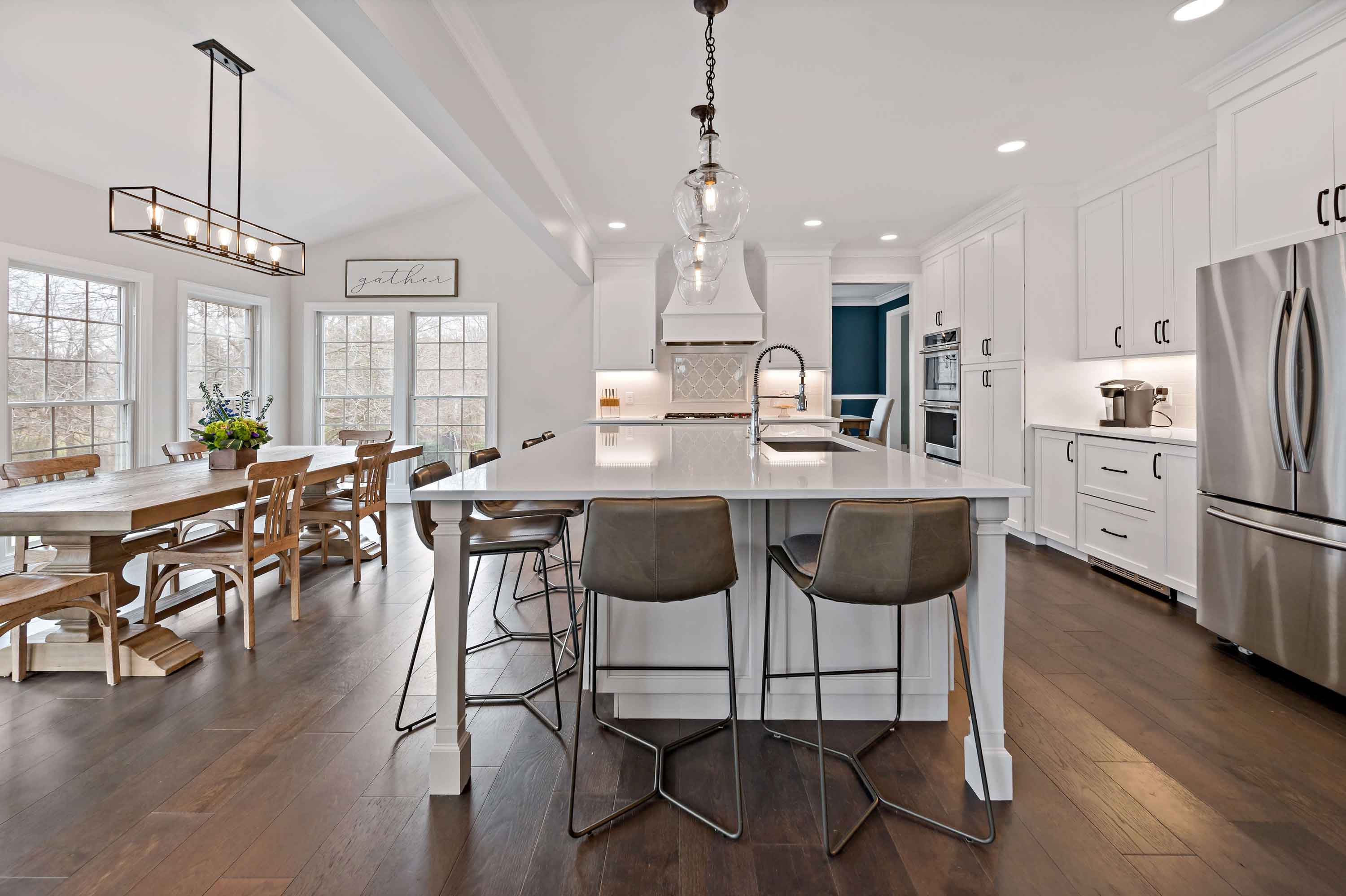 A full main and upper-level remodel in this Ashburn home provided the homeowners with an updated overall design that is much more functional for their family, providing them additional space to be organized and relaxed in a style that also beautifully befits them.
How did the project come to be?
Our customers loved their home but considered moving to better accommodate their large family of six. After initially putting the house on the market, they reconsidered and decided to stay in Ashburn in a school system and community they realized they loved. Partnering with MOSS came about from a simple Google search conducted by the homeowners. They wanted to work with a company that could provide all the elements of a remodel, from consultation to design and finally to construction.
How was the Sales Experience?
The homeowners worked closely with our consultants on their scope of work and budget from the beginning. During the interactions with our team, it was decided to create a contract that would allow for the main level and second floor renovations and to remove a basement remodel from the contract, which was initially included in the scope of work. There were clear allowances within the contract so our customers knew exactly the range of budget that was included and could be worked within.
The Design Phase
The project's design phase began just before the global pandemic, so the finishing touches were completed with full health and safety precautions. Our design team was highly involved as was the homeowner, who has a keen sense of design and a family member who is an interior designer. MOSS 360, our proprietary architectural tool that features virtual reality and allows homeowners to experience their remodel before a single nail is hammered, was used to show the family how the new spaces would look and feel. This was especially helpful with the design of the new second story bathroom, which was created from open space from the entryway foyer. The following changes were made to the main level:
The kitchen was remodeled to have a better flow of space and larger island that could seat their whole family and included a custom drop station with charging station, custom slats for kid's schoolwork, and corkboard for keys, etc.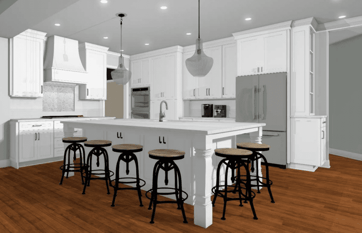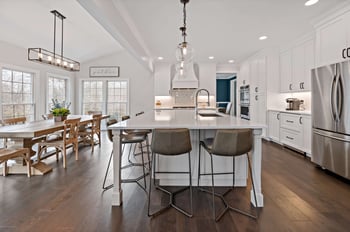 The family room was given a new floor-to-ceiling ceiling-stacked stone surround fireplace with soapstone hearth and rustic floating mantle and a custom coffered ceiling with several types of lights.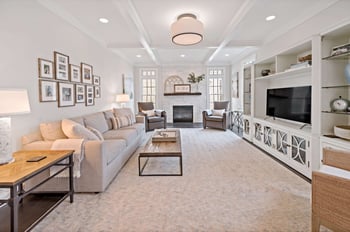 A new mudroom/vestibule was created from the garage to the house and features gorgeous cabinets, beadboard paneling and cork display area.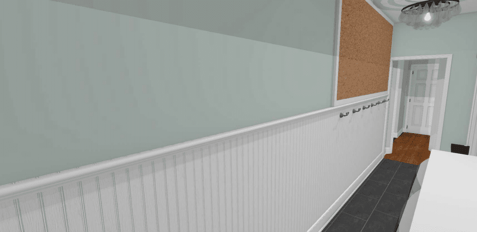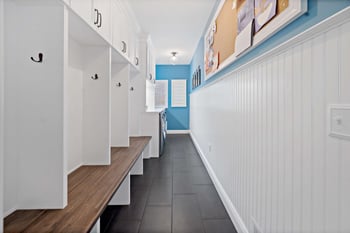 In the foyer, we removed large and clunky colonial columns between the living room and dining room and built a new staircase with new railing and custom paneling.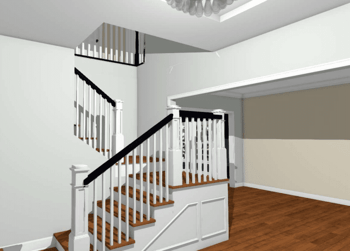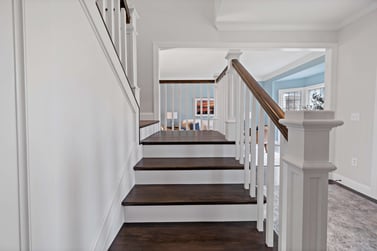 Finally, we enlarged the powder room slightly by gaining space from a large chase that went from the basement to the second floor.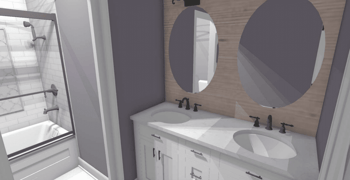 On the second level, our design team:
Created a primary bathroom solution with a curbless and doorless wet room that features beautiful marble tile work, a freestanding tub and vanity, a mitered custom shower bench, and much more.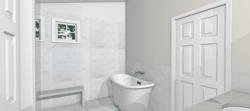 Enlarged the primary closet and removed the double French doors into the primary bedroom, created a hall linen closet and primary linen closet, and relocated an air return grille.
Remodeled the existing hall bath with pocket doors to toilet and tub/shower area, beautiful marble/mother of pearl picture framed focal area, a double bowl freestanding vanity, grass cloth wallpaper, champagne brass fixtures and hardware, Capiz ceiling light, and Bluetooth speaker bath fan.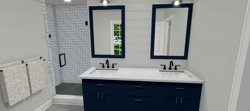 Created an en-suite bathroom by taking existing space from the two-story foyer. Our team created a tiled linear shower drain, hinged shower door, and freestanding double bowl vanity with shiplap and barn style vanity light, and designed straight herringbone subway tile in the shower, matte black fixtures, a new door entry to bedroom, and a Bluetooth speaker bath fan.
The Project Phase
This remodel was completed during the global pandemic plus the family stayed in the home for the duration. Setting up their home/school life in their basement and keeping them safe and healthy was a priority for our team. Using MOSS Online, our project management tool, our customers could track their project's progress and deliverables on their own time. Delays due to the pandemic were communicated throughout the project.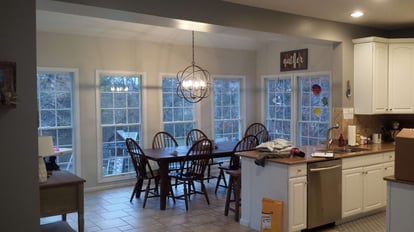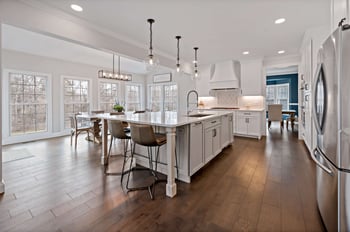 MOSS phased the project into multiple phases. The first phase was the main floor with stair work, new en-suite bathroom, and hall bathroom, while the second phase was the master suite work. A temporary laundry had to be set up in the garage because the homeowner did laundry every single day and a temporary kitchen was set up in the dining room.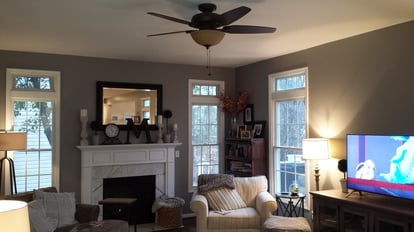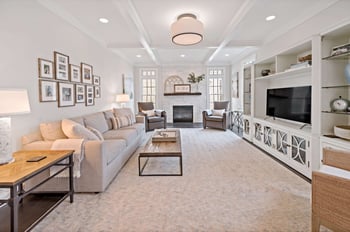 Everyone anticipated the children would be back in school when fall came along and yet with the pandemic we found out we would be in the middle of construction with all kids doing distance learning from home. Extra precautions were taken to ensure minimal distractions to the kids' distance learning and practicing safe COVID procedures.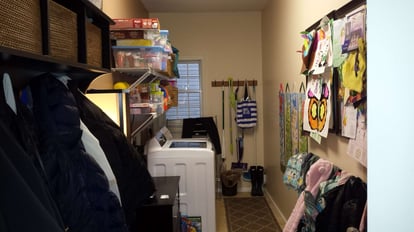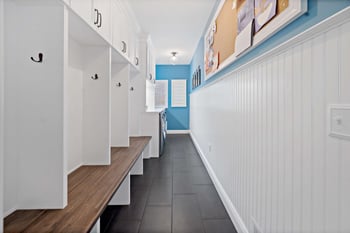 Project Completion
As is seen from the public review left by our customer, the results of the project are life-changing for their large family. They are now able to stay in their home and community they love for the long term but in a space that better suits them and their needs.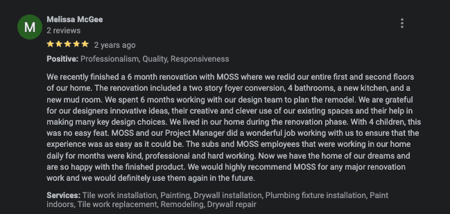 Moss Customers for Life
The relationship our teams developed with this customer was important to them and us. The initial project scope of work included a full basement remodel, which MOSS had designed. That was taken out of the main and second story work due to budgetary constraints. However, in late 2022 our customers reached out ready to begin the basement updates. They are considered "customers for life," who appreciate the high quality of work that our teams bring to all remodeling projects. In addition, the customers have also:
Attended Nonprofit events held by MOSS

Continued their relationship with MOSS through personalized cards for people who worked directly on the project

MOSS has sent items for Birthdays & other occasions