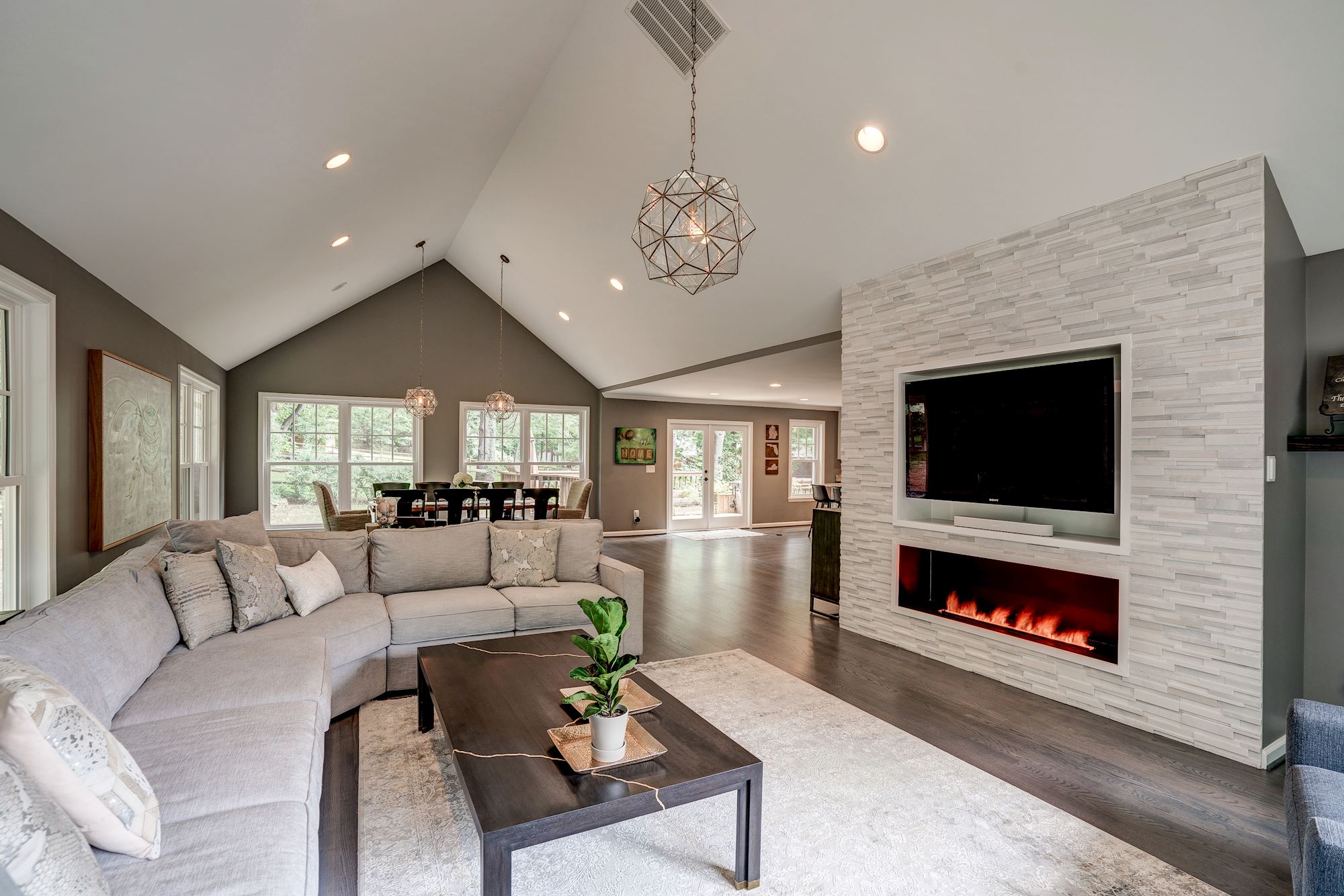 Mother's Day is right around the corner! What greater gift could your children give their mom than help around the house? We're not talking about just making beds and putting clean clothes away, but also taking on household chores and home improvement projects that are both helpful and learning activities. Moss Building & Design has compiled a comprehensive list of the Top 10 DIY Household Chores that your kids and your family can start tackling today – not only improving the appearance and organization of your home, inside and out, but also providing Mom the gifts that keep giving. Note that some activities are best done with adult supervision for safety reasons.
Test out smoke detectors and change their batteries, change the fan blade direction for spring/summer on ceiling fans, and help change the home air filter: these are chores that can be taught once and then taken on by kids on their own. The good part about these chores is that they must be done on a regular basis, but not every day. Learning to schedule out when certain chores need to happen will teach your children planning and preparation (i.e. buying the air filter in advance, making sure you have enough batteries in the house).
Clean and organize the garage: is your garage a complete mess? Used mainly for storage versus what it's supposed to be for (parking your cars)? It's understandable, because these days, kids have so many items that are stored in the garage, like their bikes, sports equipment, balls, toys, etc. Why not get the kids to really go through their items, get rid of those pieces they don't use, and organize the garage better? One way to work together as a family is to figure out a better way to store the family bicycles – you can hang them from the garage walls, from the ceiling, etc. Adding in floating shelves for organization is also a great activity that a family can do together – teaching kids how to measure, use a level, and use a power drill.
Plant flowers, spread mulch, weed the garden: a spring garden is a terrific way to get kids involved with home improvement. Not only will they learn about nature and science, but they can enjoy the fruits (no pun intended!) of their labor. Flowers add a lovely touch to a home's curb appeal, and a vegetable garden can help supplement your family's food budget. Owning the tasks of weeding and watering gives kids a sense of responsibility as well.
Wash outdoor toys, sweep patio/deck, wipe down outdoor furniture: spring has sprung, and with it, the effects of winter weather and spring pollen. Get the kids to take on the task of cleaning up the backyard space. Kids can certainly wash their outdoor toys with a hose and a scrub brush, sweep the patio or deck of leaves, and wipe down outdoor furniture. It's a nice feeling to have a prepped outdoor space for spring and summer evenings spent at home.
Pick up yard debris and small twigs: this is an on-going chore that kids can take on for themselves. After a storm or a windy day, twigs and debris show up in our yards. Have the kids make it a regular job to go clean up the yard, front and back, to help out and make lawnmowing, for example, an easier activity (and if the kids are old enough, make them start mowing the yard!).
Re-organize the laundry room (family activity): being at home a lot more doesn't mean that laundry levels off. Nope, laundry never ends! Kids can always help do the laundry, fold and put away their clothes, but is your laundry room as organized as it could be? Maybe it's time, as a family, to examine your space and think about ways that the room could be better organized. Mounting shelves for storage and organization of laundry detergent and other related items is a great start. We found this DIY tutorial courtesy of the Home Depot, which can help you get started with creating a more usable space plus teaching your children the benefits of using tools and materials such as a tape measure, level, power drill, screws and nails: https://blog.homedepot.com/diy-laundry-room-storage-ideas/.
Build a compost bin (family activity): creating a compost bin is another part to the gardening chore. We found this easy and simple tutorial that your family could use to create a compost bin together. Not only will having a compost bin help your garden grow, but your kids will learn more about recycling and re-purposing of what previously was thought of as "garbage": https://www.younghouselove.com/younghouselovedotcompost/
Help with pets – feeding, cleaning up poop or litter, and walking. This goes almost without saying. Even young children can aid with the pets more. Feeding them on a regular schedule, keeping water bowls full, cleaning the litter box, and picking up poop in the yard are all ways the kids can be helpful and learn about responsibility! Pets are members of the family too!
Use screws, nuts, and bolts to re-decorate the kids' bedrooms: hanging photos, framed posters, string lights, etc. Is your child ready to redecorate their room? Especially your teenager? This is a great home improvement project for not only teens but kids of all ages – they can research different ideas online, create a design and room layout on paper, get photos or posters framed for their walls, hang up lights and wall décor, etc. The list goes on and on! This process also gives kids access to learning about budgeting, how to hang things properly, what their personal design style is, and more. We found some fun ideas here: https://www.thebudgetdecorator.com/teen-bedroom-decorating-5-quick-tricks/
Most important tip for kids to give Mom a break: change the roll of toilet paper and load, unload, and reload the dishwasher WITHOUT BEING ASKED! This tip doesn't need to be explained any further.
We hope that your family (and kids!) takes on a few or all these DIY tips. There's no reason not to give kids the responsibility that comes with chores and home improvement projects – they not only teach them how to manage projects, but also teach them valuable skills, how to use tools and materials, and learn about science, math, gardening, recycling, and much more. From all of us at MOSS to all of you, wishing all our mom friends out there a Happy Mother's Day!