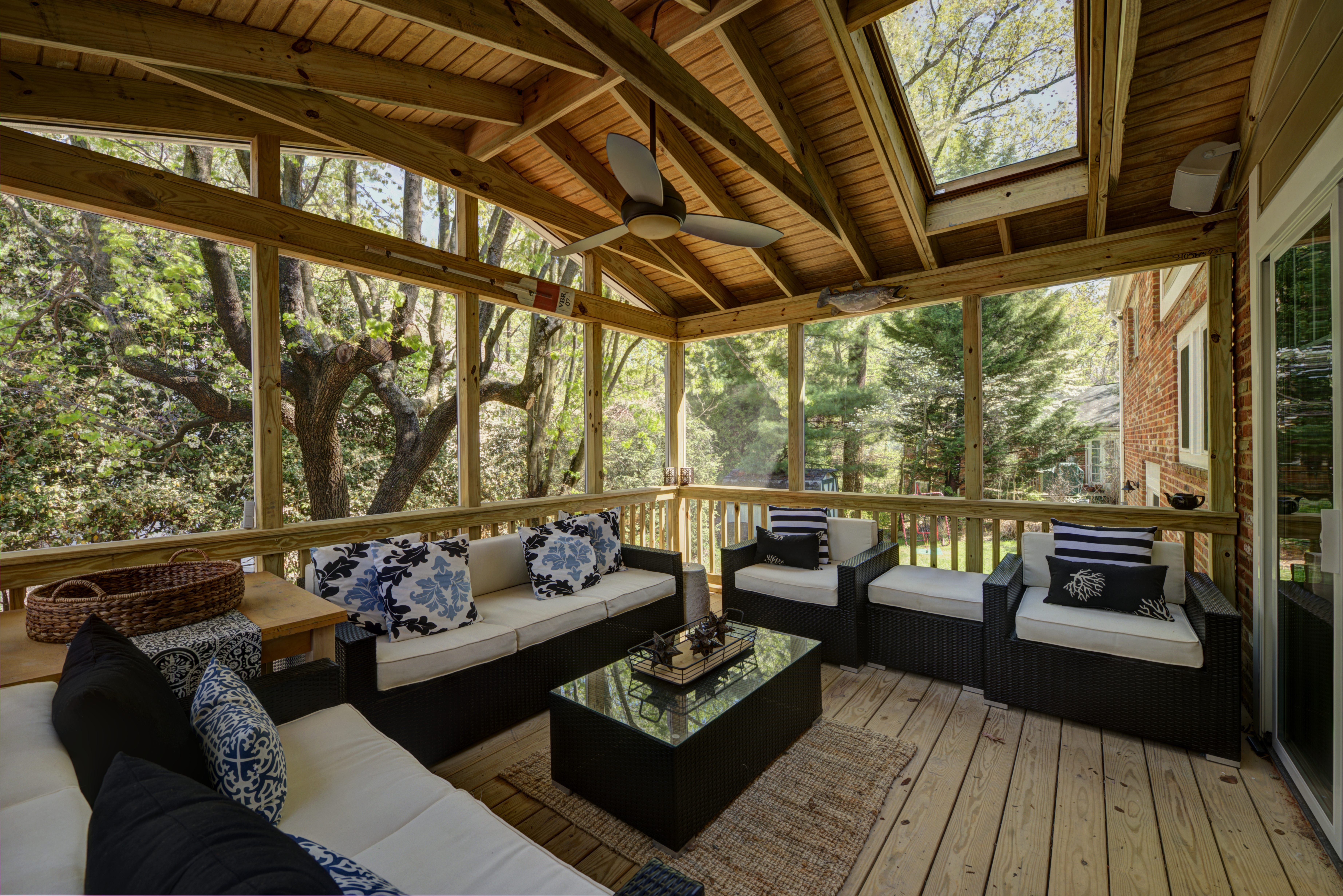 The idea of your perfect outdoor oasis might not be, say, your current backyard. But…since we've all been spending plenty of time in and around our yards these days, the timing might be excellent to add some elements to your outdoor space to make it the perfect destination for your family this spring and summer. Moss Building & Design has come up with a list of the five things you need to create the perfect outdoor oasis (and can help make that happen!):
New/Updated Deck, Patio, or Screen Porch
Perhaps you have a deck or patio already, but, is it checking off all the boxes of your outdoor space "must haves"? If not, consider updating your space to a screened-in porch that feels like a natural extension of your current home. You can add more homey features like lighting, décor, and much more. If you don't have an outdoor space already, now is a great time to add a stone patio or a full deck (which can utilize long-lasting materials for durability and resilience throughout every season). Depending on how your home is situated on your property might dictate what is best suited for your home, and that's where the expert designers at MOSS come into play. We can help you make the best decisions for your space to make it work well for your family. This Annandale, Virginia porch and deck remodel combines the best of both worlds, providing the family with space they can use practically year-round.

Outdoor Fireplace
Here's one way to really up the ante: add a fireplace to your outdoor space! This remodel in Arlington, Virginia included not only a three-story addition, but, an outdoor "man cave" of sorts, including this gas fireplace. Not only is it functional, but the incredible stonework on the fireplace gives the space an outdoors-y, natural vibe. If a full fireplace isn't in your wheelhouse, you can also have a portable firepit or have a permanent firepit built in, perfect for cool summer evenings and s'mores.

New Long-Lasting Furniture
Has your outdoor furniture taken a beating from the elements? It might be time to purchase new furniture. But there's no need to limit yourself to specific furniture for fear of the weather. New developments in material have created many brands of furniture that are able to withstand rain, wind, snow, and more throughout the year. Explore the options available for comfortable seating for your screened in porch, tables and chairs for your patio, and more. This McLean, Virginia client now enjoys many a summer evening in their screened porch with their beautiful furniture:

Better Lighting
Outdoor spaces look romantic and lush when lit with ground, spotlight, or ambient lighting. Why not add those to your outdoor space to give it the look that you're earning for? There are many ways to install lights: low points like on stairs or around the perimeter help provide soft lighting that is also practical (i.e. helping people see where they are going!), and higher installed lights provide a backdrop to the space, giving the illusion of a "room". Lighting is an extremely personal decision – here's a great resource on many ways to plan out lighting your space: https://www.thisoldhouse.com/landscaping/21017967/all-about-landscape-lighting.
Plantings & Flowers
If you've been considering adding some plants and a flower garden to your outdoor space, now is the perfect time! Even if you lack experience, you can learn a great deal from your local garden center and online. Pick what you think is pretty and would work well with your space – whether that's around your patio's perimeter or in pots or planter boxes on your railings or on your deck. Want to see how easy it is to create a planter box on your own? Moss Building & Design recently hosted a live workshop on Facebook in which viewers learned to build and fill both a flower and an edible planter box. Check it out with your family and challenge yourself to create your own: Planter Box Part 1 and Planter Box Part 2.
Bonus Idea: Water Feature
If you are thinking about taking things up a notch further, then installing a water feature might be something to consider. Here's a beautiful set of ideas that could really bring some unique beauty and serenity to your outdoor oasis.
We hope you're inspired to update your outdoor space with any or all these ideas. And if you're ready to begin, please contact us at Moss Building & Design for a free estimate to begin your outdoor space remodel at 703.961.7707 or via Hello@MossBuildingAndDesign.com.