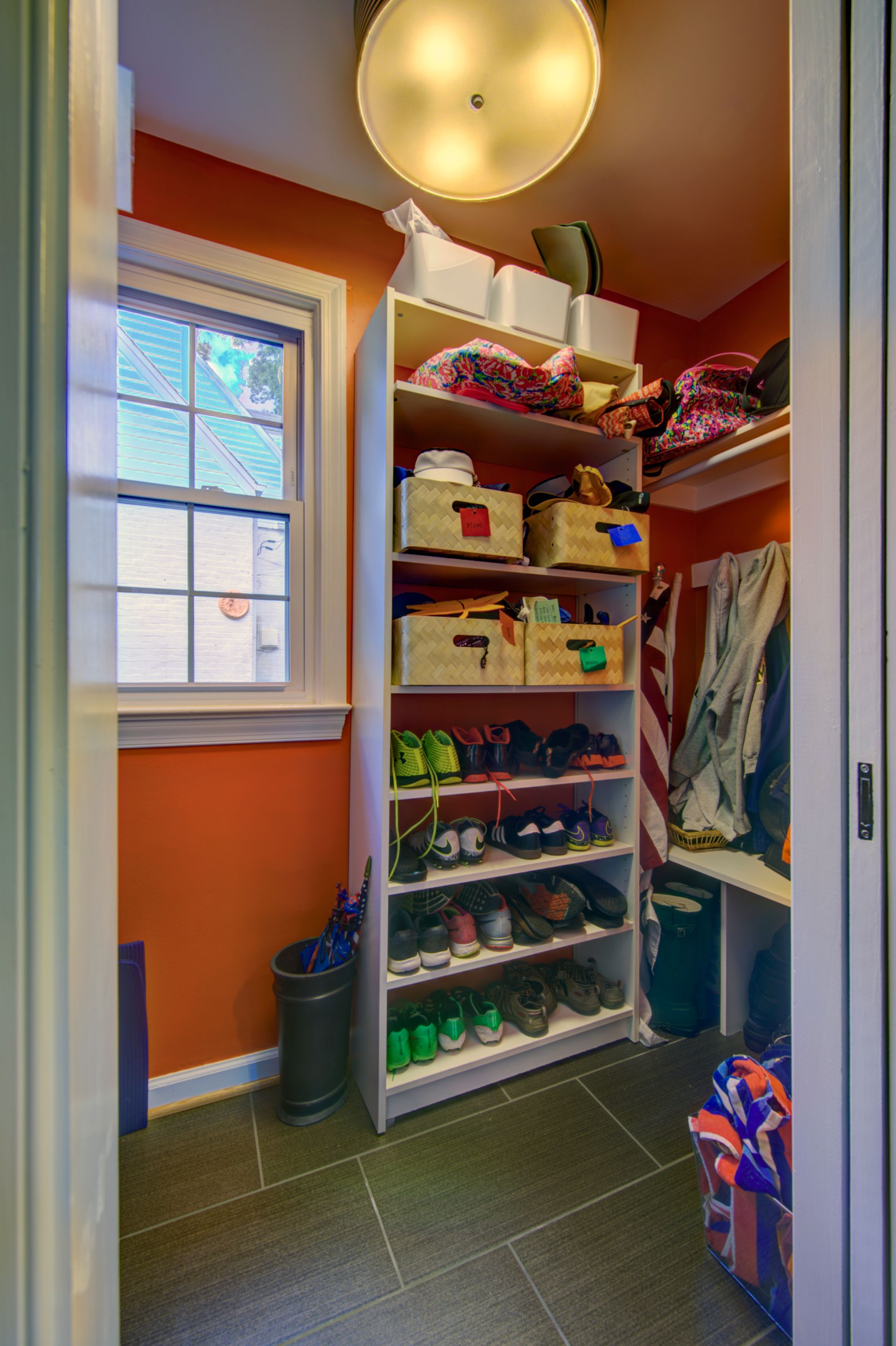 No matter how big your home, there never seems to be enough storage space. Yet, no matter how small your room, there are always clever storage hacks to help maximize space and organization.
Winter is an ideal time to declutter and prioritize your personal belongings into well-organized and practical storage solutions for stuff you're not yet willing to part with or still need but don't use regularly. Here are some creative ways to incorporate storage into your interior design.
Rethink what belongs in your closet and bedroom. Store your off-season clothing in clearly marked, breathable containers sized to slide under your bed. Consider subtle darker-colored bins, decorative baskets, or antique suitcases for a textured design element. A bed-skirt will also finish the look and cover the stowage.
If you need additional space, add risers to the legs of your bed frame. You may need more help than these DIY storage solutions can provide. That's where an expert remodeler and the designers at Moss Building & Design come in.
Vertical Storage Solutions for Small Spaces
Vertical storage provides tremendous additional square-footage options for stylish storage solutions. Built-in or corner shelves showcase meaningful collections in a clean, functional process design element. A recessed wardrobe streamlines a room and limits bulky, protruding furniture pieces. A multi-purpose closet with sliding doors creates another working room within an existing space. There's always room to convert the space under the stairs into a home-office nook.
Moss Building & Design worked with a homeowner in Oakton, Virginia, to provide a custom addition where the master bedroom features wall-lined floor-to-ceiling bookshelves to house an impressive library of books.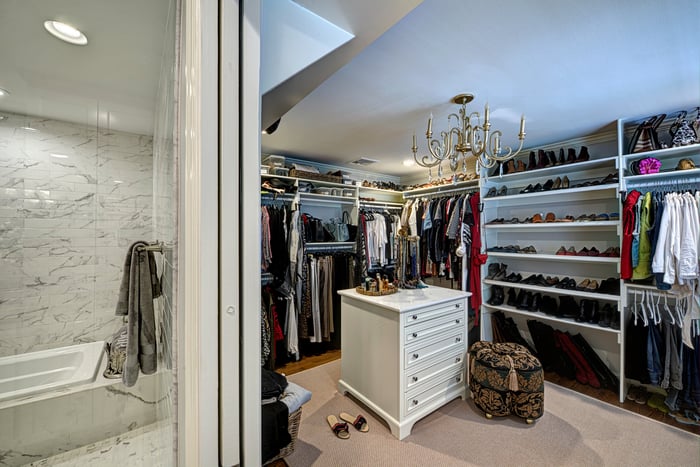 This multipurpose working space is another genius storage solution. The laundry table pulls out to a stainless-steel desk or additional workspace housed between recessed, symmetrical closets showcasing sliding barn doors. This multifunctional storage concept could easily be incorporated into a bedroom.
While renovating a home in Great Falls, Virginia, Moss Building & Design transformed the unused space under the stairs into a cozy nook for a laptop and office supplies instead of a closed-off closet. A similar concept could be designed into a bedroom with dormers to feature a desk and inset bookcases.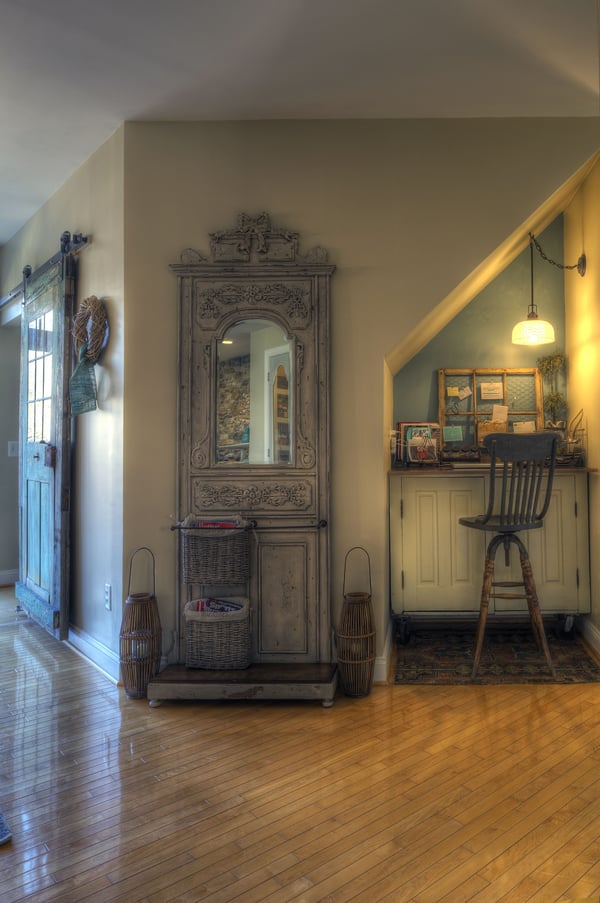 Dual-Purpose Furniture is Key
Use furniture that serves a dual purpose and provides additional storage. Instead of a bedside table, use small storage cabinets; install a floating drawer instead of a hook or shelf; and invest in a storage ottoman for linens or sweaters, as well as a place to sit while putting on your shoes.
This tucked-away pantry in one of MOSS' renovated kitchens is another way to cleverly use storage space and keep your kitchen less cluttered. If you're looking for help designing a kitchen like this one, we've got you covered.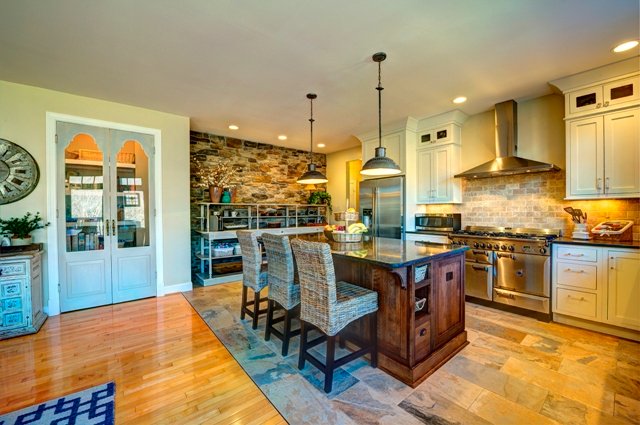 Are you in search of additional storage solutions for all your seasonal clothing, office supplies, sports gear, holiday decorations, toys and keepsakes, books, inherited treasures, or clutter? Moss Building & Design can help you create additional storage in your attic, garage, basement, hidden nooks, or addition. Contact us at 703.961.7707 or email us at Hello@mossbuildinganddesign.com.