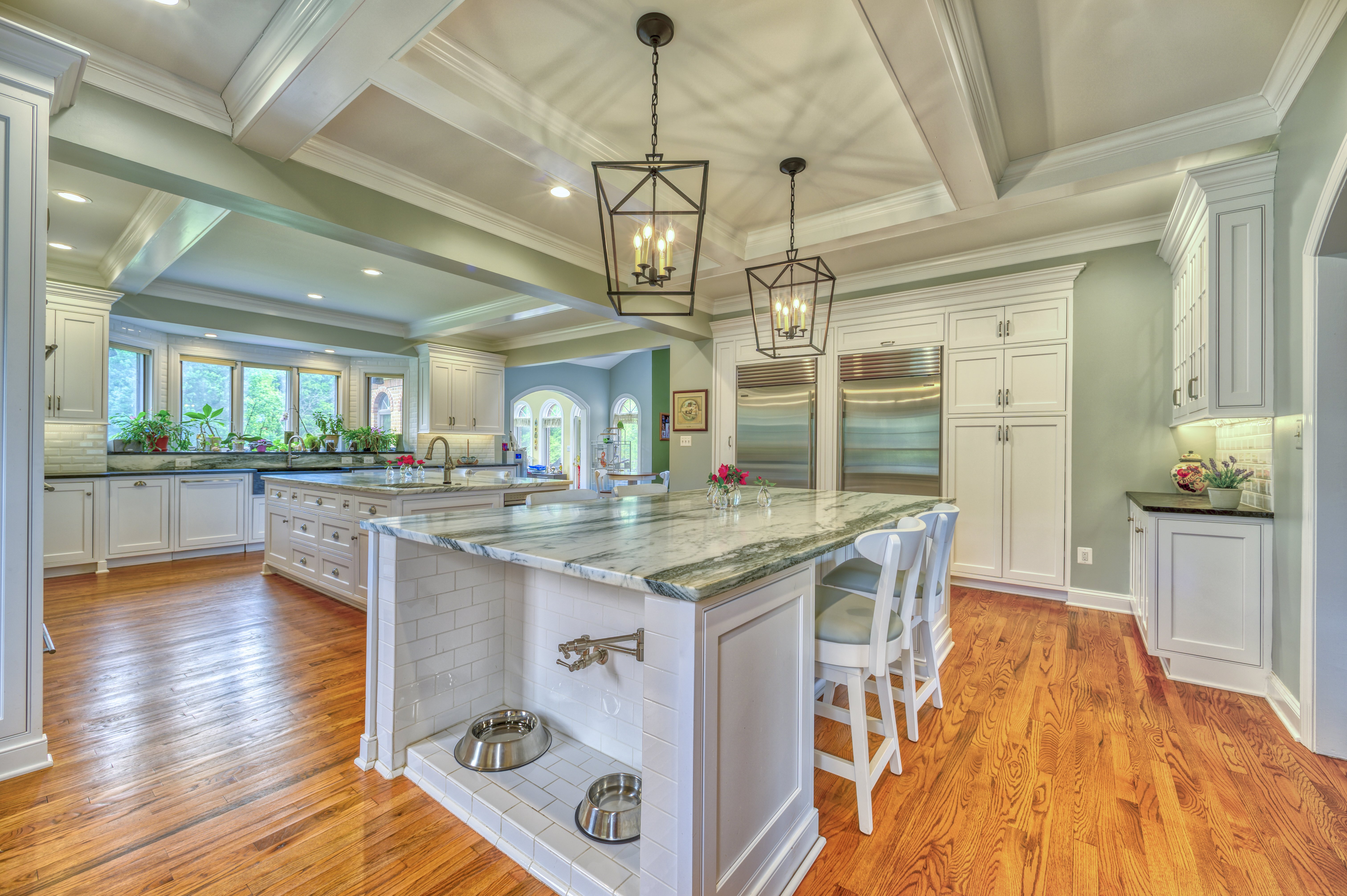 For all families, large to small, the kitchen is the place to share a meal, reflect on the day, or just relax. But as families grow, and the kitchen becomes more crowded, the time might come to think about a kitchen remodel. What would be the best solution for your family when considering remodeling your kitchen: add an addition or bump-out to provide more space, reconfigure your space to include a kitchen island, or possibly do a kitchen re-organization from scratch?
Moss Building & Design is Northern Virginia's most highly experienced home remodeling company, and has worked with many families to transition their kitchen into a more practical living space for their growing families. No matter how you look at it, kitchens are the pulse of the home for the entire family, and a kitchen remodel can solve many of the challenges that your growing family will encounter.
Here are some kitchen remodeling ideas to turn your kitchen into a space that everyone in the family can use…..even Fido!
1. Add a Kitchen Island with Additional Seating —
If you're looking to add value to your home and provide a gathering place for your family, consider adding a kitchen island: it's a great space that can be used by the entire family. When planning your kitchen remodel, a beautiful kitchen island can be a place where everyone can cook, chat, and congregate with friends and other family members. The additional counter space also serves as the perfect place for additional seating. This kitchen remodel in Arlington, VA showcases this idea beautifully, with a large kitchen island as well as island seating, providing the perfect place for a family gathering.

2. Additional Cabinets —
As your family grows, you may need to acquire more dishes and silverware, as well as a place to store them. Depending on your kitchen layout, you may be able to add new cabinets to your walls or replace your current cabinets with more spacious versions. Moss Building & Design's expert designers can walk you through the various ways that you can upgrade your cabinetry to include soft-close drawers, pull out drawers for pots and pans, and other semi-custom options.
3. Walk-in Pantry –
Food storage always seems to be an issue, and as your family grows, the amount of food you'll need on hand grows exponentially! Expanding the kitchen pantry is a great way to make sure you'll have plenty of space for snacks and cooking essentials. A walk-in pantry with plenty of shelving may prove to be a far better option to expanding your kitchen versus knocking down a wall to create more floor space.
4. Create an Organization System —
Kitchen organization will help to make your space even more family-friendly. It may seem like a daunting task, but an essential "must do" to keep clutter down. Different colored storage containers for each family member can help organize the fridge, and having labels on cabinet shelves can also be helpful. Throw in a little fun by adding a chalkboard wall to the kitchen! It can be used for menu planning, chores, or notes between family members.
5. Let's Not Forget Fido –
Pet experts will tell you that your dog needs his or her own space to sleep and eat. Consider transitioning unused space under the stairs to build a nook for your pet's bed or toys, or add a special watering station just for your four legged friend. These homeowners in Fairfax Station are passionate about their pets – they wanted to add a special watering station especially for their dogs. Check out how beautifully their kitchen remodel incorporates this need.

Ready to get started? Browse some of our beautiful kitchen remodeling photos or give us a call at 703-961-7707 to get started on your own kitchen renovation in Northern VA.