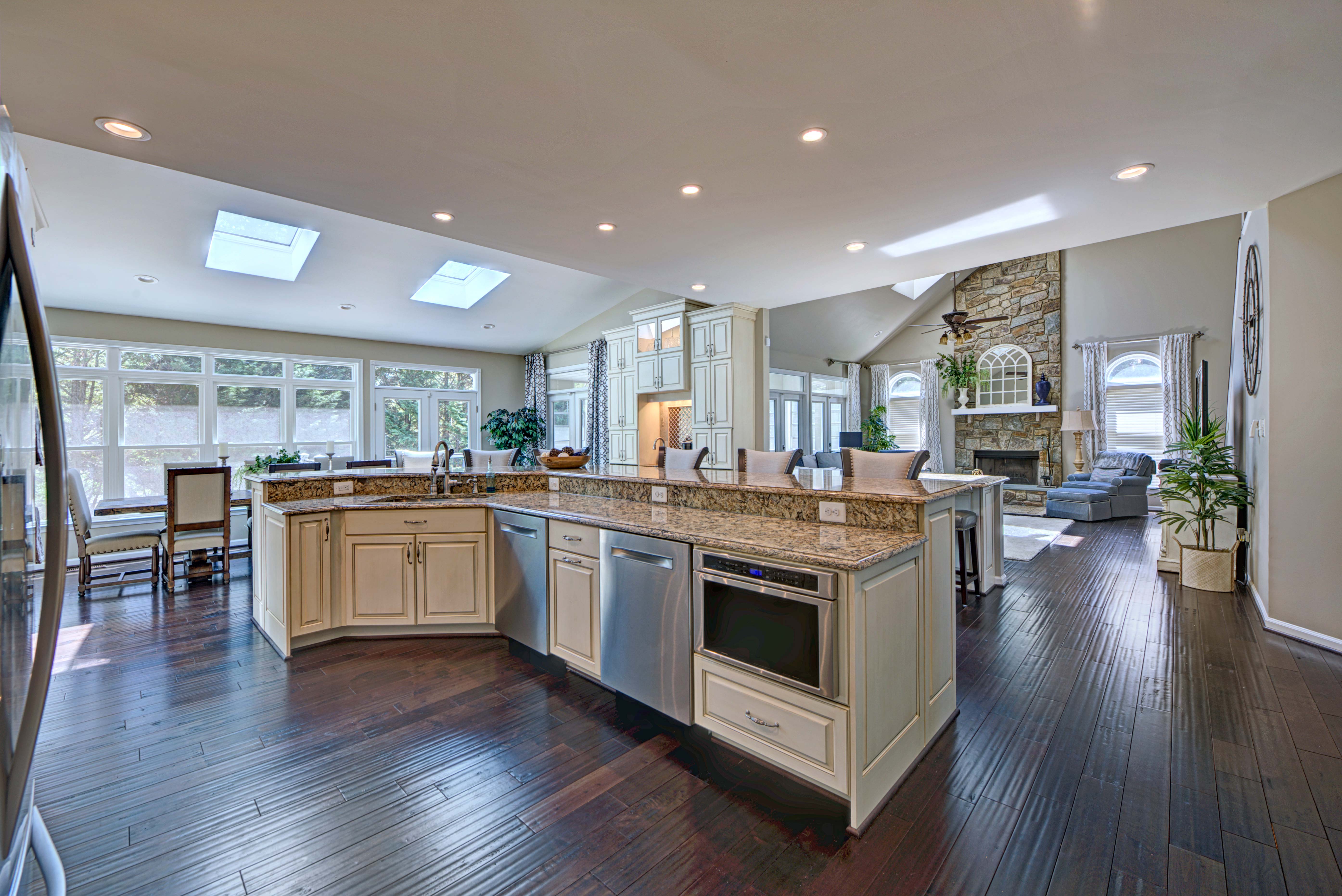 70% of Northern Virginia baby boomers are choosing to remain in the area and in their much-loved homes as they age, according to the Northern Virginia Aging Network. So what can a homeowner do to make this a reality, considering their home's initial layout might not be best suited for this possibility?
The answer: aging in place interior design and home remodels, which are focused on functionality, accessibility, visual appeal and life-long solutions. Remodeling a home to create single-floor living offers tremendous benefits, as a bump-out addition can provide more square footage in the kitchen and family room, as well as the possibility of a main level master suite, providing homeowners who want to remain in their original homes many years of that option.
Moss Building & Design experts are certified in Universal Design and Aging in Place, with vast experience remodeling kitchens, additions, and bump-outs to help homeowners age in place safely, comfortably, and conveniently. Here are some of our favorite kitchen design trends to consider for a bump out addition:
Clutter-Free Cabinetry
Clutter contributes to accidents, so it is important to have enough easily accessible storage space. Several cabinet features can provide cost-effective solutions: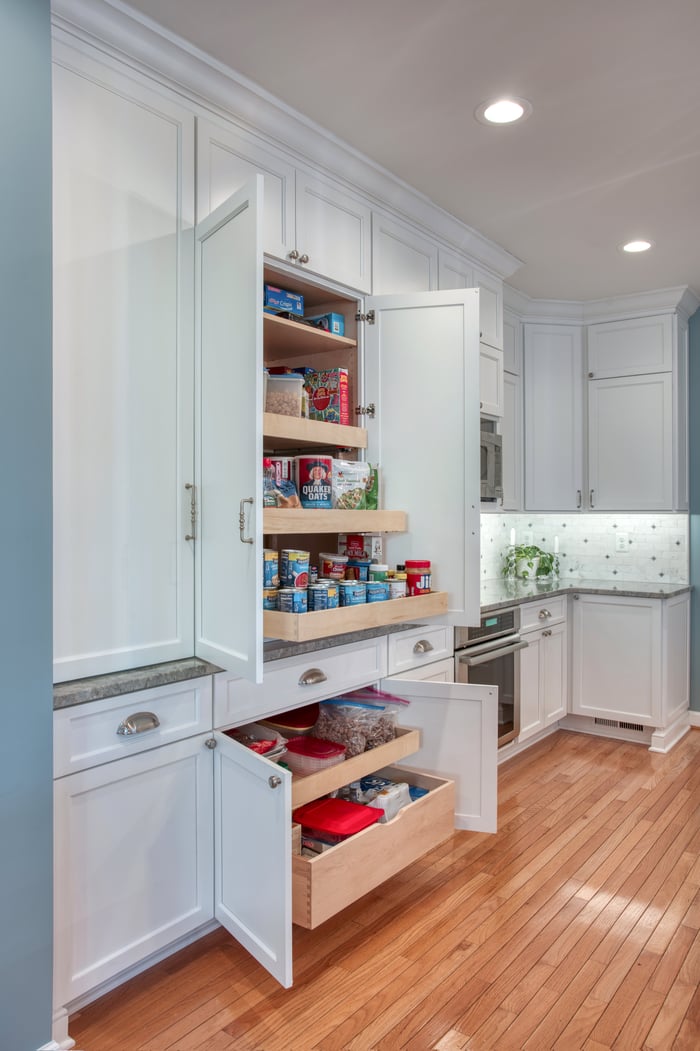 Mount upper cabinets three-inches lower than the standard height or install pull-down shelving
Install a Lazy Susan inside deeper corner cabinets or upper shelves
Utilize slide-out shelving in the pantry or lower cabinets to prevent the need to bend over
Install wider drawers to accommodate large-handle utensils, full-size oven mitts, and jar openers
Replace cabinet hardware with wide pull-handles or D-shaped cup-pulls for homeowners with arthritis
No-Slip Flooring
According to the AARP, the majority of serious senior accidents are due to falls in the home. When remodeling to age in place, the best flooring options are low-pile carpet, textured vinyl, cork, or non-slip tile. Regardless of the type of flooring you install, keep it clean: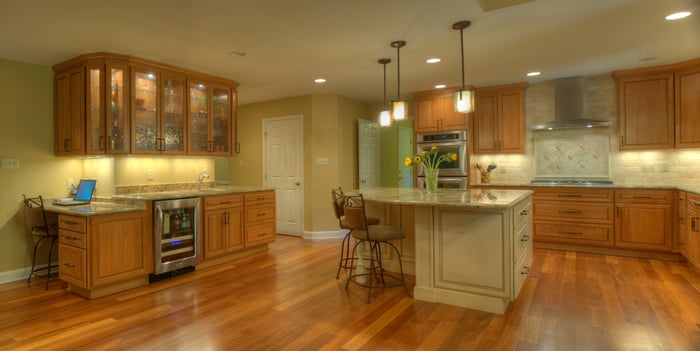 Install non-glare flooring and non-slip flooring with a commercial rubber mat for anti-fatigue.
Avoid a tripping hazard with flush thresholds between rooms or flooring materials, and do not use throw rugs
Choose smaller tiles (if you desire tile in the kitchen or bathroom) as more grout lines offer more texture
Multi-Level Prep Areas
The ideal kitchen allows for mobility and easy access. Being comfortable while cooking and baking is important to keep homeowners safe in the kitchen: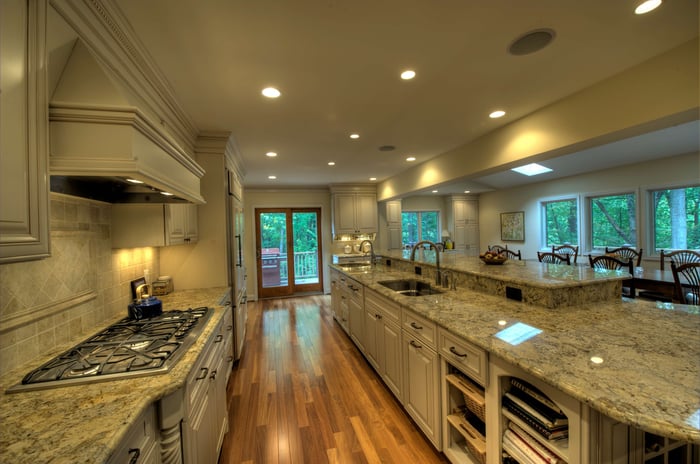 Create a countertop work space that allows for 30-inches-wide and 27-inches-high leg room while sitting and between 28-inches to 32-inches high for comfortable arm maneuvering while prepping
Consider varying heights for your countertops. A standard height of 35-inches for a large section is ideal for the majority of family using the kitchen, a lower section at 30-inches for those, like Grandma, who need to sit while prepping, and a 42-inch section for taller adults is a good balance
Install convenient slide-out workstations for cutting boards or drop-leaf islands.
Easy-Grip Faucet and Door Handles
Due to arthritis, less strength, and fatigue as we age, it becomes harder to grip, open jars and door handles, maneuver dual-faucets, and lift items. Changing out faucets and door handles that require less fine motor skills helps one to be more self-sufficient in the kitchen: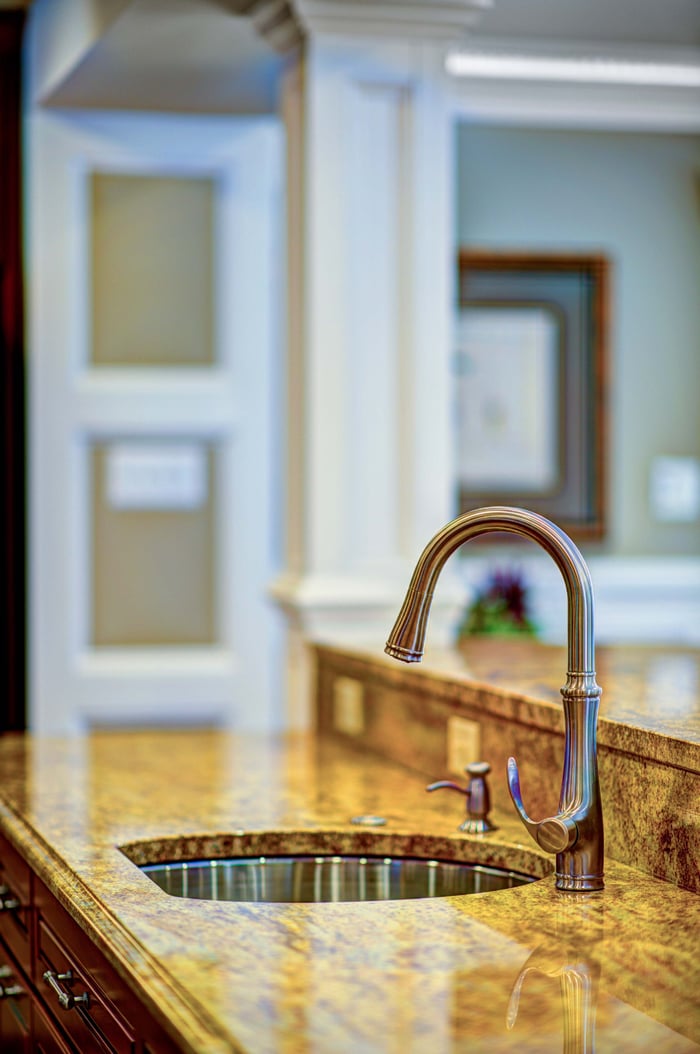 Add a shallower sink, or a double-basin one with one side smaller in depth, to allow enough space beneath for a wheelchair or stool
Consider the new design trends that focus on motorized, adjustable sink and counter heights so that a wheel chair can roll under it at a lower height, or, for those standing to work in the kitchen, can be raised to a standard height
Install a single, lever-handle faucet or a hands-free faucet with a pull-out spray device to make it easier to adjust the water temperature (adding an anti-scald device will keep homeowners from getting burned)
Choose lever-handles and wider door spans designed to fit a walker or wheelchair.
Layered Lighting
Because our eyes can play tricks on us as we get older, lighting is one of the most essential elements in a kitchen designed for multigenerational living or aging in place. A combination of artificial light and natural light will help prevent accidents, reduce strain on our eyes, and make tasks easier: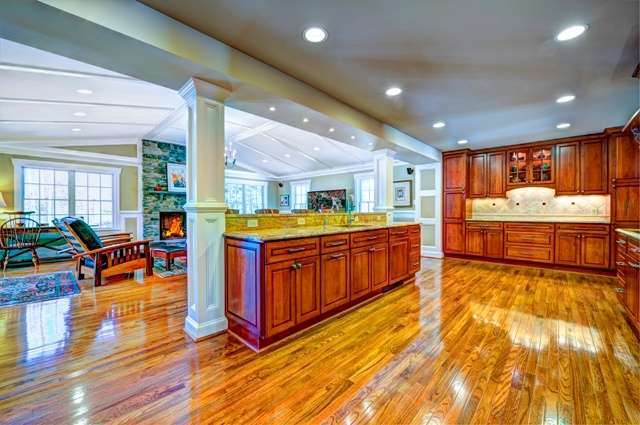 Install multiple sources to evenly distribute and minimize glare, including: under-cabinet lighting; task lighting above the sink, stove, and prep areas; an overhead light that does not cast shadows on the floor or surfaces; and nightlights on timers or sensors
Choose non-shiny surface and colors for kitchen cabinets, countertops, flooring, and paint sheen to lower glare
Improve safety with 'smart' lighting, automated systems designed to use a motion sensor or time.
Investigate T8 light strips to reduce glare, CFL bulbs to increase clarity and contrast as well as decrease glare, or bright white LED bulbs.
Strain-Free Appliances
Universal Design offers elevated built-in dishwashers which reduce the strain of unloading and loading; raised front-load washers and dryers on pedestals that provide more convenience; drawer refrigerators and drawer microwaves or side-by-side narrow-door refrigerators which are more easily manageable, and induction ranges or cooktops that cool much faster than standard ranges: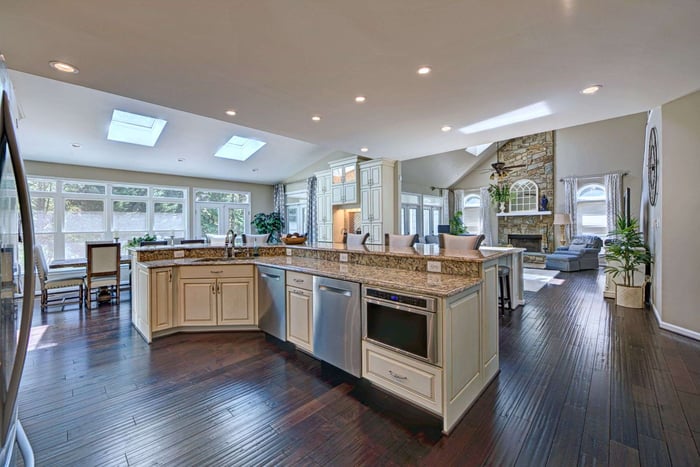 Wall mount a pot-filler above the cooktop to help with meal prep by limiting the need to move around heavy pots filled with water
Look for energy-efficient appliances
Use electrical appliances that have an auto-shutoff features.
Safety and functionality take priority in our living environments as we age, but style does not have to be sacrificed in the design. Ready to get started? Email us at Hello@MossBuildingandDesign.com or call us at 703-961-7707 to start the conversation!