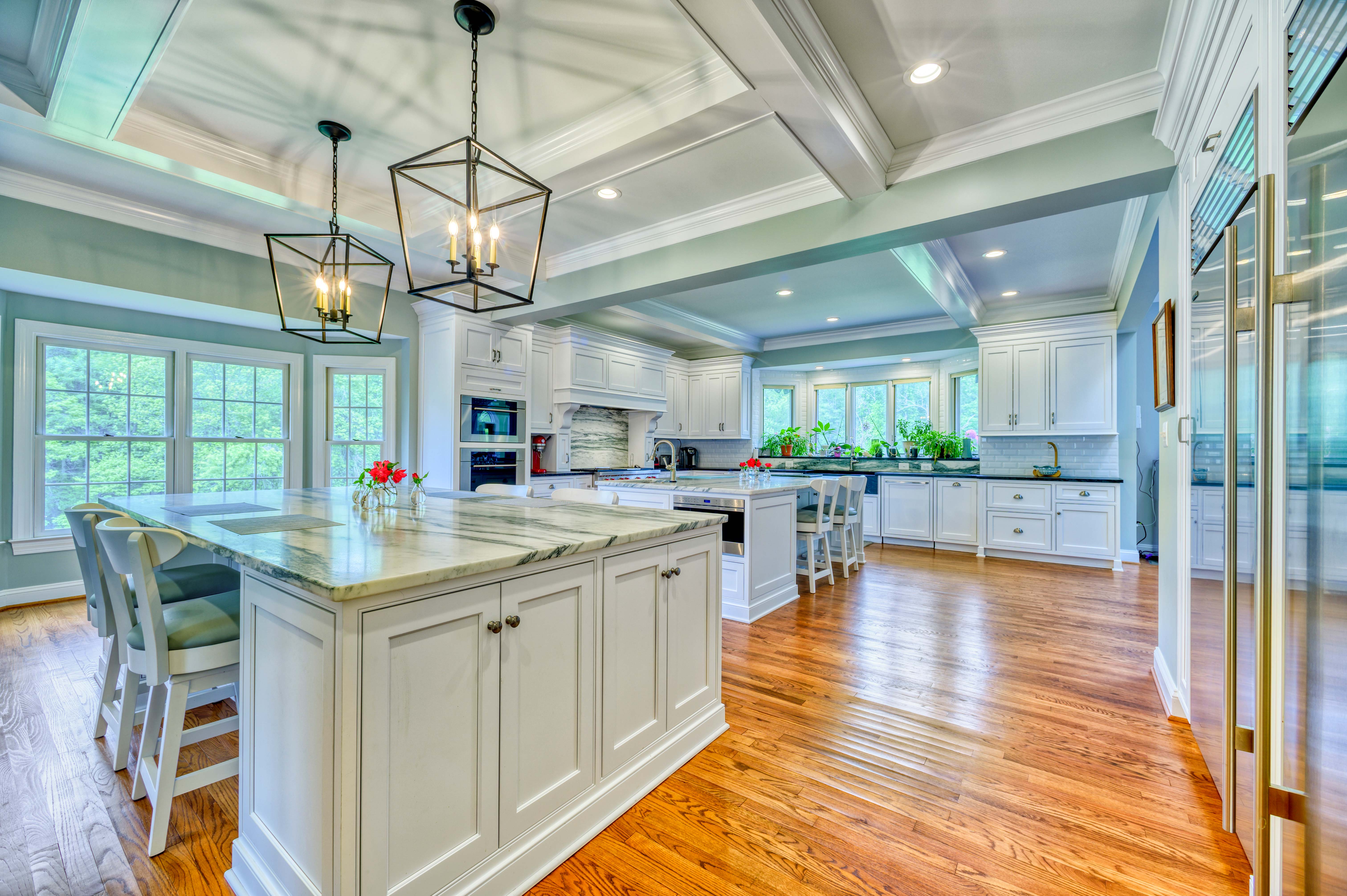 Luxury is defined as "the state of great comfort and extravagant living." At Moss Building & Design, Northern Virginia's premier kitchen remodeling company, we take this to heart – whether big or small, each kitchen remodel that we undertake is a reflection of the needs of our customers. And if luxury is a customer's dream, then Moss Building & Design makes that a reality.
With the holidays soon upon us, we'd like to showcase our favorite luxurious kitchens in Northern Virginia – imagining how these homeowners will enjoy entertaining family and friends in these beautiful kitchen remodels full of "…great comfort and extravagant living…" fills us with joy:
Stunning McLean Kitchen Remodel
Originally filled with muted neutrals and outdated cabinetry, this stunning McLean kitchen remodel is beautifully updated throughout. The long kitchen island has a sink prep area as well as plenty of room for seating and conversation, and the lighting fixtures above and nearby are delicate and beautiful. The white cabinetry and soft grey and white backsplash complete the look of a bright, lovely, and luxurious room, perfect for entertaining during the day or evening.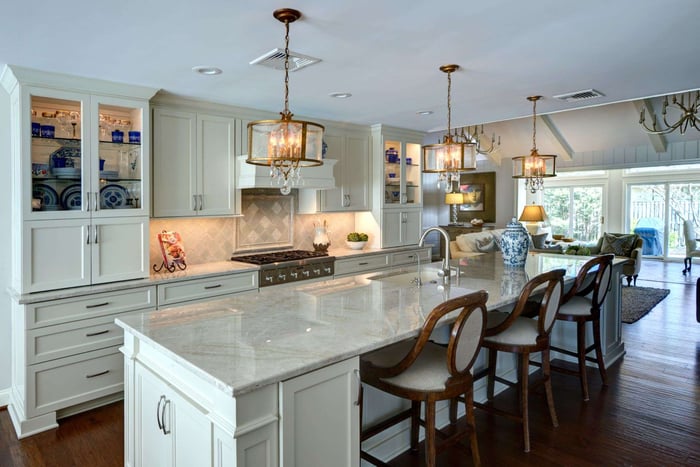 Gorgeous Fairfax Station Kitchen Remodel Design
It's impossible not to stop in your tracks when seeing this incredible Fairfax Station kitchen remodel design – luxurious touches exist throughout the room. From the double massive kitchen islands, capable of seating a great number of people, to the ceiling moldings, large windows letting in plenty of light, and the open concept layout, it's one of our favorites!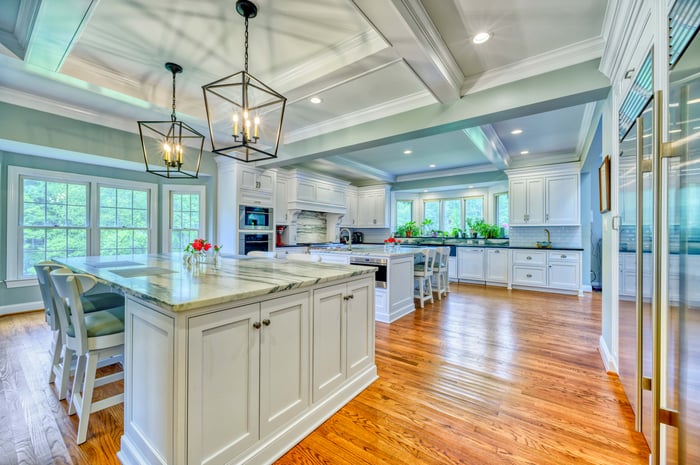 Incredible Kitchen Remodel in McLean
This lovely kitchen remodel in McLean is the perfect place to entertain over the holidays. Filled with luxurious selections, including all white cabinetry, a built in butler's pantry and bar area, beautiful hardwood flooring, and a center island perfect for conversation or relaxing. It goes without saying that this ranks very high on our list of luxurious kitchens in Northern Virginia.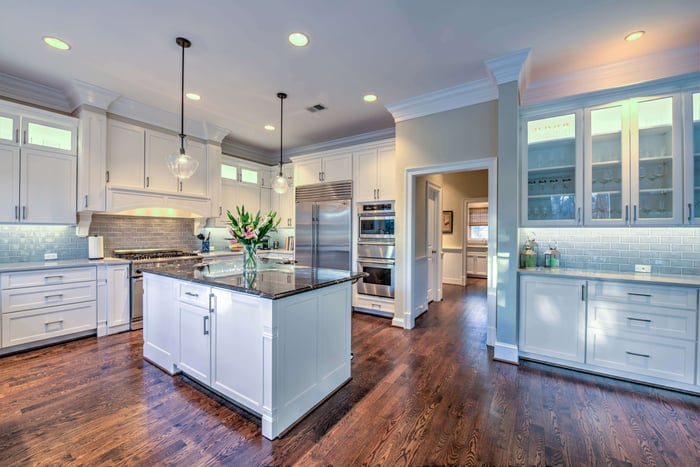 Gorgeous Centreville Kitchen Remodel
If your dream is to have an open concept main level, Moss Building & Design is the best kitchen remodeling company for you. This incredible Centreville remodel included a completely overhauled kitchen design that opened up into the home's sitting and eating area and outdoors to the porch. Luxurious touches like the curved center island, which houses seating, a sink area, dishwasher and more, makes the space both high end but also functional. With recessed lighting throughout the rooms (that can be adjusted for day or evening), we think this is the optimal place for holiday entertaining.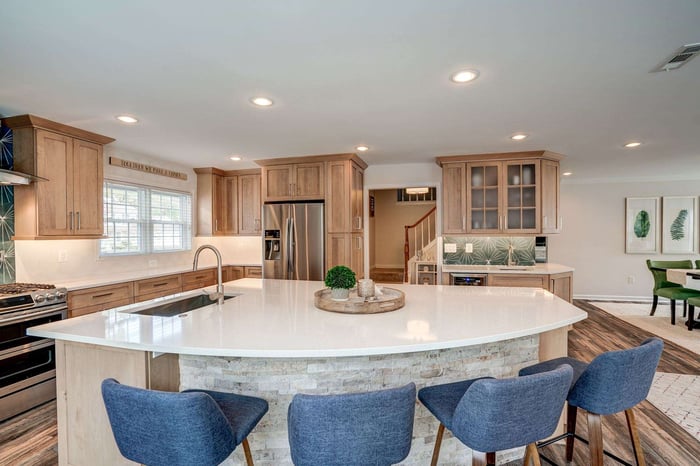 Uniquely Luxurious Fairfax Station Kitchen Remodel
From the double refrigerator and beautiful square center island to the stone countertops and beautiful white tile flooring, this Fairfax Station kitchen remodel is the model of luxury. The homeowners' bright artwork is on display throughout, with the contrast to the all white cabinetry (save the contrasting island cabinetry in a dark color) a lovely way to showcase personal aesthetics along with luxurious details.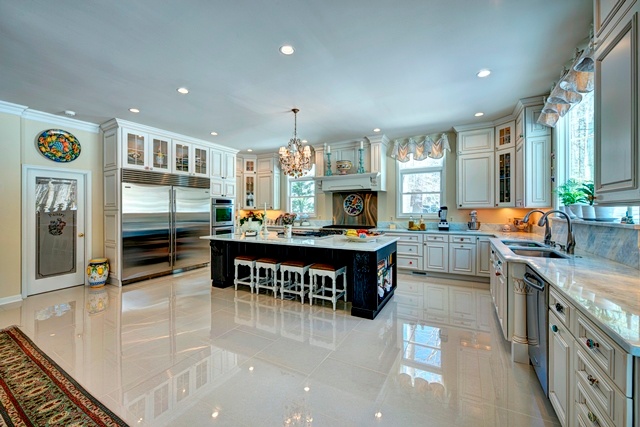 Feeling inspired to update your kitchen? These luxurious Northern Virginia kitchen remodels showcase just the tip of the iceberg of Moss Building & Design's kitchen design capabilities. Visit our kitchen remodel portfolio to see more kitchen remodels. Ready to start the conversation? Call us at 703.961.7707 or email us at Hello@Mossbuildinganddesign.com.