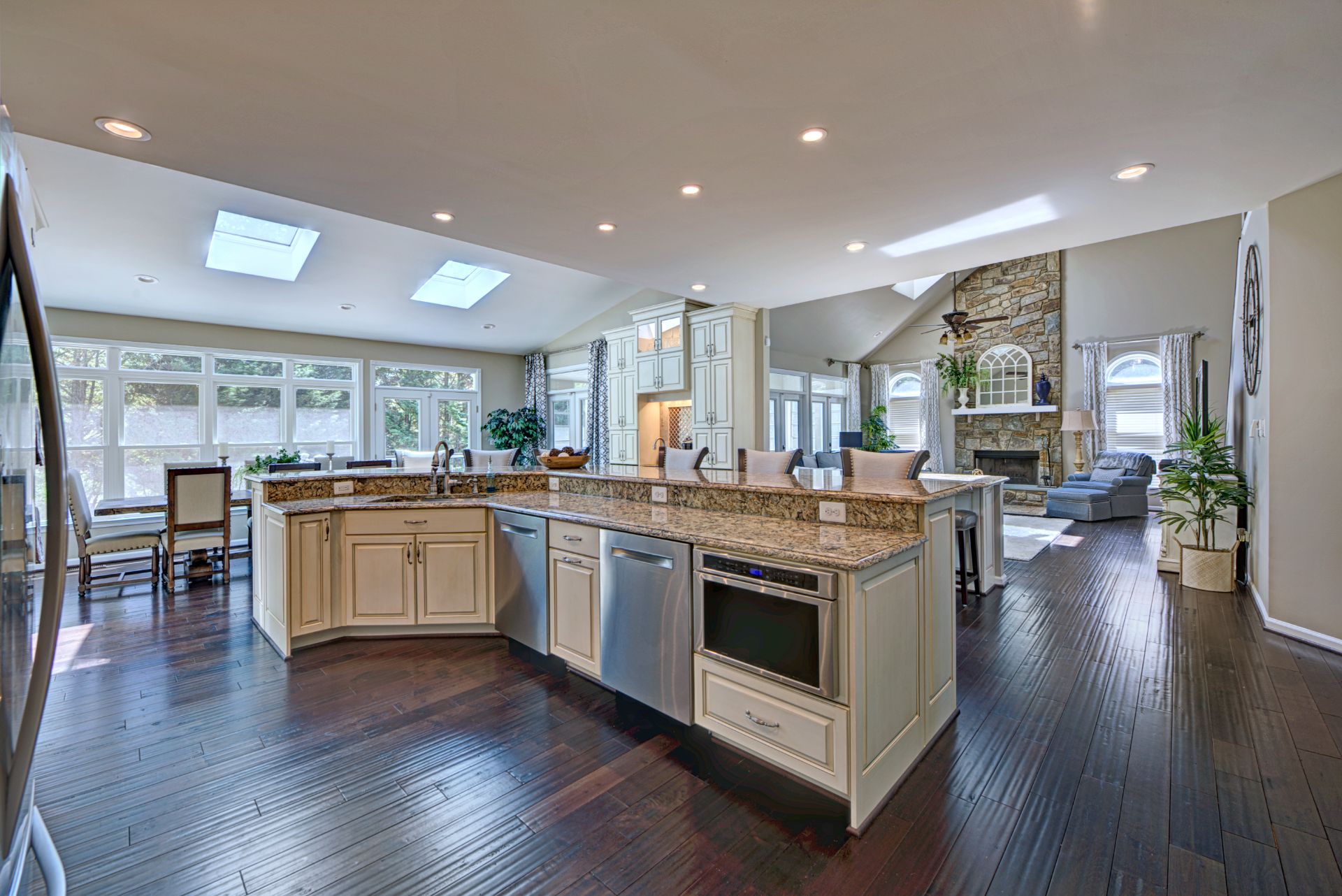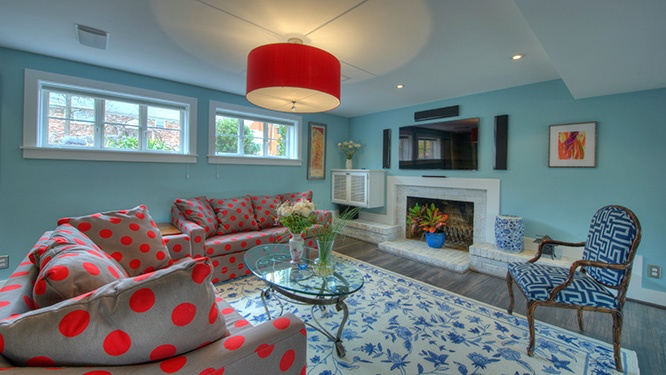 Gathering spaces in your home should feel comfortable, relaxed, and welcoming. How do you achieve a look that creates that type of environment? What details are necessary to put you and your guests at ease? How can you create the type of space where people want to spend time?

These questions come back to homeowners time and again. With creativity and help from MOSS experts, you can create a luxurious and functional space for you, your friends, and loved ones.
Attractive Paint Colors
Paint colors have a big effect on the mood and atmosphere in the room. For example, formal, gentle shades of gray create a mellow but happy environment where friends can talk over coffee or wine, exchanging stories and laughter. Meanwhile, brighter bolder shades of blue or green encourage louder and more boisterous conversations.
An accent wall breaks up the space. Often, accent walls stand in contrast to the rest of the room. This creates balance and a sense of excitement that makes your gathering space fun, playful, and a little bit unpredictable.
Intimate Furniture Arrangements
Furniture arrangements have a big influence on how people interact when they spend time together. Arranging furniture by zones, with like pieces of furniture facing each other, creates a sense of intimacy and gives purpose to the room.
Symmetrical furniture arrangements are more formal and appropriate for rooms where people gather for formal events.
Asymmetrical arrangements have a relaxed and casual air and are more appropriate for parts of your home where close family members gather. Give careful consideration to your furniture arrangement to ensure that the arrangement you choose is right for the room you're decorating.
Personalized Touches
Built-in cabinets and shelves, crown molding, and wainscotting give the room old-world character that adds value and visual interest. These personalized touches make your home different from the others in your neighborhood. Built-in benches give you and your friends a space to read, talk, or have a cup of tea. Personalized touches, like a built-in hutch, add convenience that makes your gathering space an easy place to spend time with others.
Open Spaces
Open floor plans are gaining in popularity because they encourage communal discussion, bring families together, and make entertaining easy. Modern gathering spaces are often connected to other rooms, so the kitchen, living room, and dining room all blend together into one.
Keep these spaces distinct from one another by arranging the furniture creatively, placing screens where necessary, and laying down different rugs. If your home is older and walls separate your communal spaces, talk to a contractor to find out how you can join your spaces together to create a modern and open floor plan.
Creative Lighting
Lighting is crucial in a part of your home like the living, family, or dining. Natural lighting during the day helps create a sense of calm and quiet. Daylight bathes people and objects in flattering illumination. Maximize this to the best of your ability by installing a large window and removing heavy drapes to keep the room light and bright.
Small lamps light up different zones of the room and create a sense of intimacy after dark. Well-placed lamps enable a group of people to sit together in a sphere of light, while another group uses a different part of the room in a separate sphere of light.
Pendant lighting and chandeliers add a sense of the extraordinary to otherwise ordinary living spaces. Match the pendant lighting to your tastes and decor in the room. A classic globe light creates a sense of vintage style, while an asymmetrical contemporary chandelier looks best when paired with modern furniture and other details.
Dimmers are a "must-have" in the dining room, according to a helpful Houzz interview with a respected lighting expert. To build on that idea, install dimmers in any room where you meet with people in the evening hours.
Get Started With A Remodel Today
How does your gathering space measure up? Are you happy with your home, or are you ready for a change? Contact Moss Building & Design at 703-961-7707 or email us at Hello@MossBuildingandDesign.com to get started with a home remodel.