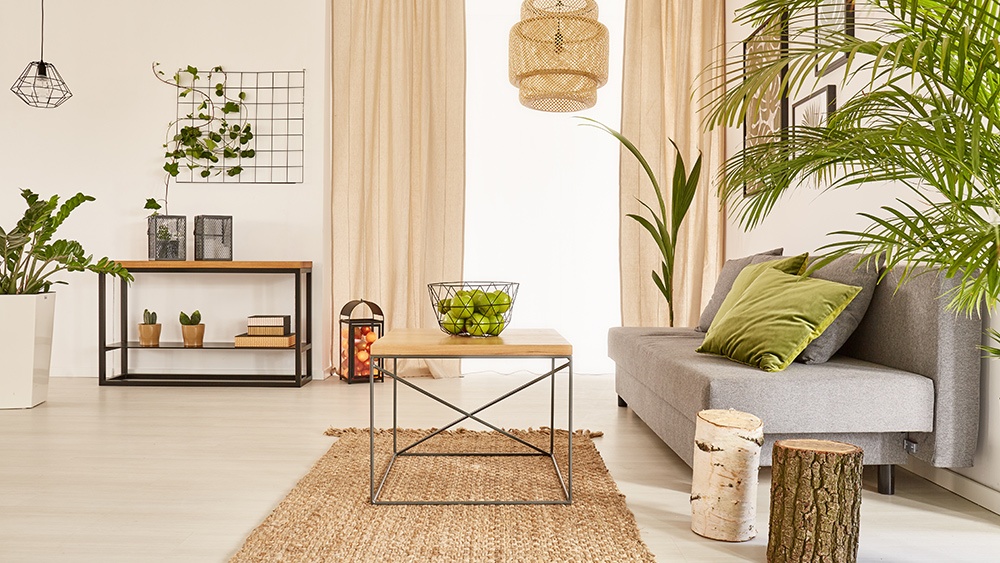 Houseplants are the simplest way to bring the outdoors in. Flowers and small trees offer a freeform and organic life to any room, but it's not as easy as plucking flowers from a garden in the park.

You have to think about how the container, whether it's a pot or a vase, and how it fits into the design style of your interior. You must also consider the plant's requirements for light, water, and soil, as well as which plants grow in similar climates to keep synergy throughout your home. You can't put a cactus next to a fern!
African Spear (Sansevieria Cylindrica): Technically classified as a succulent, the African Spear takes care of itself. This bold plant needs little to no water or temperature moderation. However, it does need low-light conditions to survive.
English Fern (Hedera Helix): The National Aeronautics and Space Administration (NASA) lists the English Fern as the No. 1 air-filtering plant for homes. It absorbs formaldehyde, which is found in air fresheners, paper towels, furnaces, water heaters, polyester/cotton blend bed sheets, nail polish, and perfume made with synthetic fragrance.

It's also incredibly easy to grow and adaptable as a floor or hanging plant, according to Huffington Post. Grow in moderate temperatures and medium sunlight.
Eucharist Lily (Eucharis amazonica): A dark green plant that features bright white flowers that bloom throughout early spring and winter. To take care of this lily, water once per week (the flowers droop when it needs water) and medium sunlight.
Meyer Lemon Tree (Citrus x meyeri): Meyer lemons are believed to be a hybrid of lemons and mandarin oranges that offer a more subtle, sweeter flavor than either individual fruit. Aside from a delicious snack, this small tree gives off a beautiful citrus aroma. All the plant needs is water once per week and a lot of sunlight.
Moss (Bryophyta) and ivy (Hedera). Our favorite! According to Pottery Barn, moss and ivy letters "bring a zesty personal touch to any wall. Just be sure to keep them away from direct sunlight. Also, don't forget to take down and water your moss letters, so they remain fresh and green."
Peace Lily (Spathiphyllum): This low-maintenance flower does well in shade and cooler temperatures. It also reduces the levels of toxins and improves indoor air quality.
Note: According to Safer Brand, peace lilies contain oxalates that can cause skin irritation. This is the result of salt crystals that cause a fierce burning sensation if crushed, chewed or eaten, which means keep this plant away from pets and children!
Snake Plant (Sansevieria trifasciata): This plant is especially great for contemporary design interiors. The sword-shaped leaves gently wind from the soil, creating a snake-like charm from a basket. Place a Snake Plant anywhere in your home, and let the soil dry completely before watering.
Note: Saponins in snake plant leaves make this plant toxic to pets and may cause nausea and vomiting.
Split-Leaf Philodendron (Monstera deliciosa): This plant, recommended by French artist Henri Matisse, "has a distinctive leaf that looks as though it's been gently cut into by a careful hand," according to Architectural Digest. All it needs is water once per week.
White Jasmine (Jasminum Polyanthum): Occasionally called Pink Jasmine, depending on the coloring, this flowering plant thrives in the winter. Its delicate yet not overpowering smell and adorable blossoms make this plant a staple to any room.

Keep it in a lit area of your home, and water often to keep the soil moist.
Whether you need to green up your kitchen or put a little organic life into your bedroom, these houseplants are the perfect addition to your home. If you're ready to bring the outdoors in, consider including one of these houseplants.
If you're thinking of committing to a home remodel, call Moss Building & Design at 703.961.7707 or email us at Hello@mossbuildinganddesign.com.