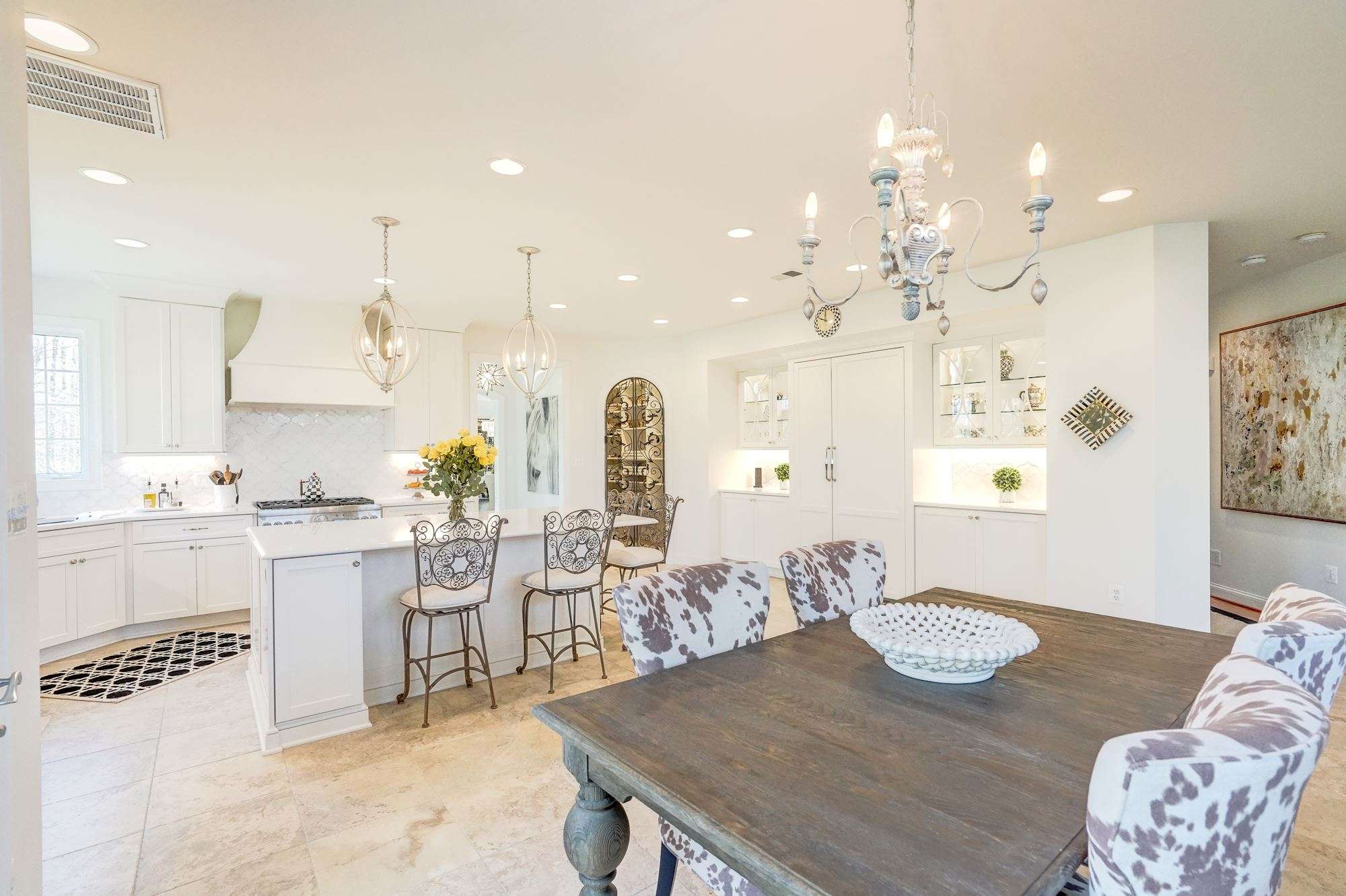 Gourmet kitchen design trends are exciting to watch as they come into the marketplace, aren't they?! Moss Building & Design has recently been keeping tabs on several kitchen appliance trends, specifically, that are unique and popular with our customers. Perhaps you're in the pre-planning or design stages of a gourmet kitchen remodel (or have some long-term plans to begin a kitchen remodel in 2020!) – if you haven't yet considered specific kitchen appliances, we'd like to share some of those that our kitchen designers are finding particularly trendy:
Hidden Kitchen Appliances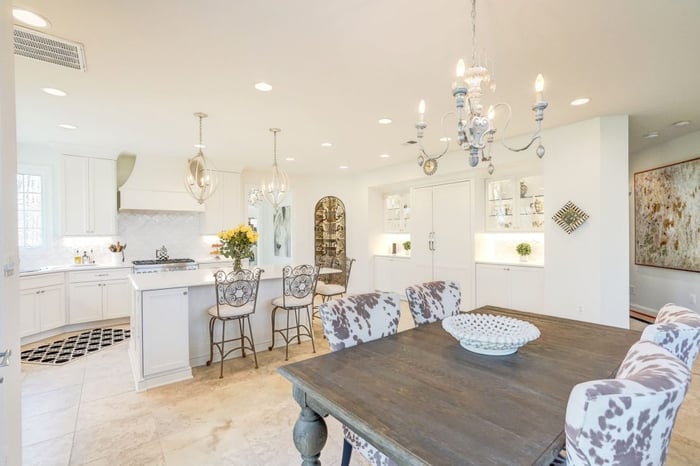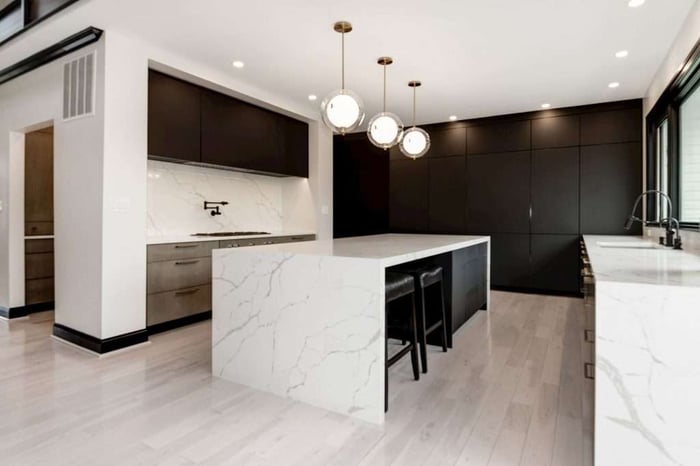 At a glance, do you know where the refrigerator and freezer are in each of these images? If it's not immediately apparent, then our designers (and clients) did a great job hiding them! In fact, the kitchen appliances are "hidden" behind front kitchen cabinetry panels specifically designed to appear as if they are simply that, cabinetry. This stunning look is very popular and trendy right now and transforms your kitchen.
We love the look of the all black wall in this Oak Hill kitchen remodel, which also hides a pantry and other storage — all the kitchen cabinets open with a touch mechanism, which completely minimizes the need for handles. The other featured kitchen, also located in Oak Hill, hides the refrigerator and freezer beautifully in line with other accent cabinetry and lighting, and looks more like a featured work of art than an appliance.
Mini-Beverage "Drawer" Fridge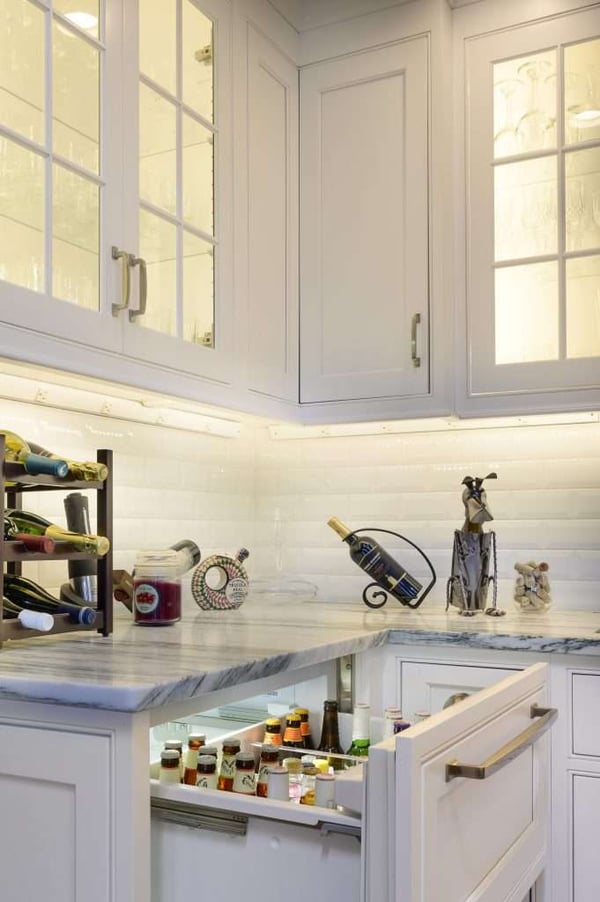 How clever is this? Instead of installing a mini-fridge in your cabinetry, why not install a mini-fridge drawer? This drawer looks just like another way to store pots and pans. But, in fact, it's a mini-beverage station! Perfect for quickly icing down plenty of drinks or having cool beverages on hand for the kids and for parties. We adore this beverage fridge in this Fairfax gourmet kitchen!
Full-Sized Temperature-Controlled Drink Refrigerator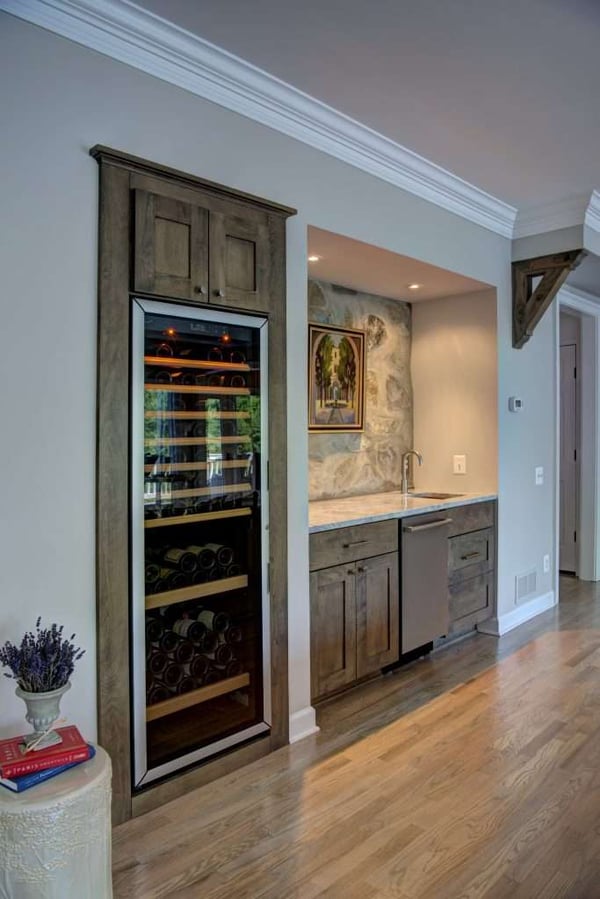 Why install a mini-fridge when you could install a full-sized one? If your family entertains a lot, or has a large wine collection (and doesn't have a wine cellar), a full-sized drink refrigerator, complete with perfect temperature control, would work best for your gourmet kitchen remodel. In fact, this full-sized refrigerator is located in the family room with an attached mini dishwasher and bar set up. Perfect additional appliances for all the parties you'll be able to throw in this renovated kitchen in Reston!
Oven Air Fryer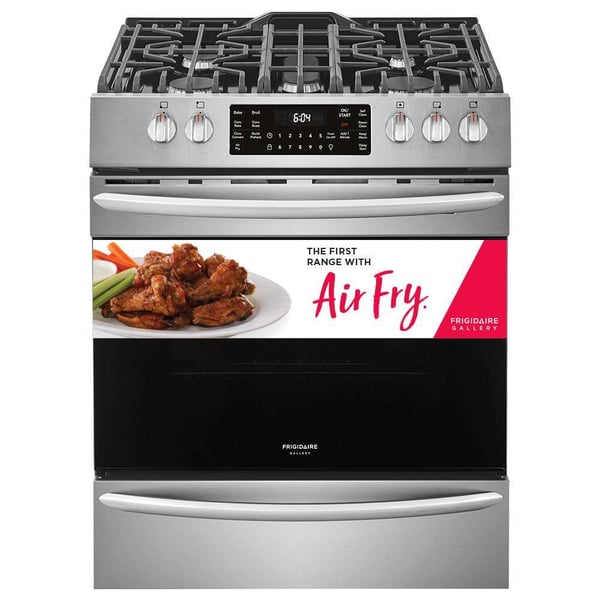 Image courtsey of Frigidaire and Home Depot
While the multi-cooker was the "it" countertop appliance for the past few years, countertop air fryers have followed closely on its heels. With the ability to cook food in a manner that is reminisent of frying but with many fewer calories and fat, the air fryer is the answer to many food lovers' prayers. Now, many appliance makers have been creating conventional ovens that also have the ability to air fry peoples' favorite foods in addition to regular baking, roasting, or stovetop sauteing. This evolution gets rid of the need for the countertop appliance completely! We think this will be a trend that will be embraced quickly!
"Smart" Kitchen Appliances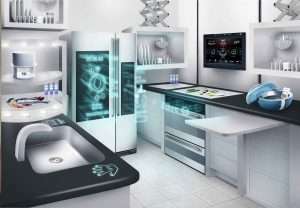 This isn't news, but, technology is everywhere – and if you haven't seen it in your kitchen appliances yet, you soon will. Imagine being able to control your slow cooker or oven with an app on your phone or via text message? How about all touch controls that connect you to recipes from the internet directly onto your refrigerator? These and more advancements are being seen in more and more kitchen appliances. Probably the best way to help busy families will be the ability to control appliances after you've left your home – what if you're in a hurry getting the kids to school and yourself to work but you can't remember if the oven or stove are still on? Smart kitchen appliances can notify you when you're out and about and allow you the remote control (so to speak!) over them – putting your mind at ease and not creating havoc on the homefront.
What are your favorite of these trendy gourmet kitchen appliances? We think they've all got a place in the kitchen remodels of today and the future, and Moss Building & Design would love to chat with you about your dream gourmet kitchen. Contact us at Hello@MossBuildingAndDesign.com or call us at 703.961.7707 for a free consultation – and start thinking about which (or all) of these appliances will have a place in your new kitchen remodel.