Pictured here are two kitchen countertops installed in homes remodeled by Moss Building & Design: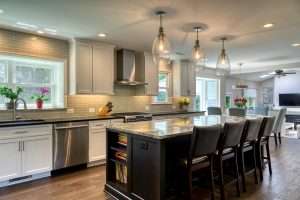 Can you tell which is granite and which is quartz? Maybe not from a set of kitchen remodel pictures (unless you're a professional kitchen designer!), but, in person, there are distinct differences. While both are beautiful and add incredible style and look to your kitchen or bathroom remodels, it's important to know what options exist so you can pick the one that's perfect for you.
Granite Kitchen Countertops
A natural stone mined throughout the world, granite is made up purely of various minerals, giving each slab a unique and attractive look. Considered one of the most durable of the natural stones due to its heat-resistant qualities, granite doesn't blister or chip or scratch easily. Plus, granite is one of the hardest materials found on Earth!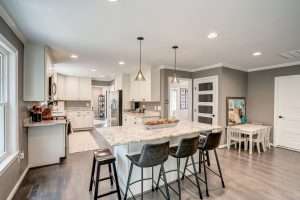 When choosing to use granite in your remodel, slabs are either cut and polished to fit the specific dimensions of a kitchen countertop or bathroom countertop or you can choose pre-cut slabs, depending on your design.
Granite is an excellent choice for kitchen countertop remodels – imagine not having to worry about putting a hot dish on your counter or dropping a heavy platter without a bit of worry! Installing granite in your bathroom remodel is also a great idea for enjoying it long term. The durability of granite cannot be downplayed.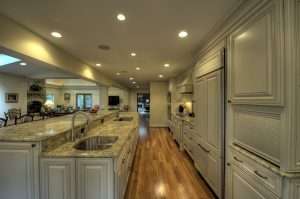 Are there negatives to granite? Granite is a porous material. It's important that your countertops be sealed upon installation, and then at various points in the future (using sealers you can purchase and apply yourself), so that liquids are not absorbed too quickly, potentially. Bacteria can also live longer on granite surfaces. Another potential negative to choosing granite is that you are limited to what is available from sources, and, as granite comes from natural sources, the colors and speckling are not going to be bright and bold as something man-made could be.
Quartz Kitchen Countertops
Quartz is a natural stone that is actually harder than granite and is also extremely durable. It is a non-porous material, which means that neither bacteria nor liquids can be absorbed if present. That all being said, however, quartz is generally not the only material used in quartz countertops. Mostly, the countertops listed as "quartz" are a combination of quartz, a chemical binder, and a variety of other stones – therefore, quartz countertops are more commonly known as engineered stone.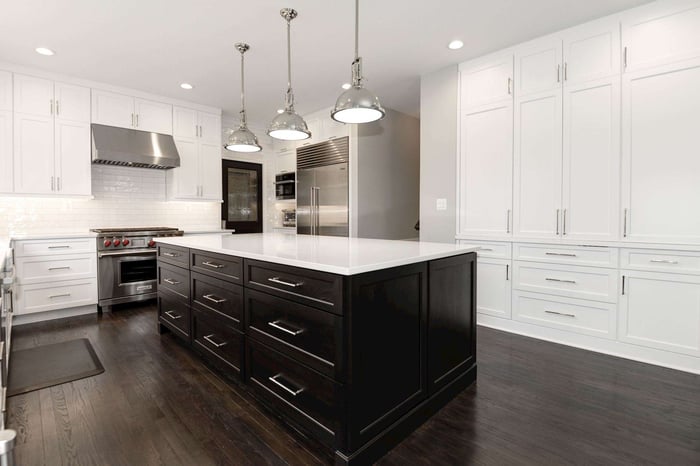 Quartz countertops used in kitchen remodels must always be protected from high heat pots and pans – the surfaces are not as heat-resistant as granite. While that is a downside, quartz countertops are a more "green" choice for your kitchen or bathroom remodel: by combining a variety of both natural and man-made products, there is less need for damage to the Earth in the process of producing it. Plus, engineered stone is able to showcase specific colors or a more streamlined look than granite (where every slab is different and unique).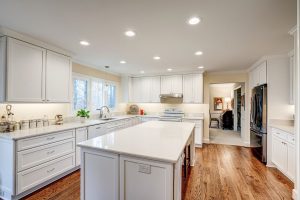 A final difference is price: more homeowners are turning to quartz countertops as they can truly find something that is specific to their aesthetic. This, of course, makes it a potentially higher price point. If you prefer a more natural look, choosing granite might be a good way to also save money.
Should I Choose Granite or Quartz? Either One!
You really can't go wrong with either granite or quartz in your kitchen and bathroom remodel. Moss Building & Design works with each client to understand their personal style and vision to create a design that makes it a reality. Understanding the differences between the two choices can only make the decision making harder! If you're ready to begin a kitchen or bathroom remodel, contact MOSS today at Hello@MossBuildingAndDesign.com or at 703.961.7707.