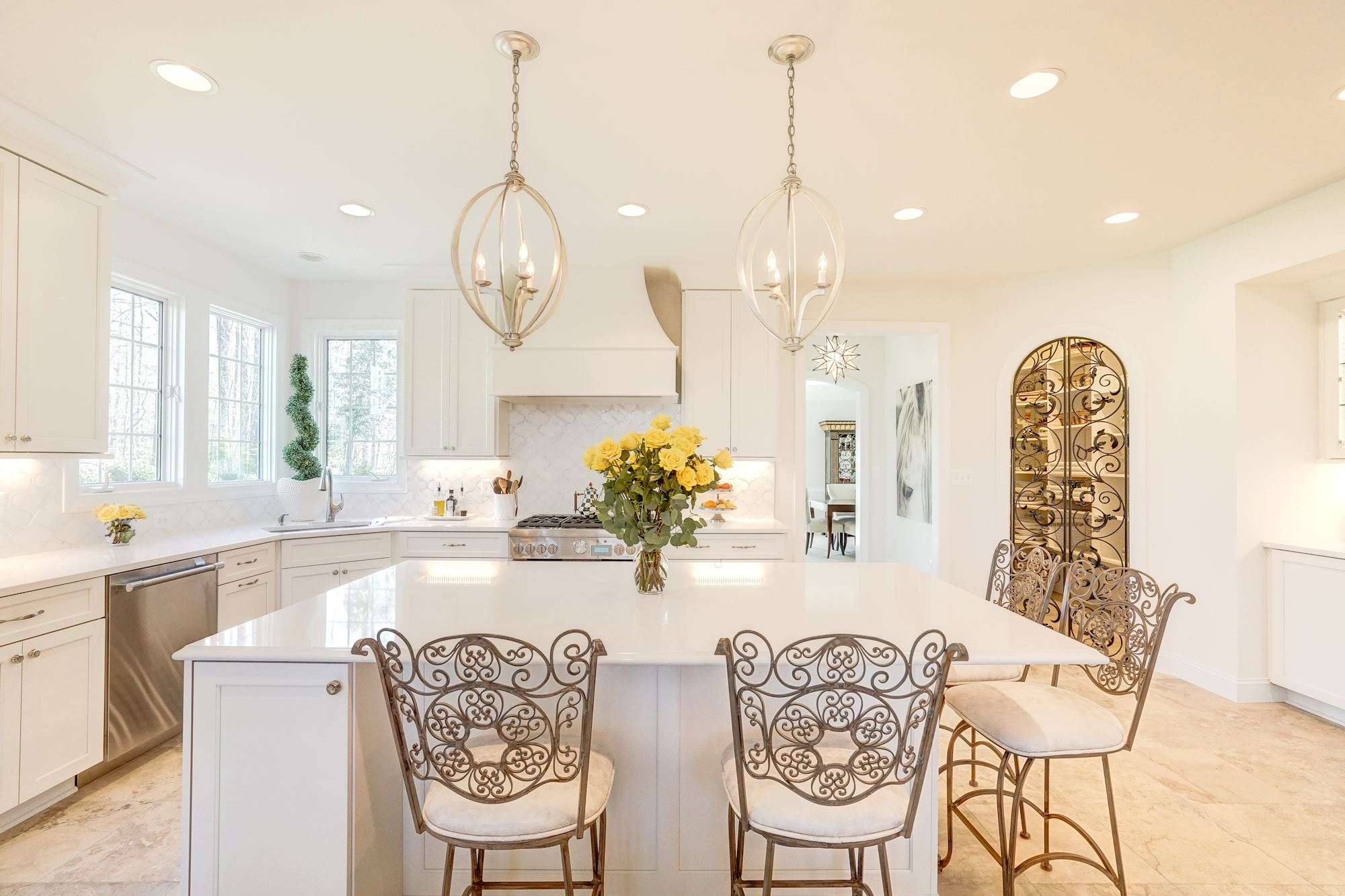 "Hope springs eternal in the human breast;
Man never Is, but always To be blest.
The soul, uneasy, and confin'd from home,
Rests and expatiates in a life to come."
― Alexander Pope, An Essay on Man
Staying at home during this unusual and unprecedented time is the best way to help our community and the essential workers on the front lines of the COVID-19 crisis. That being said, we here at Moss Building & Design understand that many people are struggling with how to make the time at home as positive as possible, even with work, distance learning, and family under one roof, all the time. So, with that in mind, we reached out to local area experts to learn ways that we can all take advantage of the time at home this spring to spruce up our homes with some simple, fun and easy do it yourself (DIY) tips – which can result in brighter, greener, less cluttered and more organized homes. We hope you take advantage of these tips and, if you're in need of home remodeling or improvement, MOSS, an essential business, is open and available for free estimates at your convenience.
Interior Spaces & Staging For Spring
Dawn Earles, owner of Dawn Earles Design, LLC and curator of popular Facebook group (Renovate Ready Nova (Nova Redesign & Remodel) shared the following top 10 ways to upgrade your interior:
Painting is the best way to freshen up a space: add drama with an accent wall, try using a fashion-forward color like Benjamin Moore Newburg Green HC-158!

Give a dull and dated hall bath a face-lift by painting the cabinets a classic color like White or a fun color like Hale Navy and add new hardware to create eye-catching drama.

Repurpose old pillows by heading to your favorite craft store and purchase pillow covers for an instant pop of new color or fun texture.

Can't manage to keep flowers looking fresh and alive? No problem! Create a beautiful DIY boutique with a variety of faux peonies, roses, ranunculus and greenery for instant color!

Looking to add some art to a blank wall? Head over to my friends at Etsy and select from hundreds of downloadable images to print off and frame. I do this a lot for clients on a budget or for rooms that need smaller pieces of art.

Freshen up a family room by decluttering and removing unnecessary objects in corners. A lot of times we find ourselves filling spaces that would be better if left unfilled.

Mirror, mirror on the wall…it's important to let light reflect objects and what better way than by adding a mirror to your space? This will also make the room appear larger!

When re-arranging furniture, clear the room. Take the scale of your furniture into consideration. We all want to be comfortable but oftentimes we stuff the room with oversized furniture that doesn't fit the space and end up shoving it all up against the wall. Play around with the furniture in the room but understand you may need to remove a piece or purchase new to accommodate flow and scale.

Color your books…yes! If you have old books around the home, and want to put them to good use, paint them! Grab acrylic paint and pick a color scheme that coordinates with your decor to add interest to bookshelves or style to mantles or tables!

Add texture to your floor. Nothing makes more of a statement in a room than a beautiful rug. It's OK to layer a rug over the carpet as it adds another element of texture. Nowadays rugs are pet and kid-friendly: just look for a 100% polyester material and you'll be sure to find one to beautify your space!
Spring Decluttering With The LITL System
Lisa Geroci Rigoni, owner of The Organizing Mentors and curator of the Facebook page The Organizing Mentors, shared that her business's main goal is to help give her clients their space back, both mentally and physically. During this time, she suggests focusing on decluttering the area of your home that drives you the craziest. The kitchen is likely the busiest area of your home at the moment, with constant use and lots of traffic. If that's not an option, Rigoni suggests working on the area of your home that can serve as a retreat from all the together time we are all experiencing. Perhaps your bedroom could use some decluttering – by making a few actionable changes, you can find some space that works for you to relax better. Rigoni offers virtual sessions for anyone who needs extra assistance in working through their home organization, and also shared with us her proprietary "LITL (Leave It To Lisa) System", which is outlined below – a great start to spring decluttering:
L – Let It Go – What do you have that you can do without? If something doesn't fall into the categories of Love or Need, then let it go. Start simple, with what you know you don't want.
I – Intentional – What makes you feel positive when you see it? And what has the reverse effect? Discard items that produce negativity, sadness, resentment – and keep the things that bring positive emotions. Ask the difficult questions.
T – Transform – Once you make a decision, you are transformed. Clean something out, your world will transform. The benefits and relief are instantaneous.
L – Love It – What you're left with are only those items that you love and/or need. The space surrounding you will be a truer representation of who you are, and living within that space becomes uplifting and empowering. You'll love it.
Home Organization & Maintenance
Is it just us or do you often find yourself either avoiding organizing your closets until you've got "free time", or, organizing them and then, six months later, returning to the job because you can't maintain said organization?
Dan Beller, Chief Operating Officer of Eco-Nize Closets, shared the following with us: "If you want to be successful reorganizing your closet and adding custom closet organizers, it's best to break down the project into a couple of steps. Here are a few tips and tricks for each step of the process!"
Decluttering
Before you begin decluttering, take an inventory. Divide everything up seasonally, and try to donate or give away one item per day from each season for a week.

Be realistic: if a particular item is not in style anymore, or you're not in love with it, add it to the donate pile.

By getting things you're not wearing donated, you give yourself a better idea of what you need in your new closet. And, the more you can prune down your clothing storage ahead of time, the easier the transition to the new closet will be.

Is there anything in your closet that shouldn't be there? Did your holiday decoration boxes end up in your closet instead of back in the basement or attic? Get everything into its proper place so you can accurately plan your layout.
Planning/Design
Start deciding how you want to store everything: by season? Color-coded? By clothing type? Will you store shoes in loose pairs, or in their boxes?

Think about your design: do you want a system open to the floor, so you can slide boxes under your hanging clothes? Or do you prefer a bottom shelf and trim, to give your closet a more built-in look?

This is a great time to get a professional involved – by having a designer from a closet company like Eco-Nize come out for a free consultation, you can get a rendering of your space, suggestions for optimizing your storage, and budget expectations laid out.

Don't forget about all the useful accessories: tie and belt racks, jewelry tray drawer organizers, laundry hampers, etc.
Installation
This is the easy part for you! Sit back and let the experts install your beautifully designed brand-new closet!
Settling In
Fill your new closet back up! Think about buying new, thinner, plastic hangers, rather than reusing your thick clunky wooden or plastic ones – you can actually save a lot of space just by switching to a thinner hanger.

Let your friends come over to admire the new closet, and share these tips with them so they can repeat the process in their homes!
Adding Greenery Inside and Out
Family owned and operated, Reston Farm Garden Market has several locations in the Northern Virginia area, and, is still operating with online ordering and curbside pickup for their fresh fruits and vegetables, homemade delicacies, plants, mulch and much more. MOSS spoke with Lowell and Bonita Weinstein, owners of Reston Farm Garden Market, to learn more about how to bring greenery into and around your home this spring.
Indoor Green Spruce Up Tips
Add houseplants, which have relaxation benefits, and also bring oxygen to your home. Start with a small (6 inch desk sized) plant, then expand to 10 inch plants.

Consider beginning a small garden from seed from inside your home. This is also a great opportunity to do this as a family project. Reston Farm Garden Market sells kid-friendly kits for small home greenhouses as well as flower pot kits for kids.

Plant an herb garden – this can be done indoors or outdoors, or as a combination project. Start small with starter plants in a window box or a small pot, then expand to a larger pot outside. You can combine several herbs into one pot as well, but avoid adding mint to the mix (mint is a fast growing herb that will take over the others).
Outdoor Green Spruce Up Tips
Many people are now preparing their gardens to grow vegetables, getting beds ready, purchasing mulch — now is a great time to begin the process, as Reston Farm Garden Market has 4 inch starter plants for tomatoes, peppers, squash and more available.

With lots of first time customers anxious to beautify their homes' exteriors and interiors, the Reston Farm Garden Market recommends, if you're new to gardening, to consider hearty plants such as pansies, geraniums, or begonias. The market also has a full line of shrubs, perennials, and more.

This spring could be a wonderful time to add some color to your home's interior and exterior but also gives you something to do and keeps your hands busy. And the results of a home garden are truly satisfying!
So, How Do I Start My Spring Spruce Up?
We love all the suggestions that our expert Northern Virginia area partners have provided for us to share with you – but truly, we realize that tackling them all at once seems overwhelming. So how does one start the spring spruce up process? Take baby steps. Pick one area that you'd like to improve upon and begin there. Go slowly, pace yourself, and revel in what you've accomplished that day or week, but keep your expectations in check.
At MOSS, we understand that this is an odd time to be living our day to day lives – pick and choose your spring spruce up options carefully, and then keep this list handy for when you're ready to start task # 2, and so on and so forth. And, remember, as you're spending more time working in the same space and staring at the same walls, perhaps also considering a spruce up to your master bathroom, gourmet kitchen, basement, or other areas might provide you the focus and motivation to make some remodeling decisions for your home that will benefit you far beyond this spring. Contact MOSS at hello@mossbuildinganddesign.com or call us at 703.961.7707 for a conversation, consultation, or a chat, and we'll work with you to get started on whatever home renovation has sparked your fancy this spring.