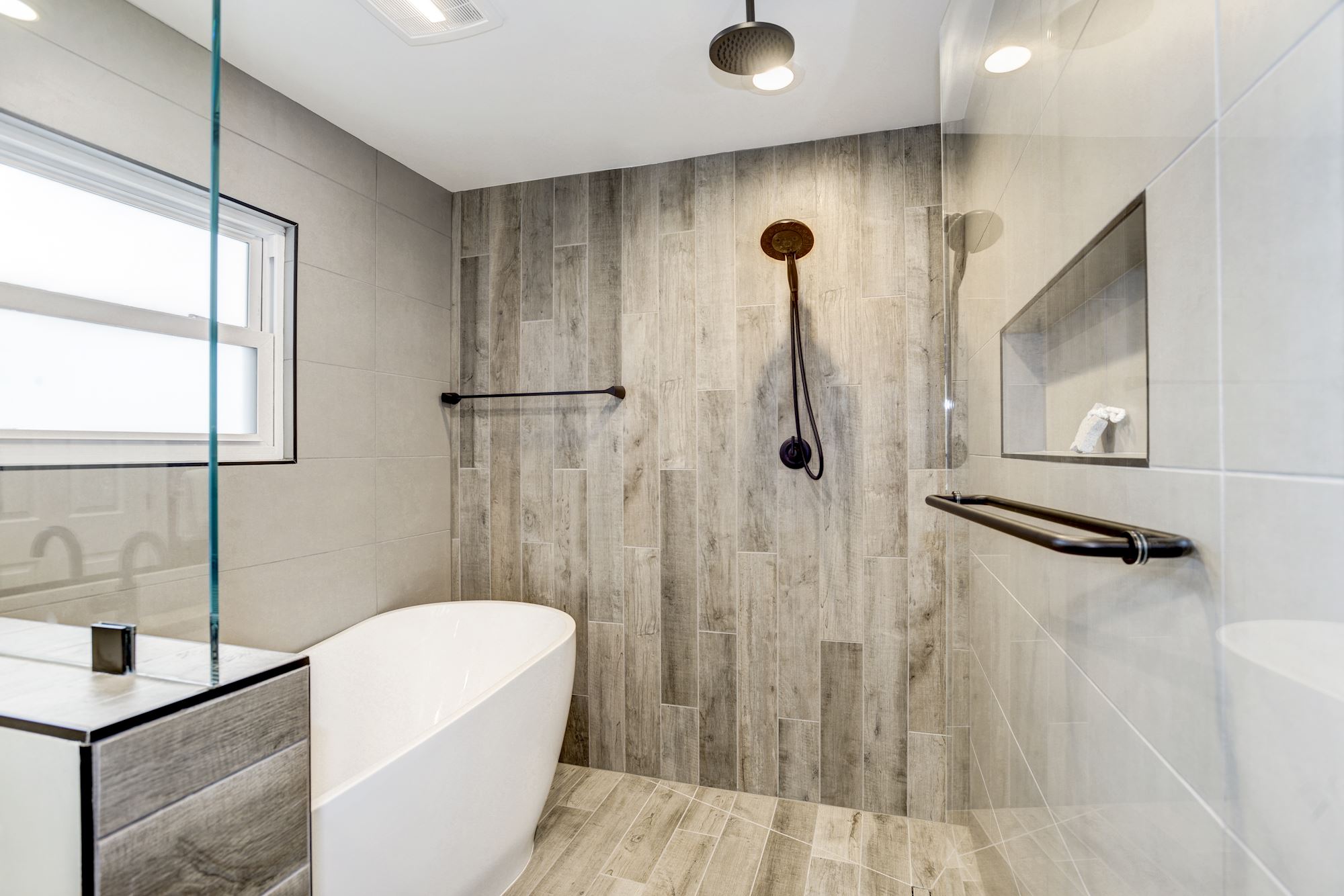 Dreaming about a master suite addition or, more specifically, a master bathroom remodel? Fancy soaking in a deep free-standing tub full of bubbles or stepping onto warmly heated bathroom floors in the cold winter? Watching the morning news while shaving may be ideal for you! Whatever your vision is for a master bathroom remodel, remember to include all the bells and whistles you want, while also ensuring you have privacy from family and neighbors, convenience, and views out your window and down the hall.
Must Haves:

A master suite addition includes a bedroom, sufficient closets, and a private bathroom designed specifically for those who will use it daily. Personalize your master bathroom with colors and textures that calm and rejuvenate, with fixtures that are practical to your needs, and with accessories that are functional and tailored to your desires. The start of a new decade brings the refreshing promise of new trends in home interior design.
Personalization:
Colors and Textures
Fixtures
Accessories
2020 Remodeling Trend #1: Wet Room Design
The wet room design is a new style to bathroom functionality, maintenance, and décor. The wet room is becoming increasingly popular in master bathroom remodels where the shower is open or set behind a single wall or is enclosed completely with a tub also behind a closed-in glass wall and door. In either case, the floor is tiled and flush with the floor throughout the bathroom and water is drained away from the rest of the bathroom usage square footage. Interestingly, the entire wet room or wet room enclosure is tiled from floor to ceiling, which provides a spa-like atmosphere. Surprisingly, if they are vented correctly, they are easy to clean and maintain. They are a hot trend for 2020 in master bathroom design.
2020 Remodeling Trend #2: Beautiful & Bold Black Design

Black is considered a neutral color and is a fashionable classic in any color combination or interior design style. In 2020, black is becoming a go-to color in kitchens and bathrooms.
In this Vienna bathroom suite, one of two bedroom-bathroom suites built over the garage for growing teenagers, black industrial style shower doors pop against the white floor-to-ceiling tile with darker grout. A thin black tile trim, black mirror, black lighting fixture over the natural wood vanity, black plumbing features – including the toilet's flush handle, and black & white mosaic shower floor tile complete the bathroom's interior design beautifully rich in textures and style.
Black adds drama and intrigue; when paired with another color, the design is anything but ordinary. In this traditional master bathroom design in a master suite addition over the garage, the bold black bank of vanity and storage cabinets makes a strong design statement against the lighter neutral-colored wall and gold accents. To create greater depth, the ceiling is painted a darker color and brings out the gold decorative mirror and plumbing fixtures. Two white vessel sinks anchor the decorative white crown molding and ceiling fan and visually bridge to the tub. A stand-alone traditional, claw-foot soaking tub is positioned near the window with plenty of space to maneuver around and across from a wall-mounted TV for movie night in the tub.

2020 Remodeling Trend #3: Warm Wood Design

In bathroom design trends for 2020, we will continue to see warm wood in accessory details and in vanities. In a bathroom especially, wood creates depth, brings nature inside, and provides the feeling of comfort; it can be very soothing.
In this master suite addition, the master bathroom is a modern, minimalist design showcasing clean lines and style in all selections, from the tile to the wall-hung cabinets to the rectangular soaking tub positioned center under the rectangular window. The long double-vanity and two tall floating storage units, flanked on each side of the sinks, are wood-finished and create a balanced, symmetrical bank of striking wall cabinets. When the blinds are open, lush green trees become the artwork through the picturesque landscape. One of the most luxurious benefits of a master suite addition is the opportunity to plan out the space, the views, and the privacy you desire and need. Give your master suite addition the best view possible through the biggest and well-positioned windows possible. Note, if neighbors are closer than desired, move the window five feet from the floor to give you privacy but also that tranquil view and natural light.
In this Northern Virginia bedroom suite addition over the garage, a wood-grained vanity and thick reclaimed-wood shelves are incorporated into a stylish black & white bathroom designed for a young man. This transitional style bathroom is both stylish and functional.

2020 Bathroom Remodeling Trend #4: Floor-to-Ceiling Wall Design

Transform your space with floor-to-ceiling wall design: tiling both the entire wall behind a vanity or soaking tub as well as wallpapering the entire bathroom are making a comeback. Styling the walls in a bathroom using colorful materials other than paint makes a bold design statement, adds texture and depth, visually expands a space in height or width, and serves as art reflecting one's personality. Both tile and wallpaper are easier to clean than most think.
In this Vienna addition over the garage, a full-size bathroom is covered in subtle, textured wallpaper with vertical lines to give the illusion the bathroom is taller than eight-feet high. Tall silver wall-hung light sconces are hung on each side of the mirror over the black granite countertop and white vanity. A classic style with a personalized touch of class.
In this Northern Virginia bedroom suite addition over the garage, the entire wall behind the vanity, leading into the shower, showcases tranquil blue-gray subway tile and creates a fluid design throughout the entire space. Inside the shower, a white embossed tile insert serves as a gorgeous focal point and bridges the bathroom's white tub, toilet, and vanity countertop.

2020 Bathroom Remodeling Trend #5 – Transitional Bathroom Suite Design

Transitional interior design is the best of both worlds, uniting traditional and contemporary styles to create a cohesive, personalized home. In 2020, transitional bathroom design trends will include:
Bathroom vanities, with legs and custom-color, fashion a furniture-style that is unique to the homeowner and luxurious in style. In this in-law suite addition, a colorful antique-style vanity with decorative top-mounted sinks and wall-mounted faucets generate a transitional design the homeowners love. The color of the vanity pulls from the floor tiles and complements the walls in a similar but lighter shade, for depth.
A hanging chandelier in the master bathroom remodel or addition adds elegance and charm in a transitional interior design style. In this colorful shower room with toilet, a glass ceiling chandelier softens the contemporary design with a pretty focal feature.

Just as a white kitchen is timeless, so will be a gray and white bathroom, especially with tile designed to be set in a herringbone pattern. In today's master bathroom renovations, many homeowners are seeking dual sinks with a sitting area in between to apply makeup or nail polish. In this Northern Virginia master suite remodel, the white and gray bathroom features all the loves of clean lines, white cabinets, and gray and white tile.

Remodel Your Master Bathroom with These Design Trends
When considering your master suite addition, remember, your plan is the most important phase because it will set the stage for all design thereafter. So, if you are seeking privacy, position your walk-in closets between the master bathroom and bedroom or between your master bedroom wall and an adjoining bedroom wall. A well-thought out plan that addresses how you will use the space will ensure functionality from the beginning, and the fun of decorating with colors, textures, and accessories will more easily address your full needs and desires.
For more ideas and inspiration for interior design trends for a master bathroom remodel or addition, please check out our portfolio at www.mossbuildinganddesign.com. For 18 years, Moss Building and Design has served Northern Virginia in build-up and build-out additions, master bedroom and bathroom suites over the garage, and kitchen, bath, basement, laundry, whole-house remodels. Contact MOSS for a free estimate to talk about your ideas for a functional master suite designed with privacy, functionality, and style.