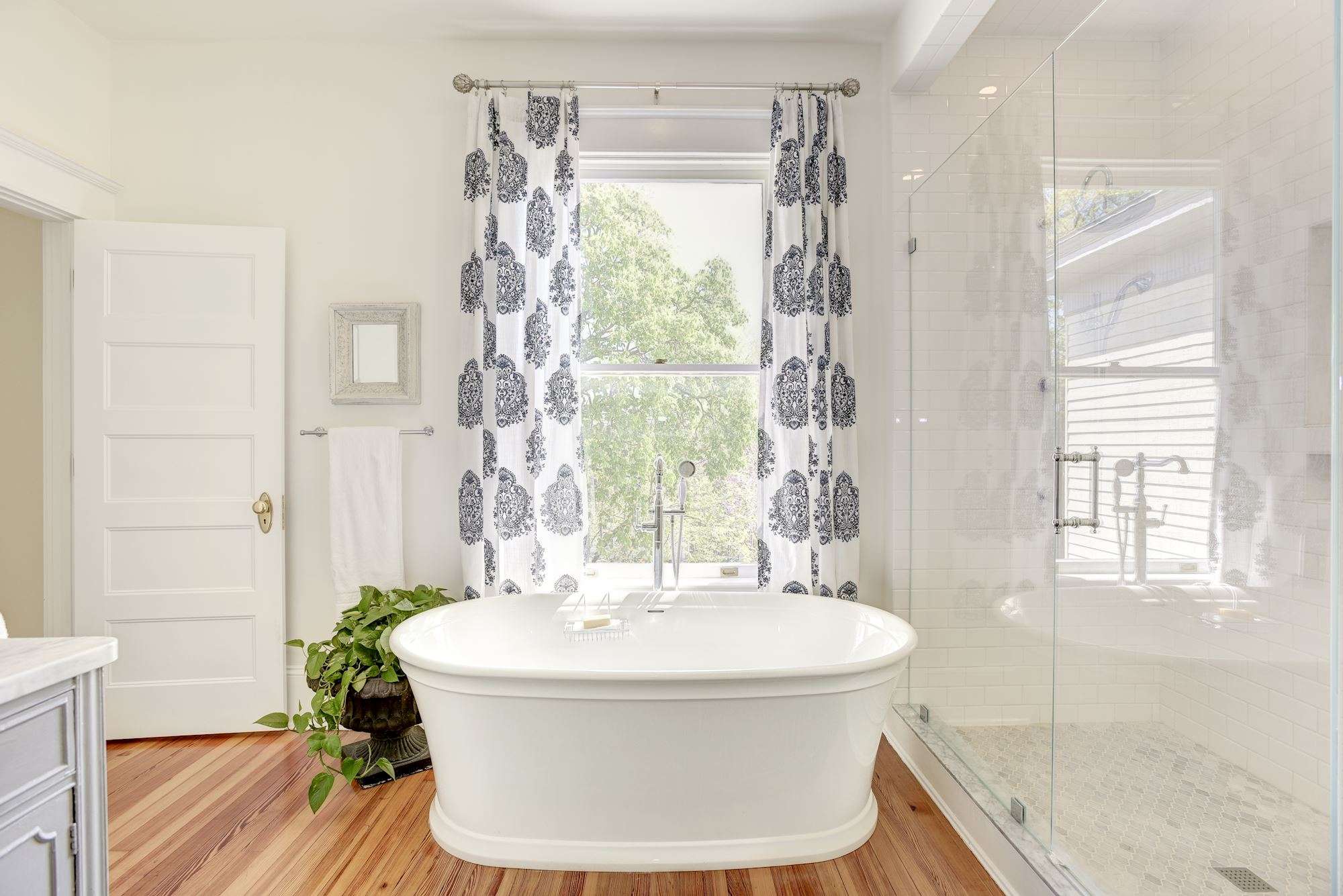 May is National Home Improvement Month, but at MOSS, we celebrate home improvement and remodeling all year round! The past year has seen many of our customers spending more time than usual at home, and with that, re-evaluating the space within the four walls they call home. Not only have kitchens, basements and additions been high on everyone's lists to renovate (for example, expanding the kitchen for more space to eat at home, adding on a home office, and taking the basement from unfinished to cozy family room are all examples of home improvement we've tackled this year), but also high on the list? Master bathrooms! A private oasis or retreat from the busy chaos of your home updated to fit your life now? Sign us up! MOSS is highly experienced in renovating all sizes of master bathrooms, from relatively simple remodels to more complicated reconfigurations, and we love to share the results with our audience. Here are several of our recent and most favorite master bathroom remodels:
Soothing & Traditional Master Bathroom in Ashburn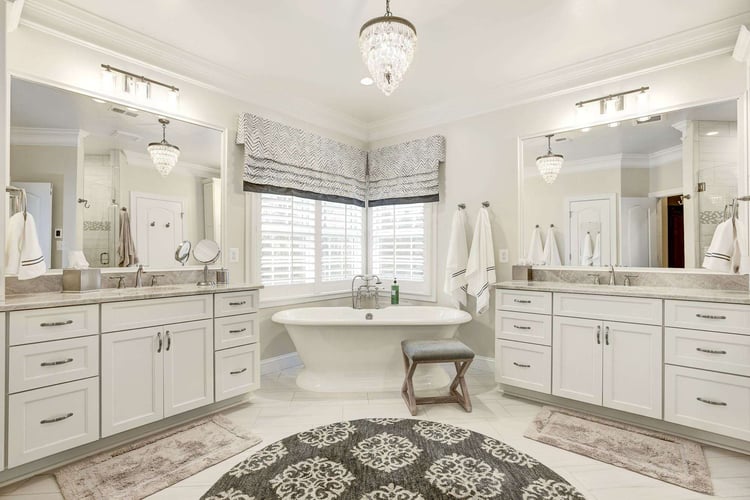 Our MOSS customer's original master bathroom design, while highly functional, didn't reflect the taste of the homeowners, who were looking for something lighter, brighter, and much more contemporary in look and feel. While the space itself would stay the same square footage and the bath and shower would remain in their original spots, the entire room, otherwise, was gutted and remodeled. MOSS installed new white cabinetry on the dual vanities which have beautiful stone tops, new mirrors, all new lighting, a newly tiled shower stall (created to be larger than the original with space taken from an adjoining linen closet), and, for the homeowner's biggest "want" - the standalone soaking tub, perfectly placed by the large windows (on which new shutters and matching curtains were installed).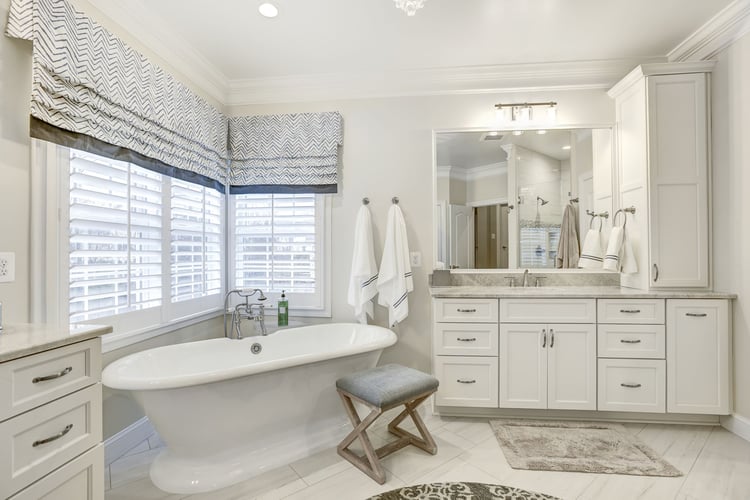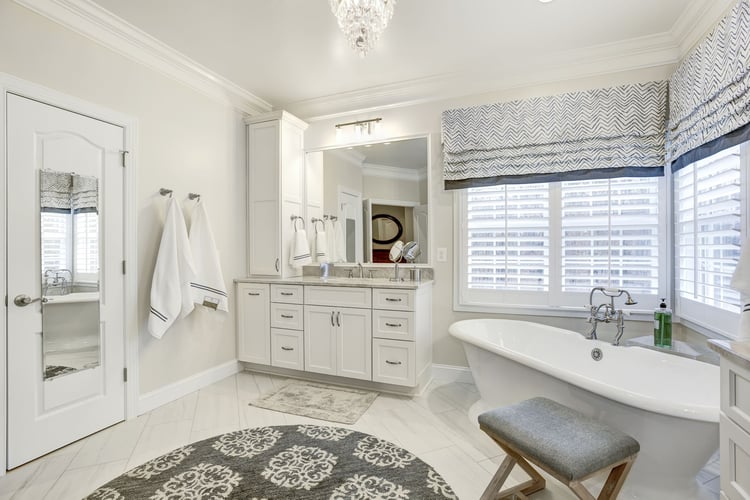 Bright & Contemporary Master Bathroom in Herndon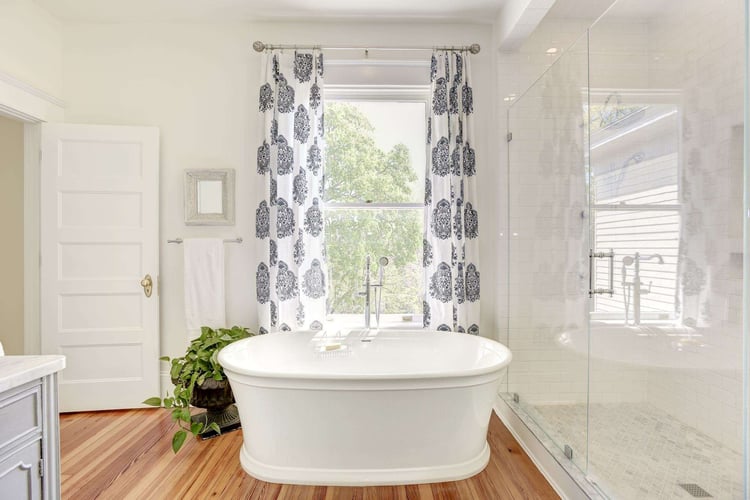 While incredibly beautiful, our MOSS customer's historic Herndon home lacked a master bathroom. MOSS worked closely with our customers to create the master bathroom of their dreams out of their home's second level "bonus" room, which was attached to their master bedroom. Transforming this room into a bathroom required a great deal of design, layout and behind the scenes effort as it was not originally ever intended to be a bathroom. All associated plumbing for the bathroom had to be run upstairs, through the floors and walls, for example.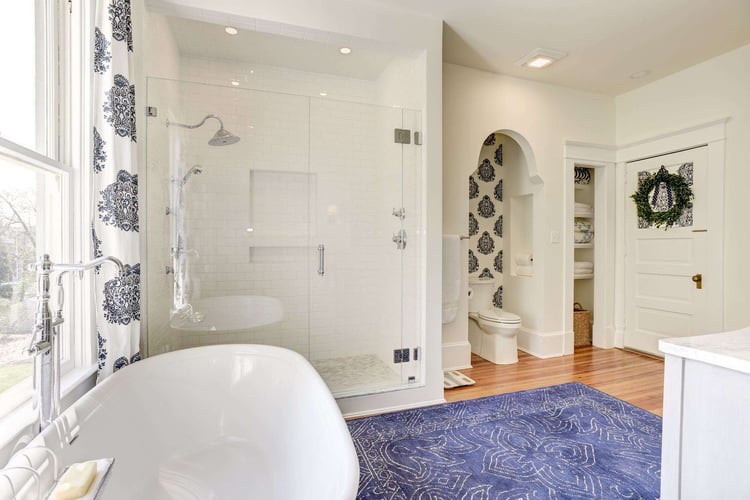 The new master bathroom is a welcoming, bright space with a large walk-in tiled shower, a free-standing tub next to a window that allows in soothing natural light, and a gorgeous vanity repurposed from a beloved piece of furniture. The master bathroom's floor is the original hardwood, treated to be able to withstand water. The overall feel of the bathroom is one of peace, relaxation, and rejuvenation.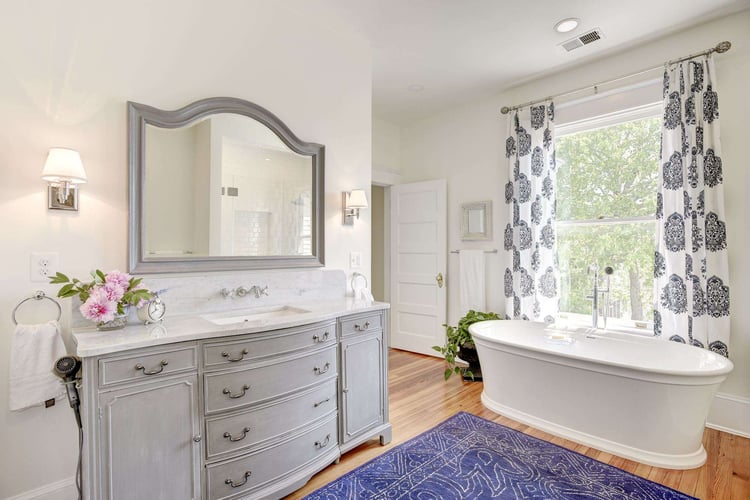 Stunning & Spa-Like Master Bathroom in Vienna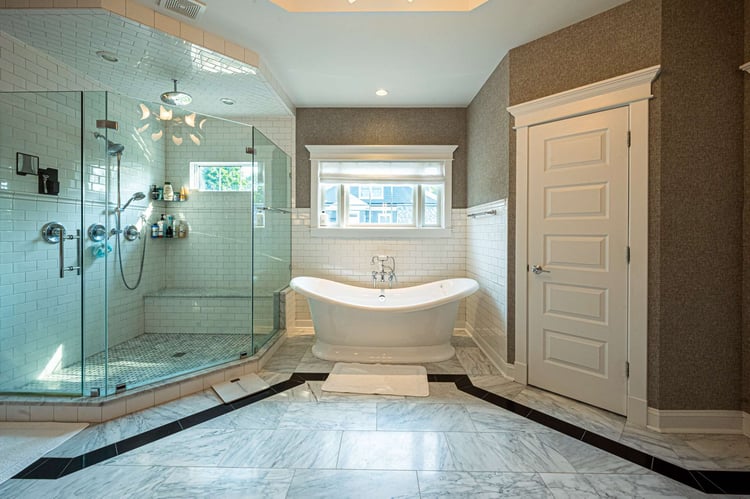 It's not an official spa, but this Vienna master bathroom remodel certainly feels as if it is! The instant you step foot into the space, with the large corner shower with rainfall showerhead and deep, standalone, soaking tub on one side, the long, bright white countertops and dark vanity cabinets along the other, and the uniquely designed overhead lighting fixture above, you truly feel transported.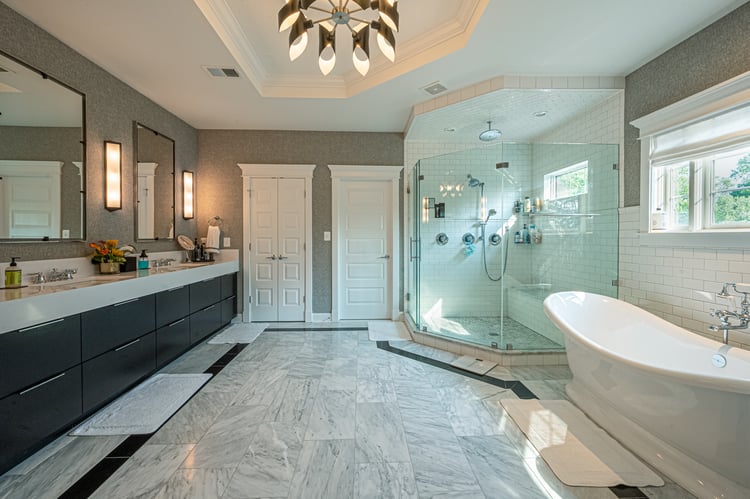 Our MOSS customer chose large tile rectangles for the master bathroom flooring. To match, and carry on the luxurious feeling of the flooring, the same tile was used on the walls behind the tub and in the shower to create a wainscot look and feel. Bright white bathrooms with touches of muted neutrals are very trendy these days, and our client chose to do this as well, but add in a contrasting dark color with the vanity cabinets. Our MOSS customer supplied the unique chandelier that dominates the room as well as the soaking tub and other plumbing fixtures. Overall, this master bathroom is truly a retreat from the everyday, much like a spa is an escape from reality.
Private & Stunning Master Bathroom Retreat in Centreville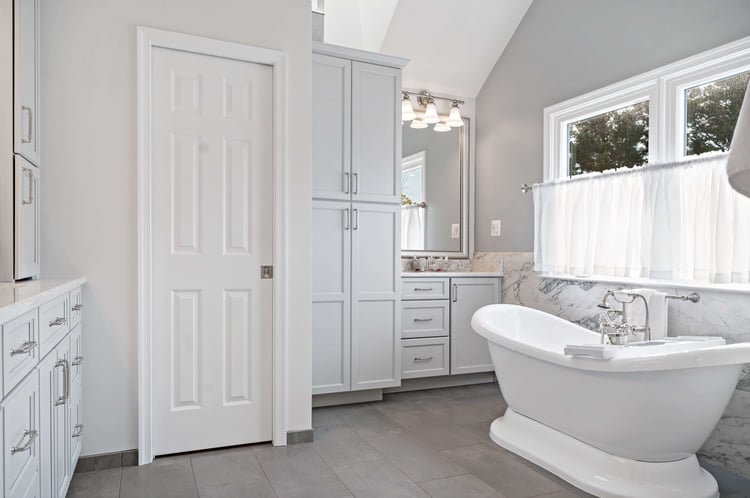 When their master bathroom needed an update, our Centreville customers returned to MOSS to do the work. MOSS had previously remodeled their home's kitchen, family room, and four-season room. The master bathroom was the original in layout and selections, and our customers knew they wanted a remodeled spa-like and functional space for themselves that included other particulars including a private water closet, storage, a soaking tub by the window, and more.
By closing the upstairs hallway linen closet and moving the shower from an opposing wall to the newly found interior space and adding a tall cabinet inside the master bathroom to house linens and towels, the issue of storage was solved. Moving the location of the shower and removing the original corner, Jacuzzi tub (which was not used very often) and replacing it with a standalone tub that is better placed gave our homeowners much more functionality to their master bathroom and created space for the water closet. To boot? The selections and colors are bright and beautiful, and the original skylight was able to be retained to give the bathroom an incredible amount of natural light. The overall result? Crisp and enjoyable, beautiful and relaxing.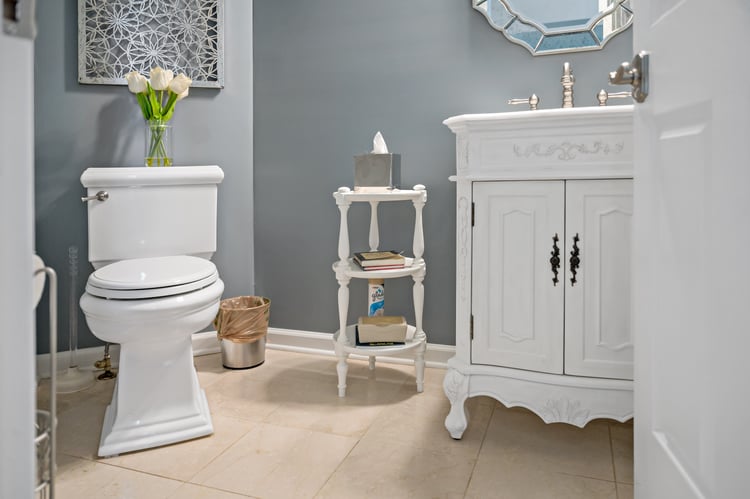 Is your master bathroom showing signs of needing a little TLC? Now might be the perfect time to begin a remodel – celebrate National Home Improvement Month with MOSS and not only improve your master bathroom, but also the quality of your life. Contact MOSS today for a free master bathroom consultation at Hello@MossBuildingandDesign.com or at 703.961.7707.