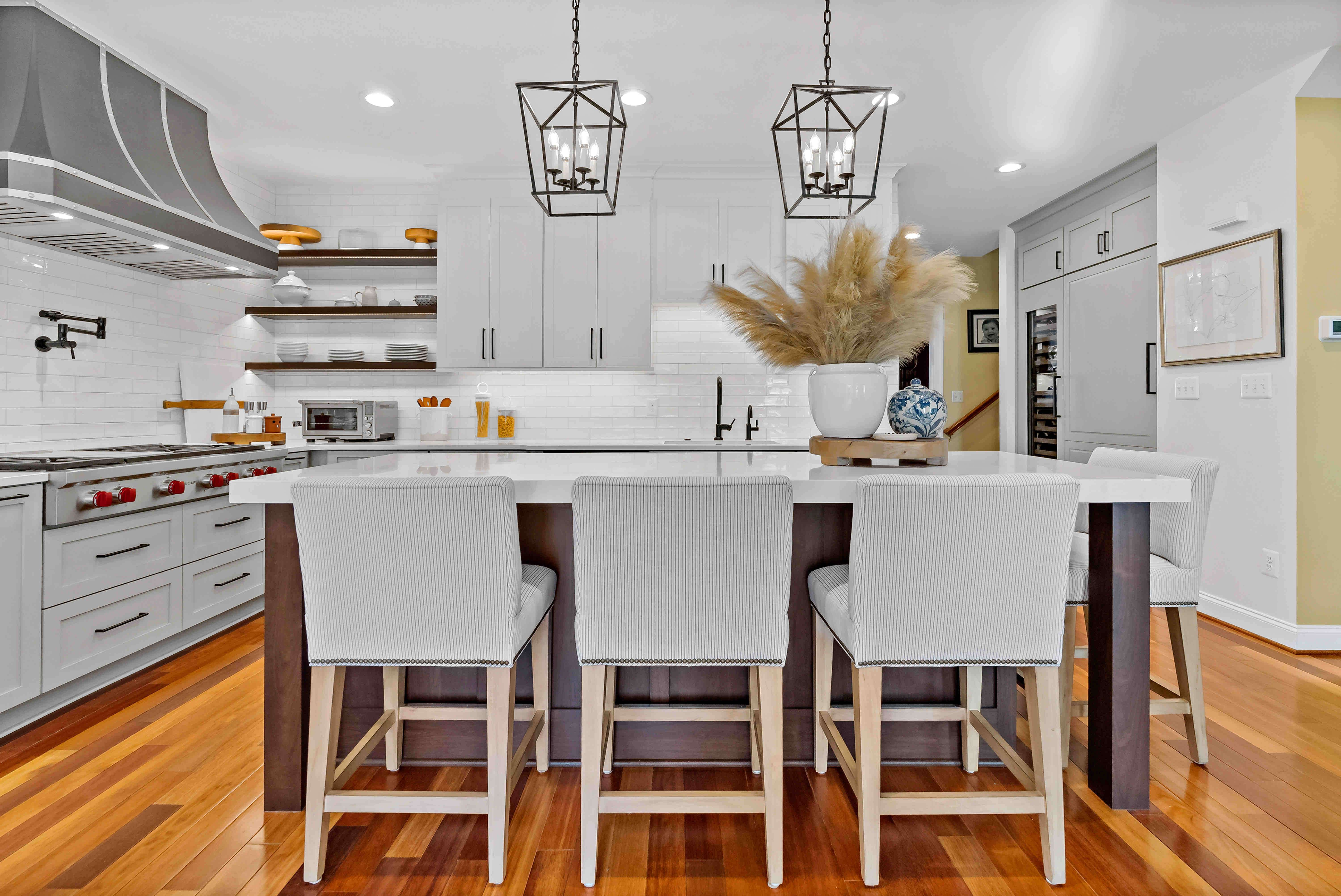 Remodeling a kitchen is an exciting undertaking, but daunting for some if you don't know where to start. At Moss Building & Design, we want to make it an enjoyable process. When complete, you should be marveling at your final product and enjoying more time in the space that's the center of so many family activities.
The kitchen remodeling process is one that explores both design and function. You'll want to spend time determining what overall design and look you'd like, along with thinking through how you'd actually want your new kitchen to function best for your needs.
Our step-by-step remodeling guide has everything you need to know to be at the helm of your successful kitchen remodel project.
Step 1: Planning
The first step in your kitchen remodel process should be brainstorming ideas for how you'd like your kitchen to look. Do you have more of a traditional style or would you like something more contemporary or farmhouse chic? Do you have specific colors in mind?
Go through this checklist during your planning process to get a good start on your kitchen remodel:
Create a Pinterest board to collect your favorite kitchen styles

Hire a trusted remodeler to create design options for you ahead of demolition

Think about what works in your existing kitchen versus what you absolutely need changed to enhance the space

Determine what you're missing that would improve how you function, such as outlets in convenient spaces, recessed spice racks, more storage, etc.

Prioritize your needs (a large cooking stove and range hood are a must, but a big island is a nice-to-have, for example)

Set your budget with some wiggle room for unexpected expenses
Here are two kitchen remodels that display different design styles beautifully.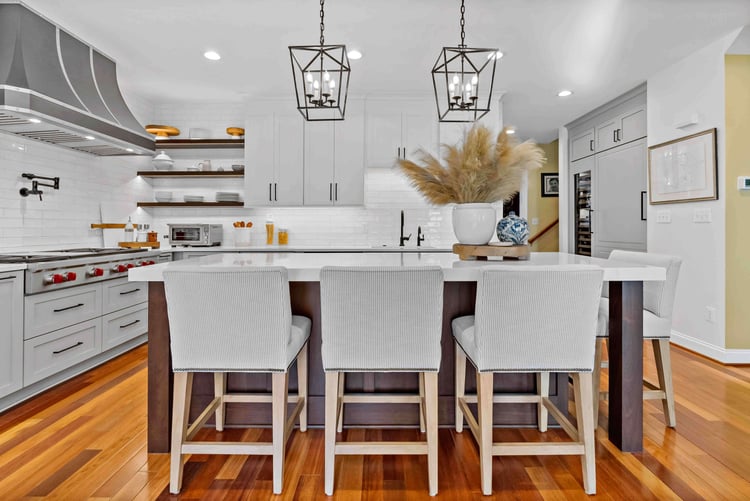 Our customers built their Ashburn home many years ago, and over time, realized that their kitchen lacked the amenities, layout, and selections that suited their current lifestyle and busy family. The homeowners are amazing home chefs and wanted professional-grade appliances and storage options that would support their hobby. Along with that, they wanted a wine refrigerator that would be more useful than the original small home desk/office area on one side wall of the kitchen.
Finally, they also wanted a better entryway to and from the kitchen along with a more functional pantry. MOSS delivered on all accounts and more. Brand new cabinets on the perimeter and center island, all new quartz countertops throughout, double ovens in the island itself, a massive range with six gas burners and an incredible hood, a fully built-in wine fridge and associated storage, an upgraded mudroom and pantry, and much, much more. Now, the kitchen is the dream spot for these lovers of fine food and wine and provides the entire family with the room and organization to function with ease.
Beautiful Herndon Kitchen Remodel Inspired by Travels to Williamsburg
Our MOSS customers came to us knowing that they wanted to update their original 1980s style kitchen in a specific and inspired manner, plus provide themselves with a better space to be with family and entertain friends. A bonus? Creating a kitchen that would allow their children to do homework and play nearby as well.
Inspired by their favorite vacation spot, Colonial Williamsburg, our customers wanted to incorporate the rich colonial blues that are commonly showcased in that region into the kitchen remodel. Our MOSS design team recommended a stunning Williamsburg blue for their semi-custom cabinetry color. Topped with a gorgeous soapstone countertop, which has natural veins and a rustic look, created an overall look and feel that made the homeowners feel truly at home and yet transported to Williamsburg at the same time.
Step 2: Choose Your Appliances & Other Selections
Once you have an overall look and feel for your kitchen picked out, you'll want to get a little more specific on the types of appliances you'll want your contractor to install. You will also need to make a number of other selections such as sink and faucet designs, lighting, and backsplashes.
Consider the following when choosing these features:


Choose the cabinets first, because these kitchen necessities have the longest lead time.

Choose the types of appliances and brands (Viking, Samsung, GE, Miele, etc.) you'd like to have in your kitchen. Depending on your style you could have:

Stainless Steel

Glossy

Matte

Slate

Colored or Retro

Match the look of your sink to the rest of your design choices. Here are some options you will consider when choosing your sink:

Stainless steel, granite composite, or fireclay materials

Top-mount or under-mount (refers to the placement of the sink lip on the countertops)

Single-bowl, double-bowl, or farmhouse

Determine the type of countertop material you'd like and discuss costs with your designer or contractor

Quartz

Granite

Soapstone

Marble

Butcher Block

Take a sample of your countertops to a tile distributor and find the best match for your color and style when choosing your backsplash
You're welcome to mix and match patterns and textures to really make your kitchen pop, such as this backsplash-countertop combination in a remodeled Herndon, VA kitchen. The interlocking, oblong tile contrasts with the marble look of the countertop, but the colors are complementary.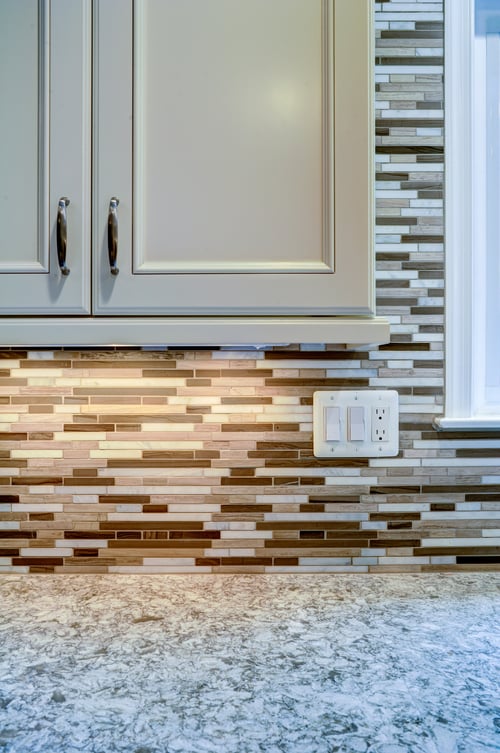 This combination really draws your eye into the kitchen, particularly when used as a statement wall behind the main range area.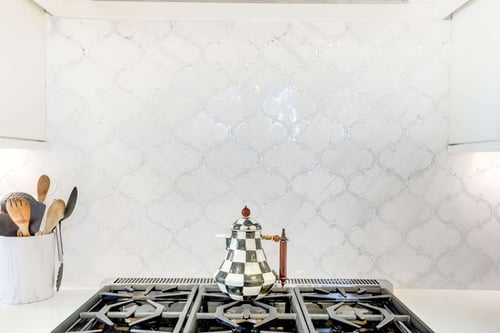 Step 3: Install Kitchen Flooring and Baseboards
Once your kitchen has been demoed and any needed plumbing and electrical repairs, moves, or replacements have been made to prepare for your new kitchen, your flooring will need to be installed. This literally sets the "foundation" for your kitchen.
What should you think about when choosing and laying flooring for your new kitchen?


Vinyl is the least expensive if budget is a concern

Tile is beautiful, but can be costly because of the labor and skill involved in laying and grouting

Solid hardwood could be a good choice to match and flow into any adjacent rooms

Engineered wood resembles real hardwood, but is more moisture-resistant

Laminate flooring is a popular choice because it is moisture and scratch resistant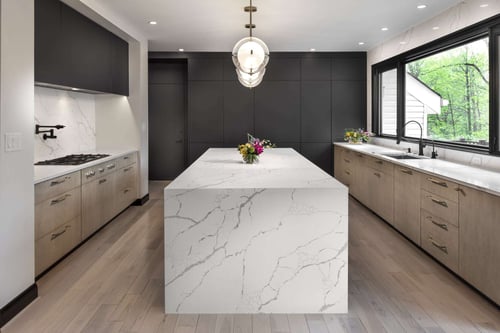 This flooring effortlessly matches the cabinet colors
Step 4: Kitchen Cabinet Checklist
Kitchen cabinets literally pull together the entire look of your kitchen. There are lots of design choices you can make when deciding on what type of cabinets to use. Basically, you'll have a combination of wall cabinets, that are attached to your walls, and base cabinets, that are attached to the wall cabinets and your floor.
Here is a checklist of some items to decide on when choosing cabinets:
Do you want your cabinets to be flush with the ceiling or end with a space above?

Would you like under-cabinet, above the countertop or floorboard lighting installed?

Is your style more sleek and modern or would you like to add beadboard, decorative molding, or raised panels to your cabinets?

Do you prefer knobs or pulls on cabinets and drawers?

Should there be any specially-sized cabinets for oversized items like cutting boards and trays or small-nook cabinets with built-in spice racks?

How would you like to balance enclosing cabinets with doors versus the open cabinet trend?
MOSS's expert designers re-configured the space for better usage, replacing the original cabinetry, appliances, countertops, and the highly un-useable original island as well as changing the layout of the room's footprint. In a unique twist, Jenn and Raad hoped to make the far wall of kitchen cabinetry appear to be one seamless wall – when in fact it houses the kitchen's pantry, refrigerator, and freezer, as well as a garage entry door. MOSS curated a black fenix material from Italy as the perfect canvas to create a wall that essentially "disappeared". To complete the illusion, all cabinet and appliance doors on the back wall operate via a touch system to open and close without the use of pulls or handles.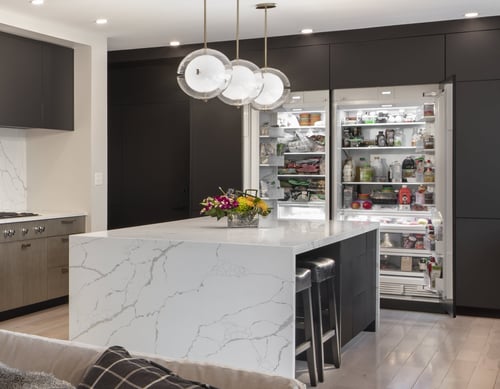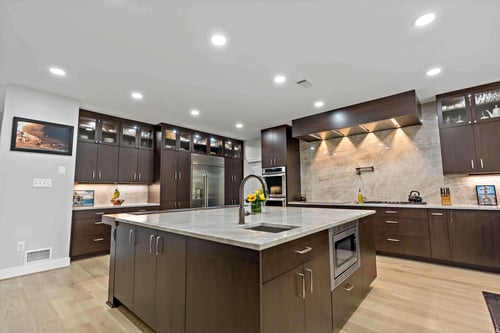 MOSS designers worked closely with the homeowners, who are avid home chefs, to create a kitchen that was incredibly functional. The choice to install several cabinet pull outs, with room for kitchen utensil storage, spices, and more, was a key decision. The pot filler behind the range provides easy water access for cooking. And the center island is the perfect place to roll out dough and have pizza night at home.
The Best Remodelers in Northern VA
No matter your style, from contemporary to traditional, our designers can help you build the kitchen of your dreams.
If you're in the market for a kitchen remodel call us at 703.961.7707 or email us at Hello@MossBuildingandDesign.com.
Also check out our "Beginners Guide to Remodeling" Video for more information below:
Sources
"Steps to Remodeling Your Kitchen"
https://www.thebalance.com/steps-to-remodeling-your-kitchen-1798738
"How to Remodel a Kitchen"
https://www.thespruce.com/steps-to-a-kitchen-remodel-1822229
"Homeowners Workbook: How to Remodel a Kitchen"
https://www.houzz.com/ideabooks/1198907/list/homeowners-workbook-how-to-remodel-your-kitchen
"5 Fab Alternatives to Stainless Steel in Appliances in the Kitchen"
https://www.curbed.com/2015/12/7/9893562/stainless-steel-appliances-alternative
"Types of Kitchen Sinks"
https://www.typesofkitchensinks.com/
"Kitchen Cabinet Styles"
https://www.hgtv.com/remodel/kitchen-remodel/kitchen-cabinet-styles