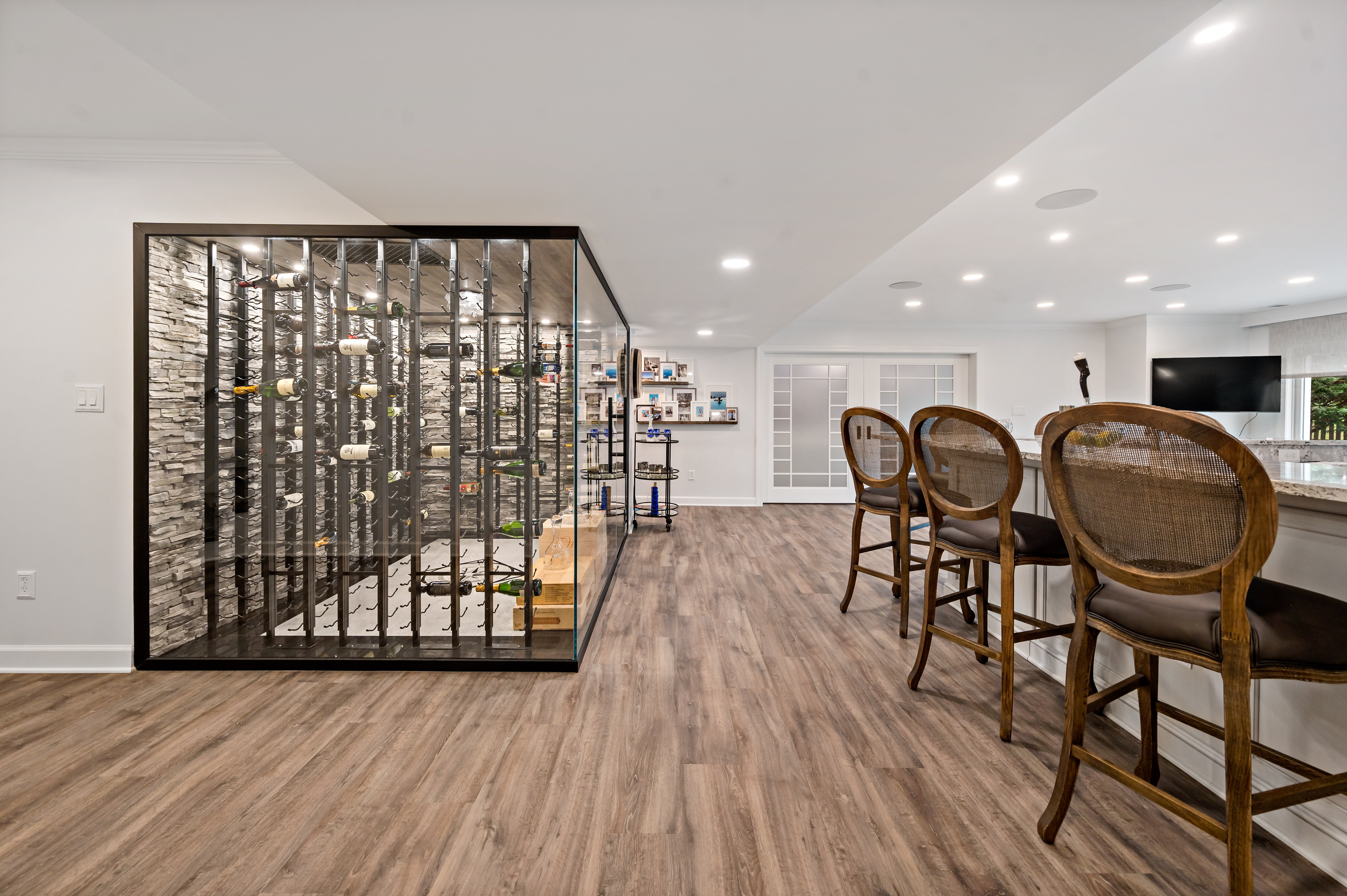 Remodeling or finishing your basement might be the most fun and rewarding remodel you undertake. Whether you want to update an existing layout or finish an empty space, the possibilities of the remodel include any of the following:
Moss Building & Design is an experienced basement remodeler with designers and experts available to transform your space into something that suits your family.
We recommend a little preparation before diving headfirst into any remodel. Our step-by-step basement remodel checklist helps plan for a smooth experience. Begin by visualizing your dream basement, moving onto construction, and then living and loving a fully functional and enjoyable basement.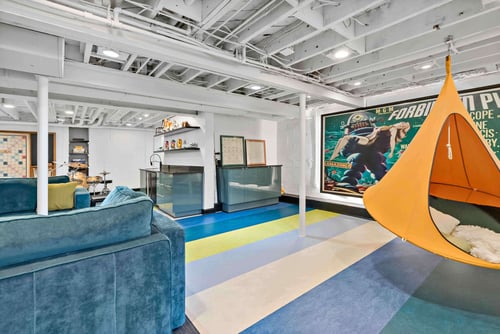 Our MOSS customer, returning to our team after the completion of their award-winning kitchen remodel, knew they wanted their Oak Hill basement to be remodeled in an incredibly unique and fun way. With a massive, retro movie print as the inspiration for the space, the basement was designed with a colorful floor, distinct areas for gaming, relaxing, exercising, and more, and a cozy bedroom and fun bathroom tucked away in a corner. The result? A basement that is the perfect reflection of the homeowner's eclectic and funky design aesthetic.
Step 1: Planning
As with any remodel, careful planning is the key to success. With a basement remodel, it's important to consider a few things before starting your journey, including the following:
Is your basement foundation intact? Has your home had any cracks or leaks?
Do you want to add a bathroom in the basement? If so, is there already a rough-in for plumbing?
What's the basement ceiling like? Is it a drop ceiling or drywall? What is the ceiling's height? Can it accommodate, for example, larger exercise equipment or a projector screen?
Is there an egress window and window well in the basement? If you're thinking about adding a bedroom, these are necessary for your basement to meet code.
Do you have good use of basement storage? Do you want to keep storage options available and/or build those in?
Taking these items into consideration, along with your contractor and budget, helps you prioritize your needs and determine the best course of action for your remodel.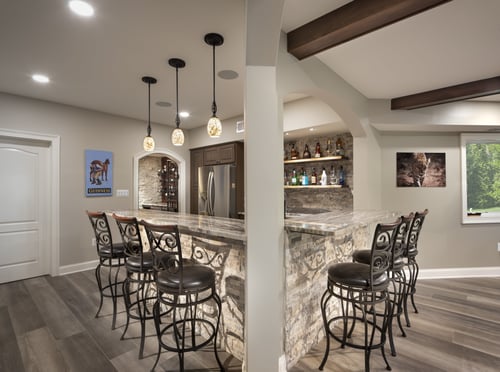 This family's previous home had a basement which they enjoyed but did not meet all of their needs. When they purchased this beautiful Clifton home in 2017, they loved the fact that the basement was unfinished and provided a blank slate to create what they hoped would become a social hub for the neighborhood. This was a true collaboration between homeowner and contractor and the result is stunning.
Step 2: Choices
Once you decide on a general idea of your basement remodel, you can really deep-dive into your inspiration and vision! Keep these thoughts as you browse Houzz, Pinterest, and the broad reaches of magazines for ideas:
Children: If you have a family that will be using the basement for a long period of time, consider your children's ages. Is a playroom a good initial use of space? How about a media room for when they get older? Can a toy-filled playroom be transformed into a teenage space with a pool or ping-pong table?


Visiting Family: Do you have family that visits regularly that needs privacy? If so, a bedroom and bathroom in your basement will benefit everyone!


Work From Home: Do you work from home? Would a quiet home office in your basement be nice? If so, think about light. Basements have a general lack of lighting. Look to add larger windows or more friendly and comfortable ambient lighting.


Comfort Levels: Look at various flooring options available: hardwood, LVT (luxury vinyl tile), carpeting, etc. What appeals to you? What's your family's level of activity?

Think about levels of warmth as well. Carpeting keeps feet comfy, but hardwood and LVT are nice, modern alternatives.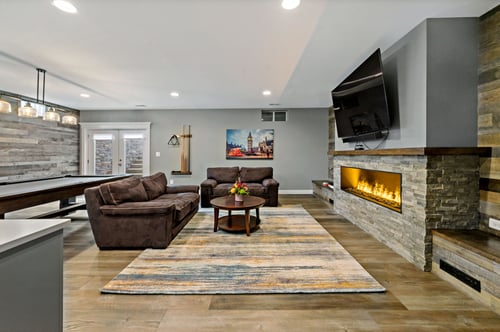 When the talented MOSS design team sat down with these Vienna homeowners to learn about their vision for a remodeled basement, they learned that they were in desperate need of additional entertaining space. Prior to kicking off the design process, the customers communicated they wanted a cozy and comfortable space to enjoy a game at the pool table while watching a football game and enjoying a cold beverage from the built-in cooler.
Step 3: Demo & Installation: Framing, Plumbing, Waterproofing/Flooring, Drywall/Ceiling
After deciding on the type of basement remodel you want, hire a contractor, finalize plans (and have the correct permits pulled), and pick out the selections for your basement. For example, flooring, cabinetry, and countertops if you want a wet bar.
The demo of your existing basement depends on the scope of the project you determined. If your contractor has to dig up the floor to run plumbing for a new bathroom, your time frame is longer than if you weren't adding a bathroom.
These are all considerations of a remodel that your contractor should discuss with you throughout the planning process.
The main steps involved with a basement remodel, after the demo, include the following:
Frame the space or put up a "skeleton" to the layout of the basement.
Run plumbing and pipes for a new bathroom.
Build in new windows, if necessary.
Waterproof the floors and walls to reduce flooding
Fix any leaks or cracks that pre-exist.
Install the flooring.
Do the drywall and ceiling.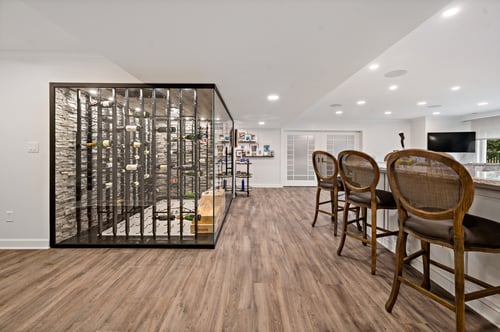 When our customers purchased their Northern Virginia home, they knew that they wanted to enjoy their large basement for entertaining family and friends. However, not only had it been finished poorly by a previous owner, but it also didn't have the wow factors that our customers wanted. With the help of our designers and MOSS 360, our proprietary virtual reality architectural design tool, the remodeled basement design came together to include a stunning glass-enclosed and temperature-controlled wine room, full bar with seating, a separate dining table area and seating area, full guest bedroom, full bathroom, and, to top it off, an enormous media room with a gorgeous ceiling complete with off-set lighting to set any mood.
Step 4: Finishing Touches: Paint, Lighting, Decorating
After the main work is finished, it's time to put the finishing touches on your basement remodel. Choose paint wisely, as a basement's lighting is different from upper floors. If you have new windows installed, notice how the light filters in throughout the day. Consider a paint color that works well with the light you have to work with.
In that same vein, any lighting you have installed in the ceiling should cast a broad amount of light, especially in your main socializing area. Recessed lights are best spaced carefully to avoid dark shadows. Ambient lighting like wall sconces are helpful to keep a basement bright and light, too.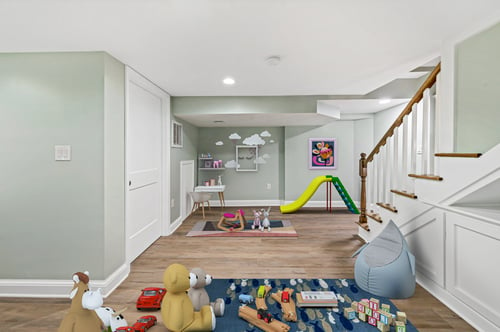 Our MOSS customers loved their Arlington home but knew that updating and finishing their basement was a priority for their growing family. The newly remodeled space now has plenty of room for relaxation, a fun "kid" corner, built in bookshelves, storage, and a full bath/laundry room combo. By focusing on the homeowners needs, MOSS was able to create a practical yet beautiful update that will serve this family well for years to come.
For decorating, play items, such as pool and ping-pong tables, need a good deal of room around their perimeter. A mini fridge is a fun thing to have for a basement as well, especially if you don't have a wet bar.
Pick furniture and decor that keep a basement cozy. Consider adding a second thermostat to the basement, so it's comfortable year-round.
The Best Remodelers In Northern Virginia
No matter your style, from contemporary to traditional, our designers help you build the basement of your dreams. If you're in the market for a basement remodel, call us at 703.961.7707 or email us at Hello@MossBuildingandDesign.com.
See More: A Beginners Guide to Remodeling
Sources
Know Your House: The Steps in Finishing a Basement
https://www.houzz.com/ideabooks/12435932/list/know-your-house-the-steps-in-finishing-a-basement
The Main Steps For Finishing A Basement
https://www.mancavemaster.net/the-main-steps-for-finishing-a-basement/
Read This Before Finishing Your Basement
https://www.thisoldhouse.com/ideas/read-you-finish-your-basement