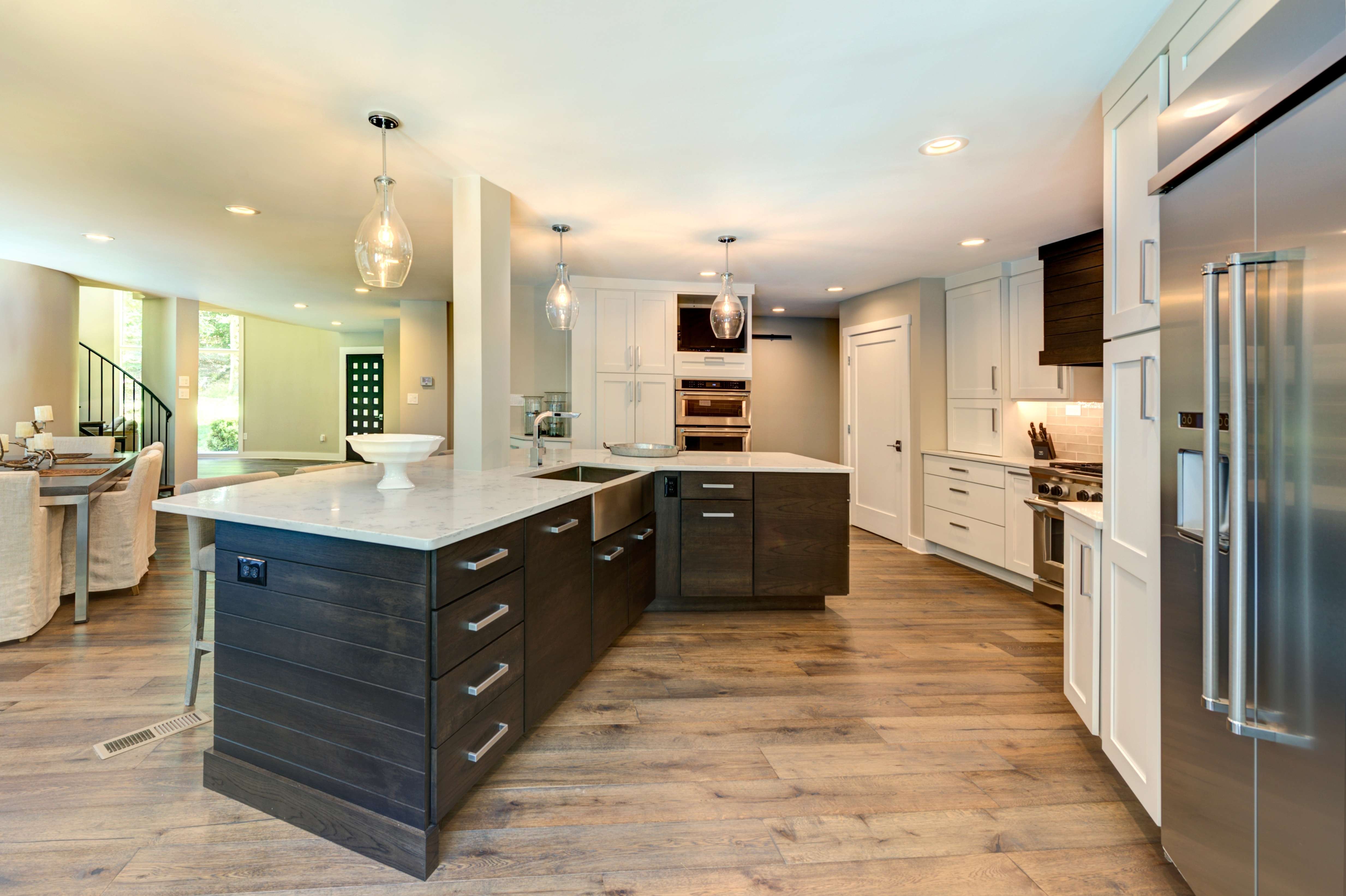 Transitional design is a blend of traditional and modern home design elements. Often described as "classic with a modern take", transitional design style took off in the 1950s as a response to the stark modern and mid-century modern styles of the previous era. It continues to maintain popularity today.
Modernism as an architectural home design became popular between the 1940s and 1980s. Rooms designed and built in the modern style reflected smooth, straight lines; had large glass windows; and featured furniture with geometric shapes, patterns, and vibrant colors.
Homes were also built with an open floor plan in mind, and some had recessess or sunken living room areas that were particularly popular at the time.
Since the kitchen is often the most used room in the home, it tends to be one of the first that's updated or remodeled. Because of this, we start to see how the transformation of modern design style to transitional really took off.
Modern Kitchens Are Bright and Angular
Modern kitchens contain angular islands and cabinets. Many sharp edges exist, including those on cabinet hardware, kitchen chairs, stools, or tables. To add a pop of color that's typical in modern design, you might see red or yellow kitchen chairs jumping out at the eye against stark white cabinets and countertops.
The picture below illustrates how interior designers often use accent colors and statement artwork to distinguish modernist spaces.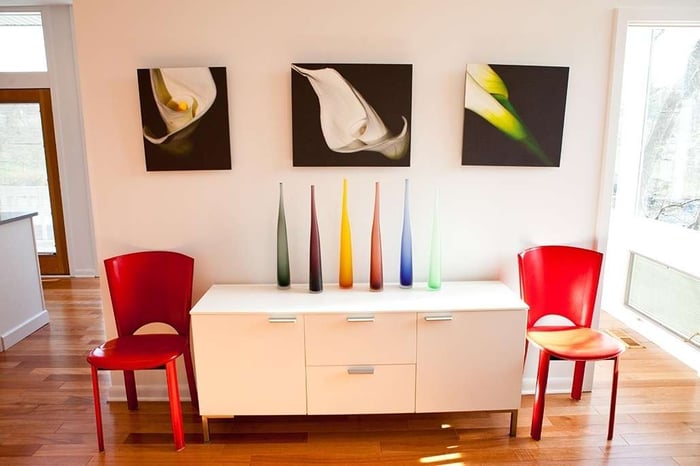 Amidst the popularity of modern design, which continued through the 80s and into today, some homeowners prefer to take a step back and not fully commit to a modern or traditional design type. Interior designers referred to this style as transitional design.
Transitional Kitchens Blend Modern And Traditional Trends
Transitional kitchens, like the one featured below in Moss Building & Design's Oakton, Virginia, remodel, use modern ideals, such as the angular look (reflected in the rectangular island and cabinets) and stainless steel appliances, a must-have in most kitchens remodeling projects today.
However, the kitchen isn't so modern that it jumps from the pages of modern design handbooks. Instead, it has a more subdued modern style that incorporates slight traditional elements. The traditional nods include cabinet detail and a dark base for the center island. This mix creates a great blend of old and new.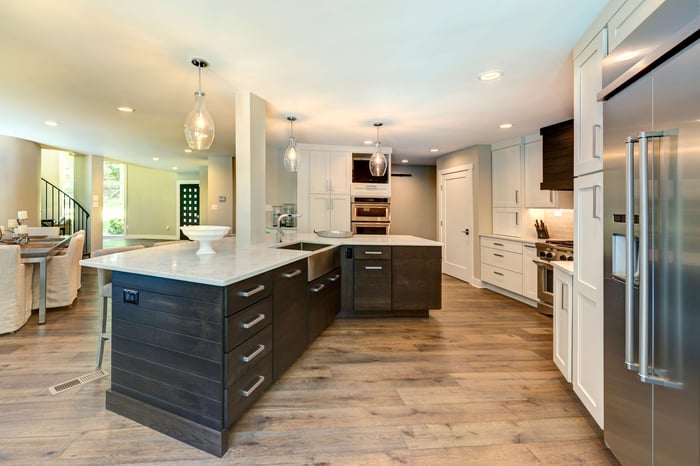 Another way that interior designers blend modern and traditional is through furniture. For example, a homeowner can pair a large, modern, and rectangular dining room table with traditional, upholstered chairs.
Transitional Design In Northern Virginia
The transitional design style is one of the most popular in Northern Virginia remodels. Because it's a blend of two other prominent design styles, home remodelers are given the flexibility to pick and choose elements of each that they like best.
If your love for crown molding pegs you as a traditionalist through-and-through, think again. Pair that with a minimalist living room space that blends sharp-edged and curved furniture, uses neutral colors, and has a pop of color — you've got a transitional living space.
Moreover, we receive many requests for Northern Virginia remodels and additions to have large, picture windows in order to highlight scenic views and backyard spaces. Floor-to-ceiling or large glass windows don't peg you as a strict modernist either. If you've got a great backyard and picturesque views, flaunt them.
Design A Transitional Home With Northern Virginia's Best Contractor
If you're thinking about remodeling your home, our talented interior designers help transform your space. Call us at 703-961-7707 or email us at Hello@MossBuildingandDesign.com to get started.