Blending the indoors and outdoors is a home design trend that's here to stay. Why?
Many of us spend most of our weeks behind computer screens, only fueling our desire to play in the grass or step into the sunlight when we get home from work.
The aging population appreciates the convenience of seamlessly connecting their backyard to their living room and kitchen. The interior design market has exploded with new products that allow us to go green and still live comfortably.
Due to this increased demand for indoor-outdoor designs, architects and home remodelers are finding unique ways to artfully connect the indoors and outdoors. Here's how you can create the perfect indoor-outdoor space for your home:
Create seamless flow with a perfectly sized glass door that leads from your deck or other outdoor space to your kitchen or mudroom.
According to Houzz, "An ample-size pivoting glass door makes an impressive entry on its own. If you pair [the glass door] with a back wall of glass doors…the light really flows." The same flooring material also makes a smoother connection from outside to inside.
Take the kitchen outside. A huge interior design trend is to remove the "interior" aspect altogether. Many homeowners are starting with outdoor kitchens, which allow amateur chefs and grillmasters to hone their craft under the warm sunlight and cool night sky.
Stone countertops, stainless steel appliances, outdoor air conditioning units, and mosquito-control misters are basic additions to get you started.
Add a corner window. Instead of installing a window on one wall, install a window that connects two walls at the corner. This rustic chic home in Sacramento, California, by Ryan Group Architects, breaks "away from the traditional four-walls-and-windows pattern" by incorporating an around-the-corner window.
Understand materials. "The primary materials can be wood, stone, or metal," Alan Rapp, contributing writer to Infinite Space, wrote. "The various methods of dissolving the boundary between exterior and interior are what allow [homeowners] to experience the full potential of modernism's promise."
Shelter an outdoor area. We focus a lot on using the indoors as our focal point for indoor-outdoor projects. However, the outdoors as a focal point offers big benefits, too.
By putting a roof or pergola over an outdoor area, such as a deck or firepit, you shelter the space and give it an expansive look from the roof of your home to the outside. It's weather-cooperative and allows for more square footage. This Arlington, Virginia, remodel from MOSS is a great example: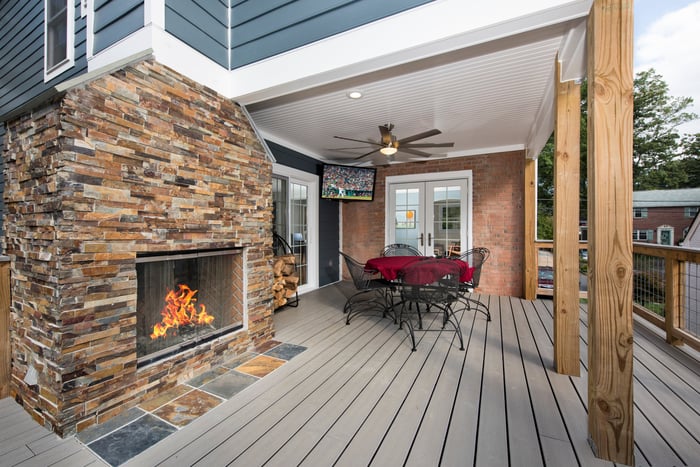 Know where to start. No matter how you choose to create the perfect indoor-outdoor connection in your home, the most basic place to start is the land. Look at the landscape that surrounds your home and build around it. Enhance its natural beauty instead of burying it.
For perfect examples of how to build a beautiful home while respecting your surroundings, check out Netflix's four-part miniseries, The World's Most Extraordinary Homes. Episodes follow accomplished architect Piers Taylor and property enthusiast Caroline Quentin around the world, as they tour unconventional homes in extreme places.
Use floor-to-ceiling glass doors. According to Houzz, "A walk-out basement or ground-floor family room can be enhanced with accordion or pocket doors, or even a garage door, that can be completely pulled away to blend indoors and out."
If you're feeling brave, lose a nonessential wall in your home. This high-impact change could revolutionize the way you live, like this modern design Los Angeles, California, home that's done by Paul Davis Architects.
This home design trend is here to stay, and it's best to emphasize the already beautiful landscape that your home is built on using natural materials and creating uninterrupted flow.
If you're interested in a home remodel from Northern Virginia's best remodeling team, call Moss Building & Design at (703) 961-7707 or email us at Hello@MossBuildingandDesign.com to see how we can help.