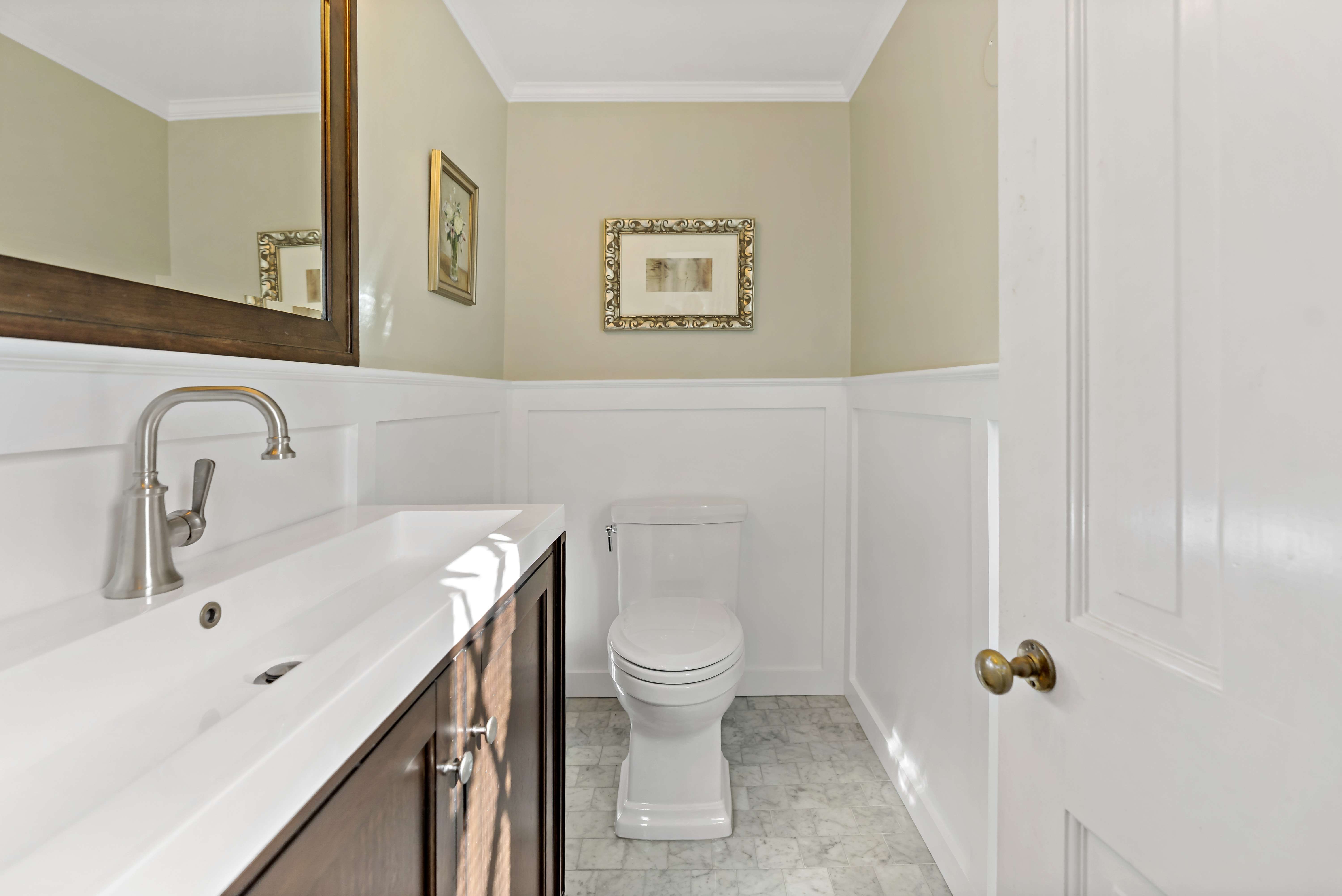 Many of our MOSS Building & Design customers come to our experts to update part or all their homes because, rather than move, they want to continue to enjoy the home and community they've grown to love. This was certainly the case for these Alexandria homeowners, who relocated to Northern Virginia from the Midwest and found a neighborhood, school, and area that they wanted to truly make their own for the long term. Their home, while roomy enough for their family, had some areas, most notably the powder room and upstairs hallway bathroom, that were designed poorly and had flaws. Working with our designers, solutions were discovered, and updates made, to give both spaces the true look and feel that our customers desired as well as the functionality they craved. They came to MOSS with a vision for a full bathroom remodel in Alexandria.
Updated Powder Room with Better Storage and Fresh Lighting
The home's powder room is small; with no room nor plan to expand the square footage, our homeowner needed creative solutions to best use the space. One item immediately replaced during the design process was the original pedestal sink. It was awkward in the bathroom and provided no storage. It was replaced with a narrow cabinet that not only fit the space but finally provided room to store towels, toilet paper, tissues, etc. The James Martin cabinet and vanity, from Ferguson.com, now perfectly suit (and fit!) the small space. Better lighting was also needed in the powder room; the updated light fixture, a four light Bellevue Clark from Build.com, draws the eye and creates the illusion of more space. Board and batten were installed on the lower half of the walls in the powder room as well, giving the space a more contemporary look.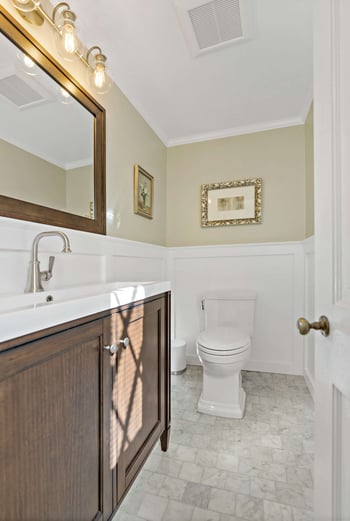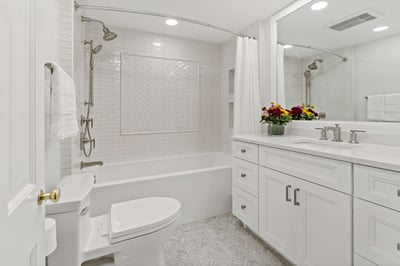 Remodeled Hallway Bathroom with New Tile and Cabinetry
Our MOSS customers had disliked their upstairs hallway bathroom, used mainly by their children, for multiple reasons, and were thrilled to have it remodeled. Their main sticking points? The original salmon pink color tile (original to the home) that adorned the shower walls, the shortened tub that featured a useless shelf/wall at one end, and the older vanity and cabinetry that didn't serve their needs. Finally, the bathroom floor tile needed an update after years of use.
Working with our customers, our design team suggested a beautiful natural stone, Carrara Herringbone 1x3 Polished Marble Mosaic Tile, from TileBar, for the bathroom floor, and a Seaport Arctic 2x10 Polished Ceramic Wall Tile for the wall tile, niches, and accent wall, also procured from TileBar. The accent wall highlights the same tile but placed in a herringbone pattern. The bathroom's new cabinetry, from Hampshire Cabinetry, features a single sink vanity with a Calacatta Miraggio top from Euro Stone Craft. Most importantly: a new bathtub that fits, as the shelf at the end was removed!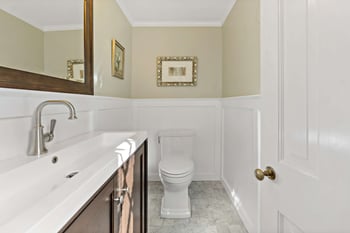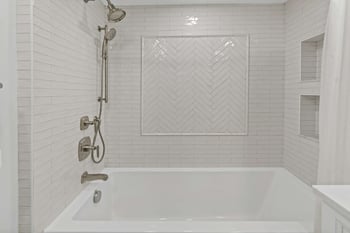 Remodeling bathrooms doesn't always mean the removal of walls or reconfiguration of plumbing. These Alexandria bathrooms are a perfect example of how small but meaningful updates can profoundly change how the space functions while also providing a beautiful result that can be enjoyed for years to come.