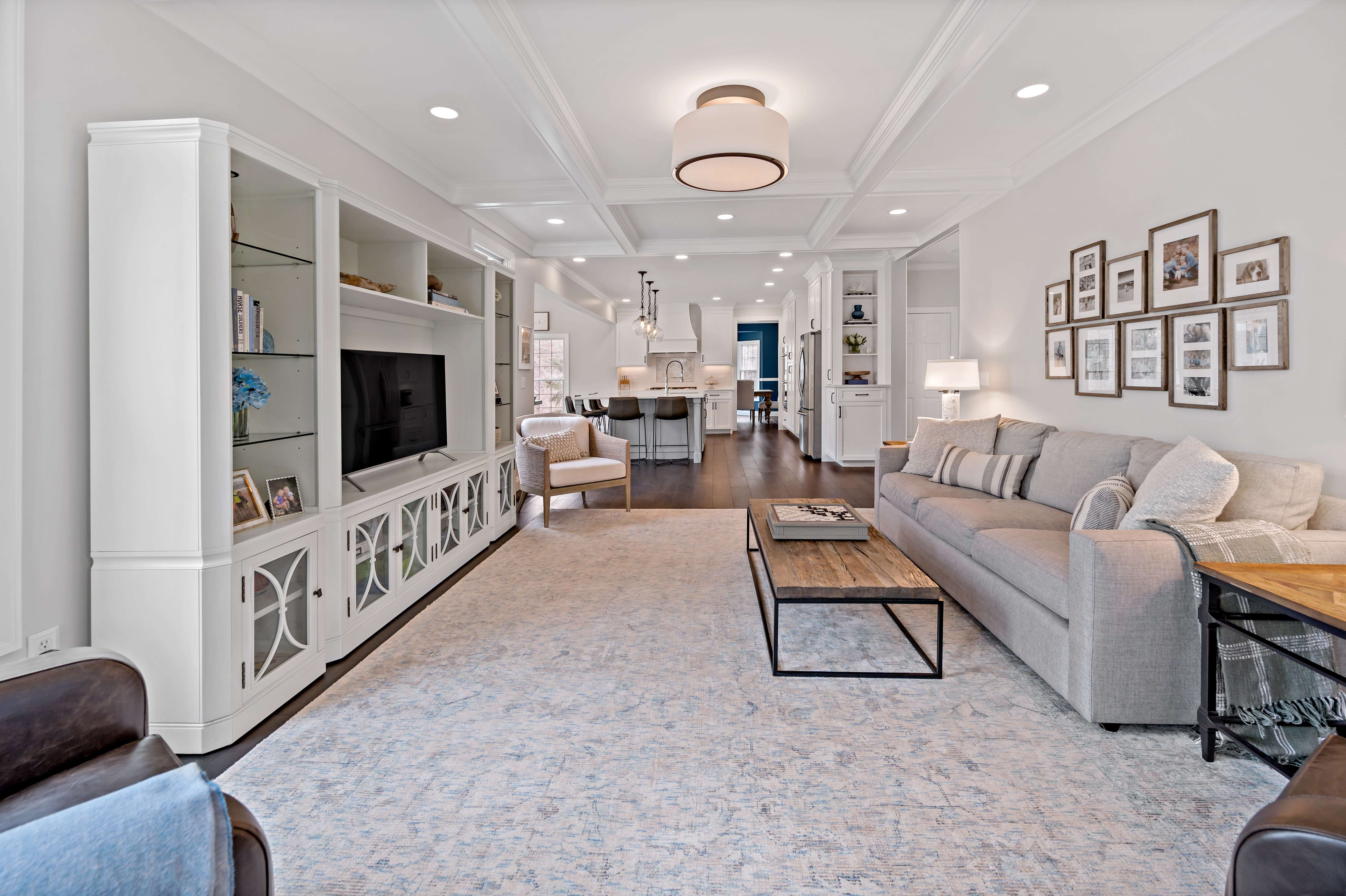 Transitional design is a combination of traditional and modern home design, taking elements of each to create a unique and timeless look. The interior design style is defined by a neutral color palette, simple decor, and a mix of curved and straight lines.
Remodeling a home in the transitional design style is one of Moss Building & Design's favorite requests since the style allows you to blend elements of both traditional and modern design until you find a look that you like best. For example, you can consider traditional wainscoting (wood paneling that lines the lower part of the walls of a room) and sharp-lined modern furniture to create a design style that's all your own.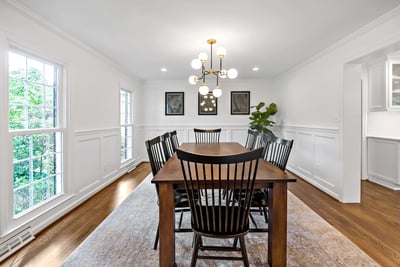 How To Create A Transitional Kitchen
Transitional kitchens create a harmonious space, which is vital for the room that most families spend the largest portion of their time in. Transitional kitchens take elements of modern and traditional design to develop a polished and smooth look that's not overly ornate, embellished, stark, or sharp.

To make your kitchen transitional, consider the following tips from Houzz:
Streamlined cabinets with sleek hardware

Marble, granite, or limestone countertops and breakfast islands

Minimal countertop accessories

Gridded backsplash tiles

Mixed man-made and natural materials

Stainless steel appliances

Hardwood or luxury vinyl flooring

Neutral colors, such as white or beige

Smooth, rounded corners

Highly selective accents, such as a corbel, decorative millwork, or paneled cabinets
This Leesburg, Virginia, kitchen is a prime example of a transitional kitchen. It's a perfect blend of modern and traditional home styles because it pairs each design seamlessly and evenly. The wood floor stands out against traditional white countertops on the islands, and modern, stainless steel appliances expertly complement the darker, more traditional perimeter countertops.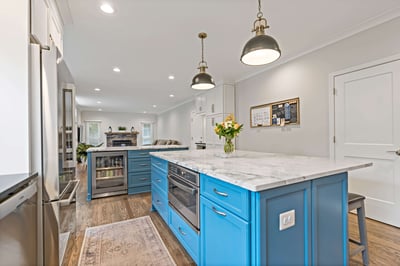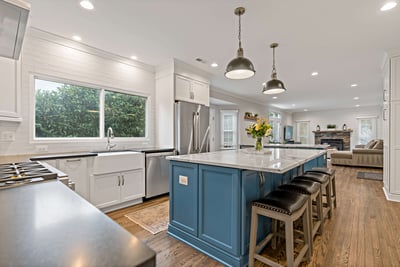 Overall, this kitchen blends modern and traditional elements without fully committing to either design style. It focuses on hardwood, natural materials on the floor, cabinets, and moldings, while continuing to feature modern stainless steel appliances and sharp-edged double islands.
How To Create A Transitional Living Room
Incorporate traditional elements like trim, crown molding, wainscoting, and floor-length drapes in a transitional living room. However, balance each element with modern qualities, such as a neutral color palette, textural variety, and furniture that contains a mix of curves and straight lines.
If you're looking to make your living room more transitional, try adding the following features:

Fabrics, such as suede, chenille, and leather

Neutral colors, such as cream, taupe, and black

A pop of color in a statement piece of art

Furniture with simple lines and curves

Contrasting textures and tones
This Ashburn, Virginia, remodel is inspiration for a clear transitional living room. The focal wall with the cozy fireplace stands out but isn't overly embellished. The white frame and stonework give the living room a clean and structured look, while the large windows allow a touch of nature to seep into the home. The coffered ceiling gives the room a final, contrasting element to the design as well.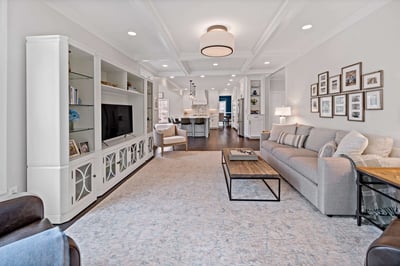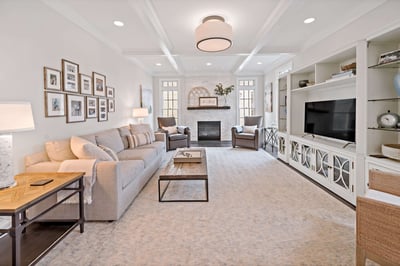 This fireplace offers another transitional option for a living room. Its decorative mantle nods to traditional design style while the white, painted brick gives it a more modern, updated look.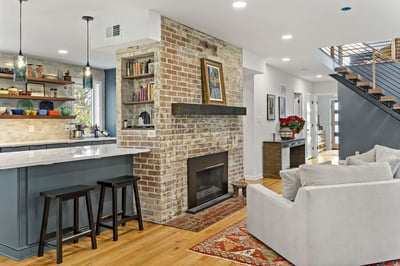 How To Create A Transitional Bedroom
A transitional bedroom can be decorated according to your style, because it's your space instead of a common area in your home. By mixing a traditional element, like a grand headboard, with more modern elements, like round light fixtures and lamps or a curved accent chair, you achieve the seamless blend that you're looking for.
Window treatments should also be simpler in a transitional bedroom. While you may be tempted to install long, floor-length valances or drapes, consider using a more neutral color and ensuring the curtain rods lack ornate embellishments. Transitional bedrooms are typically very bright and relaxing with lots of natural light from large windows or skylights.

Other things to consider to make your bedroom more attuned to a transitional style include the following from Houzz:


A statement lighting fixture in a spherical or orb shape

A mix of furniture textures

Leather or tufted cushioned benches with metal frames

Neutral colors like brown, gray, and white

One statement art piece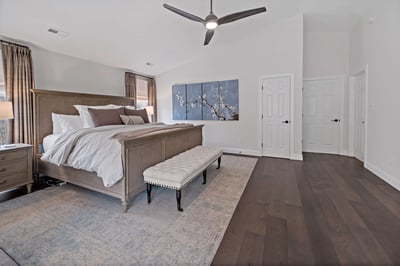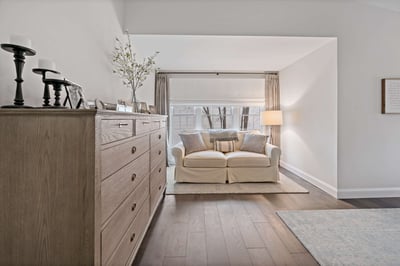 The above photo of this Ashburn, Virginia home is a perfect example of a transitional space, combining colors and textures to create a bedroom that is both relaxing yet stylish.
How To Create A Transitional Bathroom
Even transitional bathrooms offer the best elements of both traditional and modern design. In order stay balanced on the spectrum, use the following design elements from HGTV in moderation in your bathroom:
Freestanding (but not clawfoot) tubs

Sleek vanities that are made with dark wood or antique accents

Natural wood benches

Classic pedestal sink

Tan, beige, white, or gray color palette

Stone or marble flooring and countertops

Clean lines and rounded shapes

Round or square sinks

Frameless shower doors

Herringbone floors

Brass light fixtures and cabinet hardware
This bathroom in Alexandria, Virginia, elicits a transitional feel -- particularly through its tub. Though not a clawfoot tub, which is common in traditional home design style, notice that the tub is freestanding. The wall art behind the tub adds a trendy focal point to the room, a hallmark of modern design.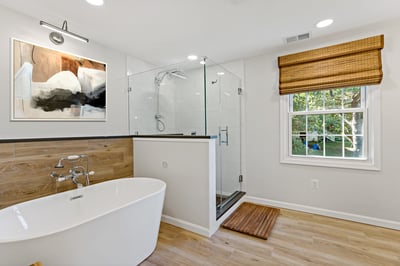 Who Should Use Transitional Design
If you like elements of both modern and traditional design styles, but can't see yourself fully committing to either the bold starkness of a modern room or the embellished ornamentation of a traditional room, a transitional home design style is for you.
A perfect mixture of both interior design worlds, a transitional home can truly be customized to your personal style and preferences. Choose accents that are right for you, and don't get bogged down by sticking to sharp design rules.
The Best Remodelers In Northern VA
If you're in the market for home remodeling or if you'd like to talk to a professional about a transitional home interior, call us at 703.961.7707 or email us at Hello@MossBuildingandDesign.com.