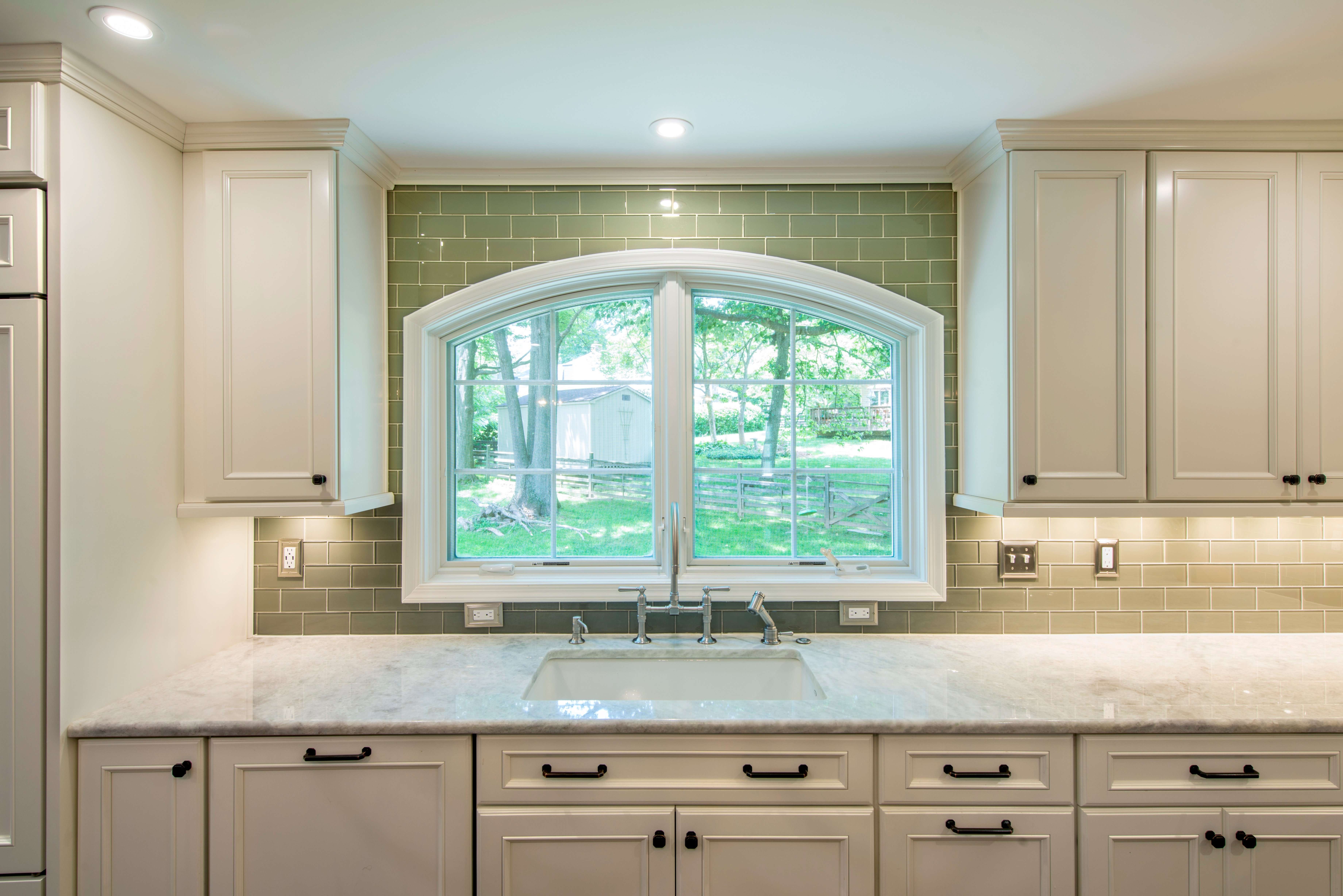 After a long, cold, and damp winter, temptation lurks to immediately open your windows and doors on the first sunny, warm day of spring. These tips to freshen up your kitchen — perhaps the most used room in your home — make it ship-shape, gleaming, and ready for longer and warmer days and nights.
Let The Light In
Washing your windows in and out is a great start to freshen up your kitchen. Extra points if you also take off all of the screens and spray them down. If you have a curtain on your kitchen window, give it a wash or consider changing it up to a fresh color for spring.
This beautiful arched window in an Oakton, Virginia, kitchen remodel by Moss Building & Design demonstrates how much sunlight affects a room!
Deep Cleaning
Spring is a great time to really deep clean your major appliances in and out. Clear out your freezer of anything outdated or expired (freezer burn isn't healthy!) and give it a good scrub down. Wash out the vegetable and deli drawers, replace the water filter, and place a new box of baking soda on the shelves of your fridge to neutralize any odors.
Clear Countertops
Amy Slenker-Smith, blogger and owner of Simply Enough LLC (and former Moss Building & Design customer), advises looking at your countertops. Think about how much easier life would be if they were clear and clean!

Start with kitchen cabinets and pantry, and figure out what can be downsized from there. This practice creates room for items currently taking up space on countertops and gives you the space you need to cook and entertain with ease. Read more of Amy's tips here.
Pictured below is an image of Amy's gorgeous Oak Hill, Virginia, kitchen remodel by Moss Building & Design:
Feng Shui It
Creating a beneficial energy in your kitchen is a key component to good feng shui. Besides clear kitchen countertops and cleaning discipline, another way to bring positive feelings of health and prosperity is to have a bowl of fresh fruit on the countertops. Nine oranges are considered ideal!

Bring in potted plants or herbs, or fill canisters with nuts, pastas, or other dry foods to show healthy abundance. If feng shui doesn't appeal to you, the practicality of having fresh fruit and herbs nearby should!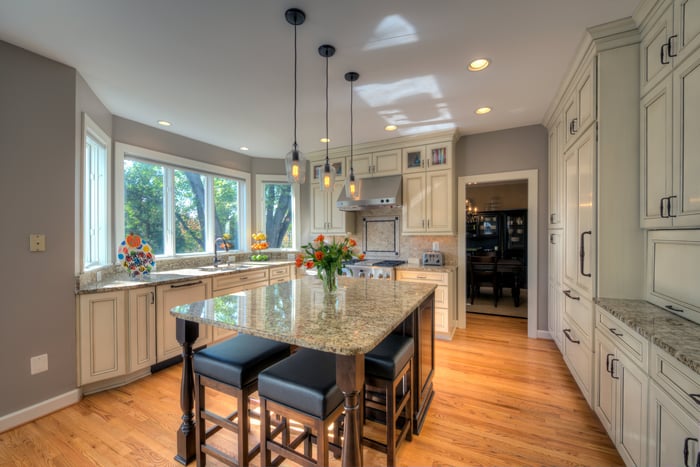 Make A Statement
A fun way to make a statement this spring is to paint a statement wall! If your kitchen feels like it's hit "middle age," pick a fun color (Fuschia! Orange! Teal!) and paint a statement wall. If that seems like too much for you, consider using chalkboard paint and letting the kids have fun in the kitchen while you're cooking.
Another long-term, trendy idea is remove kitchen cabinet doors and create open shelving. Ditch kitchen cabinets altogether, and put in floating shelves. Both of these ideas create a fun rustic look and feel to a kitchen, making it more open and welcoming.
This kitchen in Great Falls, Virginia, showcases gorgeous open shelving, plants, and other knick knacks to really create a special look and feel.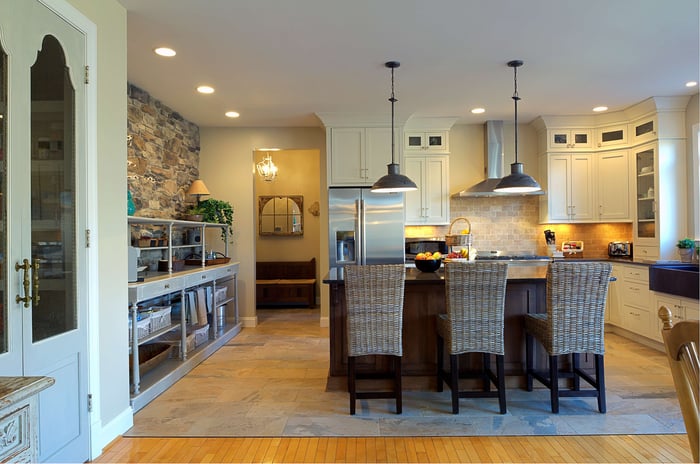 Knobs And Pulls
Another fun way to freshen up your kitchen is to replace the knobs and pulls! Find interesting hardware just about anywhere, like home decor stores, and replace and update as you wish. The cost is minimal, but the refresh is immediate.
If you'd like to speak with an expert at Moss Building & Design about refreshing your kitchen for spring, please call us at 703.961.7707 or email us at Hello@mossbuildinganddesign.com.