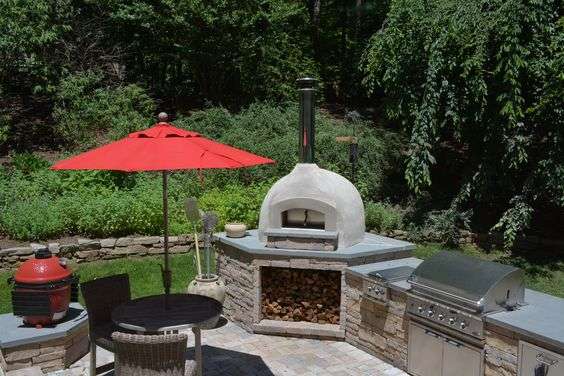 With graduation season winding down and Father's Day approaching fast, I've found myself thinking about grads and dads a lot. What do both have in common?
Their love of the outdoors and eating pizza, of course! If you're looking for the perfect gift for the graduate, dad, or father figure in your life, think about an outdoor pizza oven or fire pit to really light up their summer plans.
Designing Your Outdoor Space

Think about where you want to establish a cooking or fire pit space in your backyard. A little remodeling may be necessary, particularly if you don't want to build a pizza oven base yourself.
All sorts of structures, from simple to elaborate, should be considered, depending on your interests and budget. This more involved design from Houzz creates a dedicated outdoor kitchen and seating space for your family and guests.
For a simpler look that doesn't involve an overhead structure, create a built-in grill and counter-top combination like this one on Houzz.
You may decide that an above-ground addition is what you're really looking for to accentuate your space. In that case, add a porch to hold your grill, pizza oven, or outdoor fire pit.
Also, MOSS has experience with deck additions, like this one in Annandale, Virginia, and can help you design the best fit for your entertaining needs.
Choosing A Pizza Oven
Many different pizza ovens to choose from can accommodate any style or level of cooking expertise. Serious Eats reviewed The Best Backyard Pizza Ovens and outlined a variety of standalone and grill-top pizza ovens.
Roccbox is a nice standalone choice because it has several different fuel options and comes fully assembled. Perfect for that last-minute gift idea — no remodeling or tools required!
A grill top oven, like this KettlePizza Oven Kit on Amazon, is another great gift choice, as it can easily be placed on almost any type of gas grill you already own.
Go a more traditional route with a wood-fired brick oven. This Mugnaini Pizza Oven was installed on a masonry base.
If you need some help deciding between a wood-burning or gas pizza oven, here are some helpful tips straight from the Mugnaini manufactures.
Choosing A Fire Pit
Outdoor fire pits are my favorite backyard accessory. They're great for cooler nights, making your backyard appealing for more than just the summer season. Who can forget nights sitting around the fire, roasting marshmallows?
Fire pits help you create your own summer camp-out atmosphere without leaving home!
When choosing an outdoor fire pit, think about more than style, according to The Spruce. Consider cost, fuel type, and location (whether you'd prefer a permanent fire pit or the portable variety). While most fire pits come in at or under $300, a custom, permanent design costs thousands.
Many people opt for a wood-burning fire pit for the true authentic feel and folksy, smoke smell, but if you go for one fueled by gas or propane, use them on open porches with roofs as well. The Home Depot has a helpful fire pit buying guide, if you'd like to do more research before diving into this purchase.
I love a round backyard pergola with the stone fireplace in front. The scene looks so homey and relaxing without being too rustic and the stone fire pit is available on Wayfair!
If portability is a concern, plenty of smaller options allow you to move your fire pit around the backyard as needed. This wood-burning fire pit has a wire mesh covering for safety and can double as a grill for cooking. Double win!
For those with more modern design tastes, I like this natural gas fire pit made of concrete. It comes with lava rock for you to add into the base to complete the look.