Remodeling Trend Alert: Rustic Remodels
The Moss Building & Design team always keeps up with the latest design trends, from traditional to modern design styles. One common design style we're seeing a lot of (even in modern home remodels) is rustic architectural elements. Whether it's wood flooring, an eye-catching stone accent wall, or a complete farmhouse chic remodel, rustic remodeling elements are on the rise in kitchens, living rooms, and bathrooms.
Wooden Accents Make Rooms More Rustic
Various types of hardwoods or hardwood imitations are popping up everywhere in our Northern Virginia remodels. The wood look is no longer just an appropriate flooring option for your bedrooms and hallways. Our recent trend alert features more information on how porcelain tile and luxury vinyl tile are used in bathrooms and kitchens for a wood look with a moisture-resistant bonus, like this Vienna, Virginia, bathroom remodel.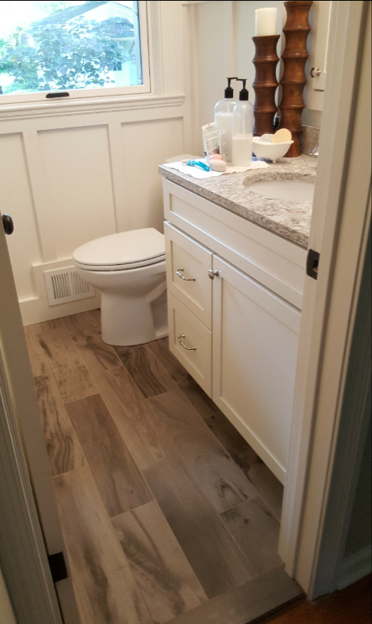 Wood isn't only a flooring option either. Hardwood type accents are also popping up on walls and backsplashes throughout the home. The wood look is incorporated in kitchens, even those that predominantly have a modern design style like this Oakton, Virginia, remodel with a unique wood range hood.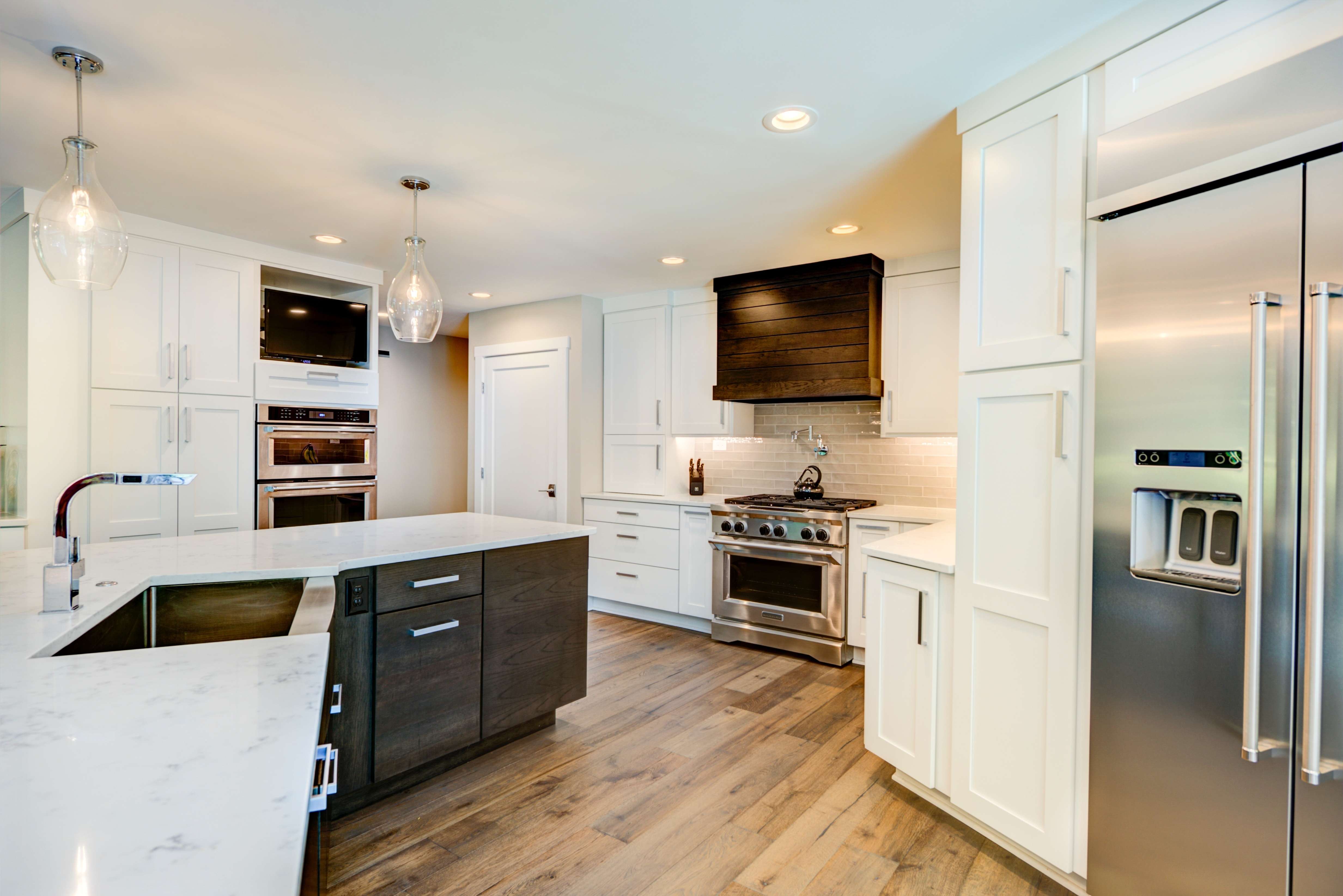 Sliding Barn Doors In Northern Virginia Renovations
One of our favorite design trends in rustic remodels is definitely barn doors. Nothing is more rustic than simulating the look of a barn to bring in the farmhouse style. A weathered-wood look, like this blue-green sliding door in a Great Falls, Virginia, living room remodel, perfectly matches this client's rustic decor.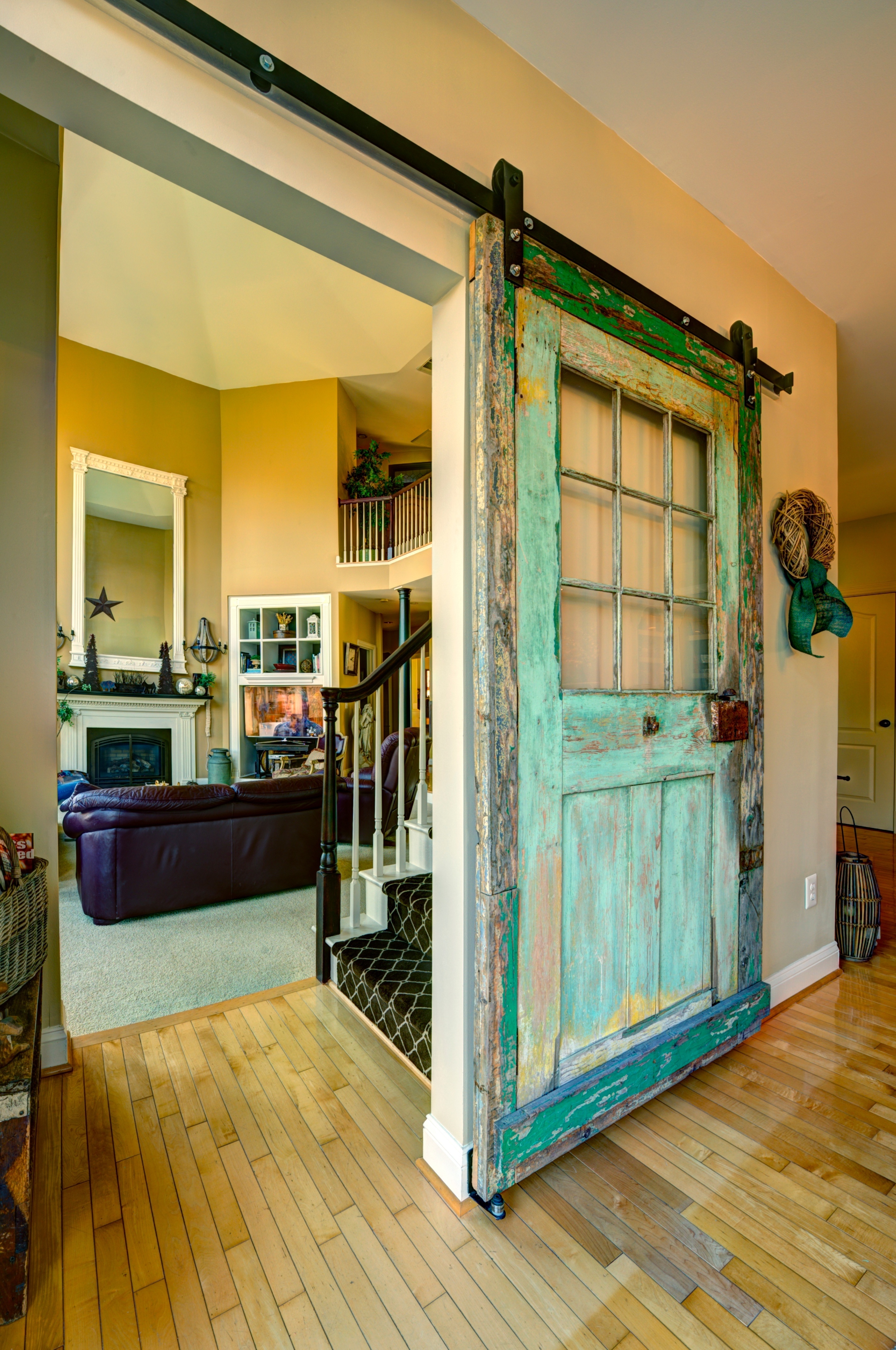 You can really go as rustic or as modern as your design style allows when choosing a door, adding personal touches and character to make your home unique. Another remodel in Ashburn, Virginia, incorporated a rustic door in-between the kitchen and dining space.
Barn doors are used everywhere, from living rooms to kitchens to offices. They don't all have to look authentically "rustic," though. This sliding door in McLean, Virginia, creates privacy for a side room-office space. While it doesn't resemble a barn door, it still incorporates the visual sliding element inspired by the barn door trend.

Stone Accent Walls Add Outdoorsy Warmth To Kitchens
The expert stonemasons and carpenters that work on Moss Building & Design home remodels are equipped with the skills to really make your accent wall become a statement piece. Traditionally, stone accents are on fireplaces in living rooms, but contractors work on stone accent walls and backsplashes anywhere, especially in kitchens!
For example, this stone accent wall in a Great Falls, Virginia, remodeled kitchen perfectly matches the client's desire to bring rustic, natural elements into their home.
For more rustic remodel design tips, read our blog on Farmhouse Chic Decor or view our top five favorite rustic inspired living rooms here.
Want to create a rustic home remodel of your own? Don't hesitate to contact us at 703.961.7707 or email us at Hello@mossbuildinganddesign.com.
You can also download our Farmhouse Chic Style Guide by clicking below: